These Vegan Sweet Potato Cakes are a great way to use up leftover sweet potatoes. They are great as a side dish, appetizer or snack and they go with just about everything! As a bonus, they are vegan and gluten free, making them completely allergy friendly.
As an Amazon Associate I earn from qualifying purchases.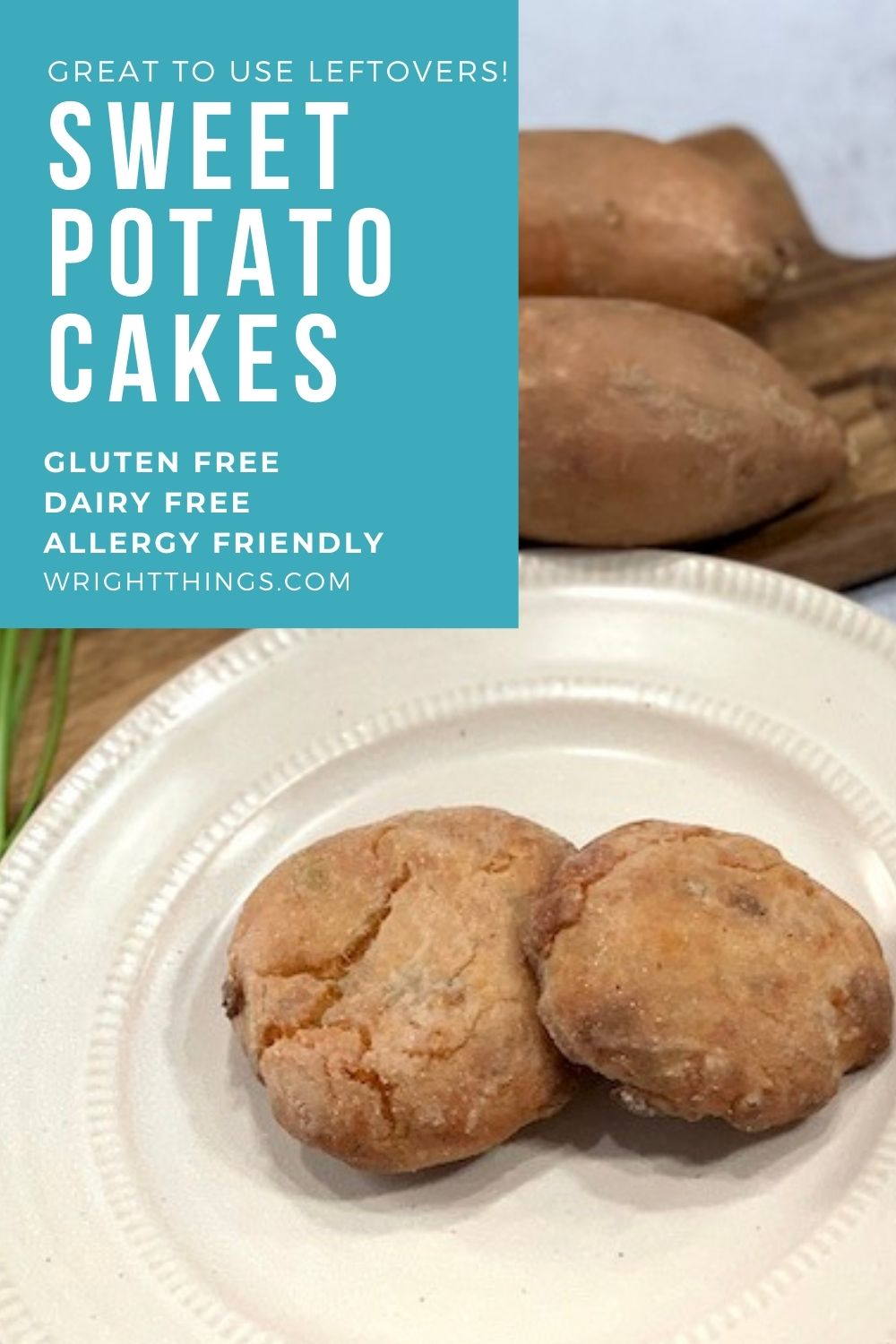 Don't you just love recipes that are flexible? I know I do! These sweet potato cakes can be made in the air fryer, baked in the oven, or pan fried, making them perfect regardless of your kitchen set up.
Additionally, this recipe only calls for a total of 4 ingredients, meaning you can dress them up however you'd like! You can make them into burger sized patties if you're serving them as a main, or in little quarter sized rounds for easy finger food.
How to make allergy friendly sweet potato cakes
These vegan sweet potato cakes are so simple to make, as they only call for four simple ingredients: mashed sweet potatoes, parsley, gluten free flour and olive oil.
First up, you may need to make some mashed sweet potatoes. Did you know how easy it is to make mashed sweet potatoes using the Instant Pot? If you didn't, check out my recipe here.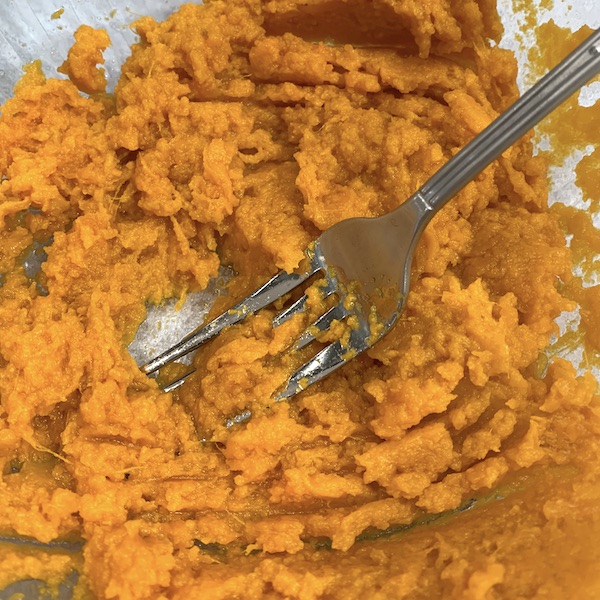 Next up, you'll need to make your mix. Simply add gluten free flour and parsley to the sweet potatoes and stir thoroughly.
TIP: I recommend making these sweet potato cakes using chilled mashed sweet potato. This will help you to maintain their shape. If you use hot sweet potato mash, prepare for some very delicate potato cakes!
Next, you'll shape the sweet potato mixture into whatever size patties you desire. Add some flour to your hands to prevent the cakes from sticking to you.
TIP: Be sure to adjust your cooking time accordingly if you decide to make them smaller. A good thing to remember in the kitchen is that the smaller something is, the less time it takes to cook.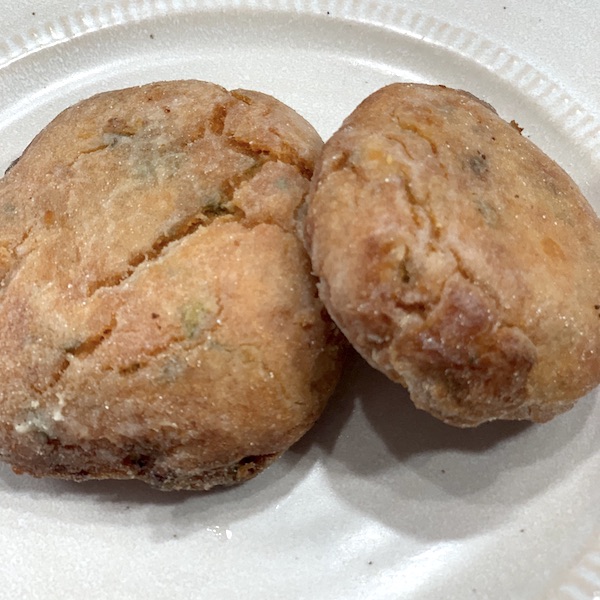 Cooking the cakes
Next up, you'll want to figure out your cooking method. As I mentioned before, these sweet potato cakes can be made in the oven, in an air fryer, or pan fried. If you're making them in the oven or air fryer, you'll want to brush them with olive oil to help them get a nice crispy exterior.
If you are pan frying, heat the oil over medium heat until shimmering. Place the patties in the pan with enough space between them for you to be able to easily flip them.
TIP: Fish spatulas are the best kind of spatula for pan frying! They can get under just about anything and give you a little added maneuverability over a traditional spatula.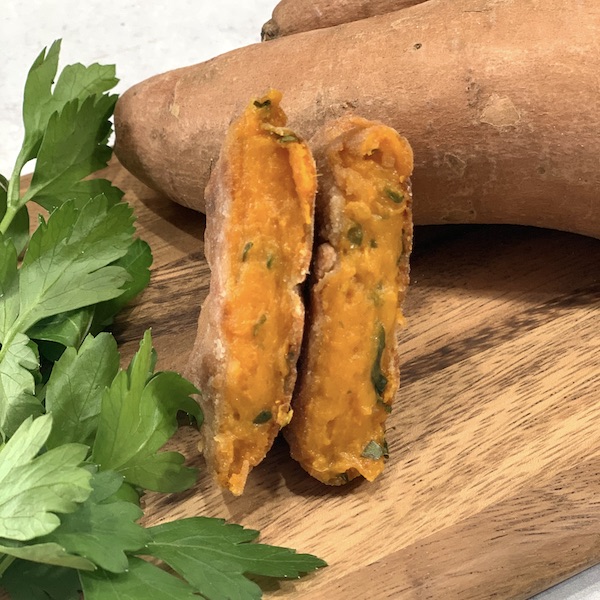 Once the sweet potato cakes are golden brown on the outside, you're ready to go!
Frequently Asked Questions
How should I serve these sweet potato cakes?
These vegan and gluten free sweet potato cakes are a dream. Here are a few ways to use them as a main dish:
As a "burger" on a bun with wasabi mayonnaise
Topped with vegan sour cream, chives and smoked salmon
With bacon and tofu scrambled "eggs"
With my BBQ Shredded Chicken
You can also use them as a side dish, where they play nicely with steak, chicken, pork or turkey. And if you're feeling fancy and want to make tiny little hors d'oeuvres, you totally can! I feel like you could top them with vegan sour cream and a little dollop of caviar and they'd be fancy enough for royalty.

Can I substitute something other than sweet potatoes?
Here at Wright Things, we're all about making sure everyone is included. If you're allergic to sweet potatoes, this same method will also work with regular potatoes, mashed pumpkin or mashed butternut squash.
Want more recipe inspiration?
If you loved this recipe, check out these other delicious allergy friendly meals:
Get more vegan, gluten free and allergy friendly recipes delivered straight to your mailbox by signing up for my email list!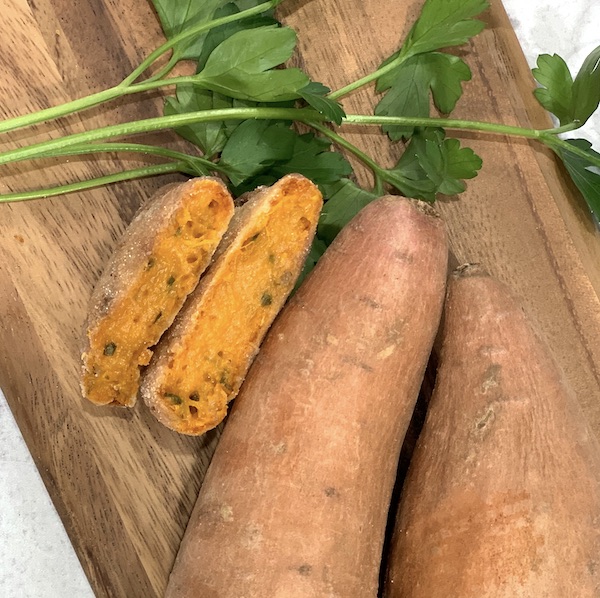 Vegan Sweet Potato Cakes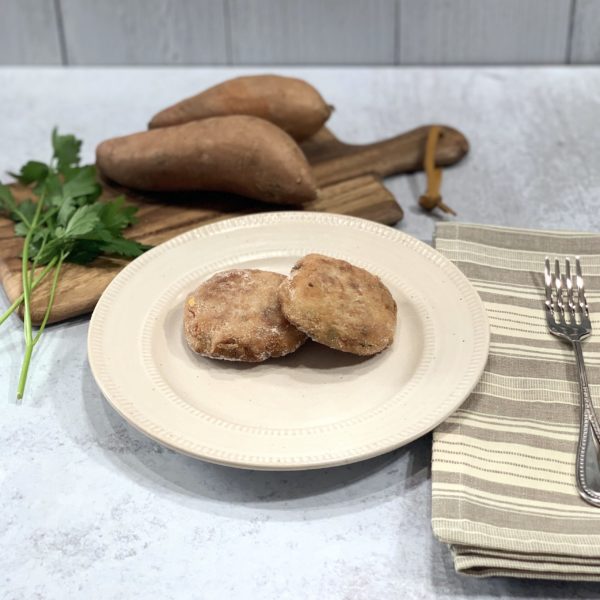 This is a great way to use up leftover mashed sweet ptotatoes. These vegan sweet potato cakes are super easy to make, and can be fried in a pan, in the air fryer, or baked in the oven.
Best of all? They are vegan, gluten free, and allergy friendly.
Ingredients
2 1/4 cup mashed sweet potato
2 Tablespoons (packed) fresh chopped parsley
1/4 Cup King Arthur Gluten Free Flour
Olive Oil for brushing or frying.
Instructions
Place mashed sweet potato in a bowl. Did you know how easy it is to make mashed sweet potato in the Instant Pot?
Chop parsley and add to mixture. We want about 2 Tablespoons chopped parsley, so think of it as about a half of a cup of leaves before chopping.
Mix parsley and sweet potato together.
Put 1/4 Cup King Arthur Gluten Free flour on a plate. Line a second plate or your work surface with parchment.
First coat your hands with flour, then shape about 2 Tablespoons of the mixture into a patty, adding flour to your hands if it starts sticking.
Place patty on lined sheet.
Fry patty until golden brown in your favorite cooking oil, we like olive oil.
To make in the air fryer, brush with your favorite oil and air fry for 10 minutes or until golden brown.
To bake in oven, preheat to 400F. Lline baking pan with parchment. Brush your favorite oil onto the parchment, the place cakes on parchment. Brush the top of the cakes with oil. Cook for 20 minutes, flipping once half way through or until golden brown.
Notes
This is a great way to use leftover sweet potato! If you're making sweet potatoes just for this recipe, allow them to cool before using. This makes the cakes a little firmer, and easier to work with.
If you use hot sweet potato, be aware the cakes will be very delicate, and handle with care.
You can bake these, fry these, or air fry these. I've done it all! My favorite is probably the oven or air fryer, since those don't need to be watched as closely as the stove top.
We sometimes serve these with chopped bacon, but they go great with just about anything as an appetizer, side dish, or snack.
Recommended Products
As an Amazon Associate and member of other affiliate programs, I earn from qualifying purchases.