This easy, small batch orange marmalade recipe is made with only two ingredients and is allergy friendly. Sticky sweet and perfect for your morning toast, you'll be amazed at how simple it is to make marmalade at home. And as a bonus? There's no pectin in this recipe.
As an Amazon Associate I earn from qualifying purchases.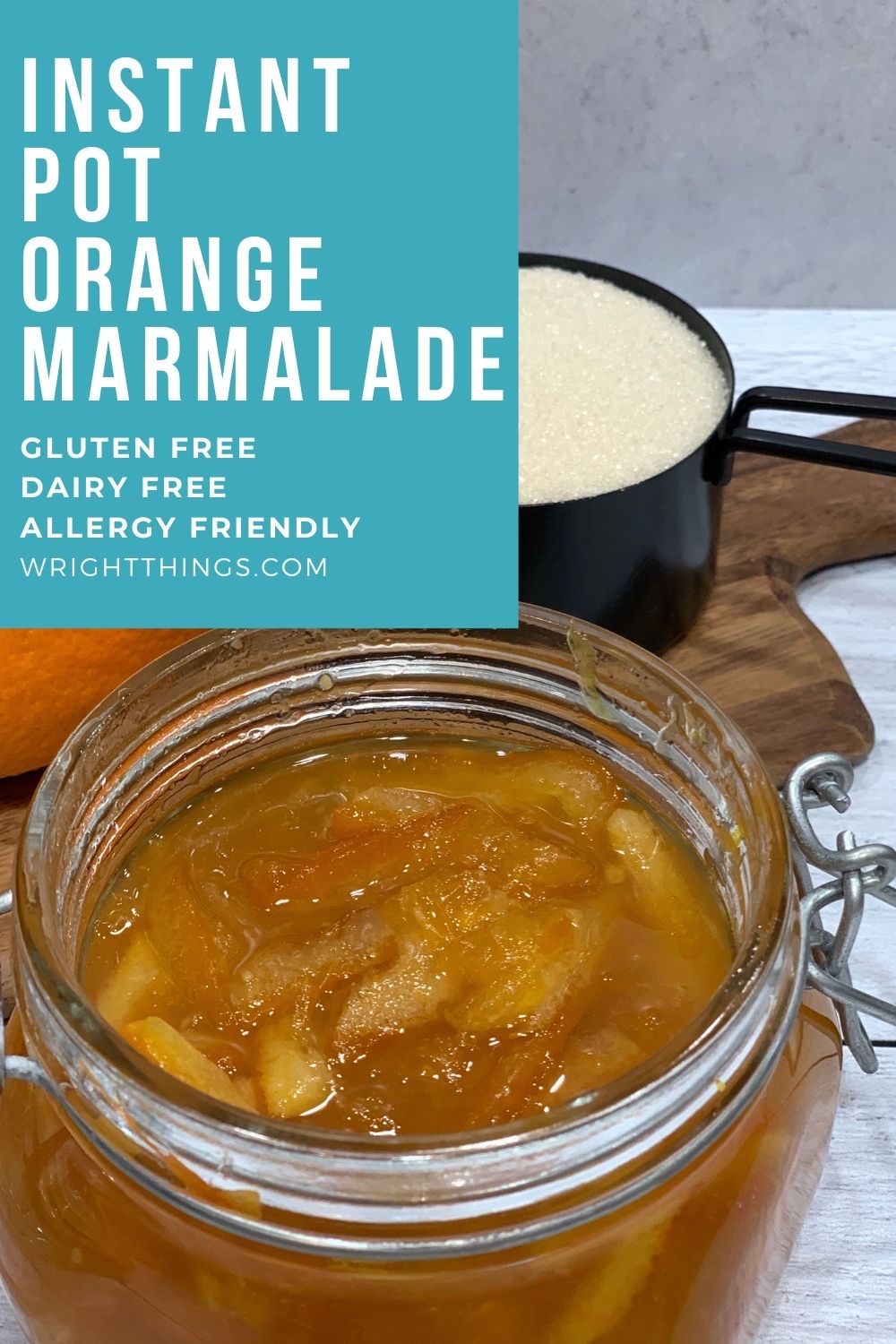 Orange Marmalade is one of my favorite kinds of jam to make because it uses the whole fruit! Yep, the juice, pulp and the rind come together into a perfectly sweet topping for your morning toast, biscuit or crumpet.
Beyond just using this as a topping for your morning carbs, you can use orange marmalade in a bunch of ways! Drizzle some over ice cream, swirl through your favorite plain yogurt, or make a glaze for your vegetables.
Trust me, once you make this easy orange marmalade you'll never go back to buying the store bought stuff again.
One of my favorite uses is in my home made vegan gluten free pastries. Stay tuned for the recipe for that one, but in the mean time make this orange marmalade right now!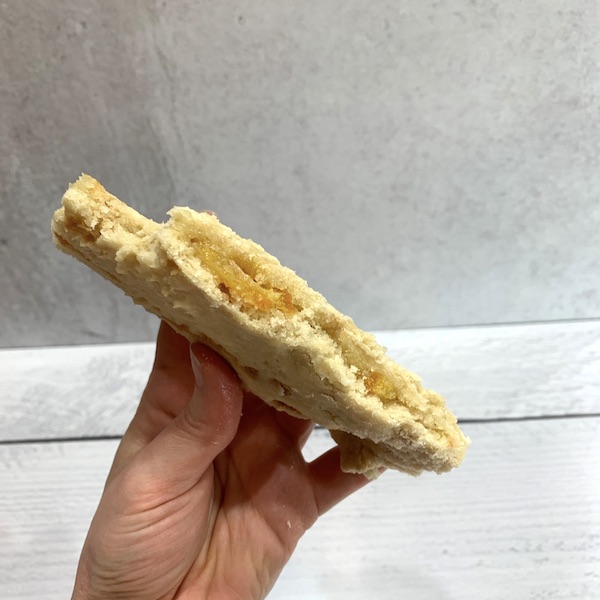 How to make orange marmalade
First off, since you'll be using the entire fruit, it is important to wash your oranges very thoroughly. I like to soak mine in a mix of water with vinegar for about 10 minutes before rinsing and drying them.
Next, you'll want to make very thin slices of the orange. The thinner, the better, as the rind can be a little overwhelming if it is too thick. You can either do this by hand with a very sharp knife, or with a mandoline.
TIP: If you don't own a mandoline, I suggest cutting the fruit in half first to give you a stable base for making the slices.

Here is yet another way to use your beloved Instant Pot!
If you aren't yet familiar with the Instant Pot, now is the time to look into one. They are amazingly versatile kitchen instruments! You can use one to "bake" your sweet potatoes, make soup, pasta, or even yogurt. And here I've figured out how to make jam in one too.
For this orange marmalade recipe, you'll simply tip all of your thinly sliced oranges into the Instant Pot with water. Pressure cook on high for 20 minutes and allow the steam to naturally release before removing the lid.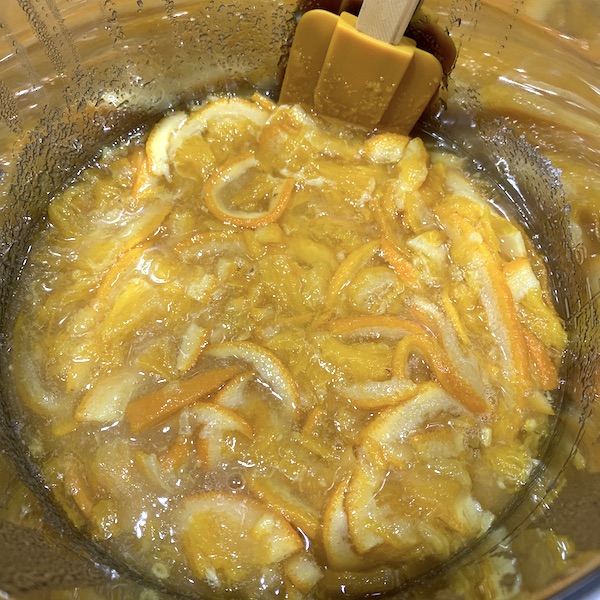 TIP: For this next step, you might want to wear an oven mitt or heat proof gloves. While the sugar is caramelizing, it is VERY hot. If some splatters on you, it sticks and can burn you!
Once the lid is off, turn the Instant Pot to sauté and add your sugar. Stir the mixture frequently until the temperature reaches 212F. Allow the mixture to cool, then enjoy!
Frequently Asked Questions
What is marmalade, anyway?
Marmalade is a type of jam that is made using the rind, pulp and juice of citrus fruit. It is a popular spread in the UK and can be used in a variety of different recipes. Use it to glaze meats, flavor cocktails, or make an interesting twist on a grilled cheese sandwich.
How can I adjust the size of my batch?
This recipe for orange marmalade is super easy to scale and even easier to remember. You simply need to weigh out however many oranges you plan on using and use the same amount of granulated sugar by weight. That means you can make a batch as small as a single orange!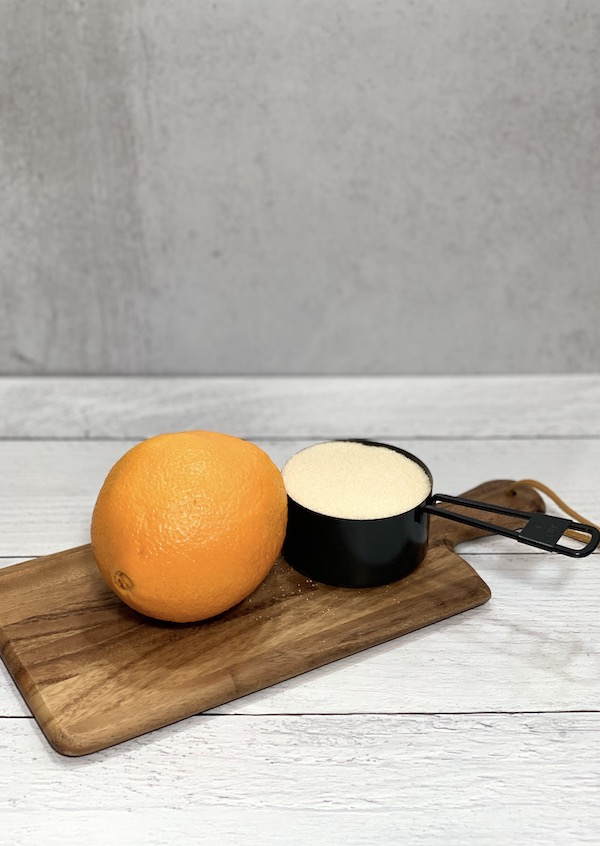 Would this be an appropriate recipe for canning?
Why yes, it sure would! You could very easily whip up a big batch of this marmalade to use throughout the year or to give as gifts and can it in mason jars. Just be sure to use sterilized jars and use the water bath canning method.
Why don't I need to add pectin?
This orange marmalade recipe is made without pectin because oranges have enough naturally occurring pectin in their rind to create the texture you're used to in jam. Cool, right?
Can I substitute other fruit?
While marmalade recipes typically call for oranges, you could certainly substitute any other kind of citrus including tangerines, clementines, grapefruit or even lemons. Just note that you might need to adjust the amount of sugar to get the right flavor.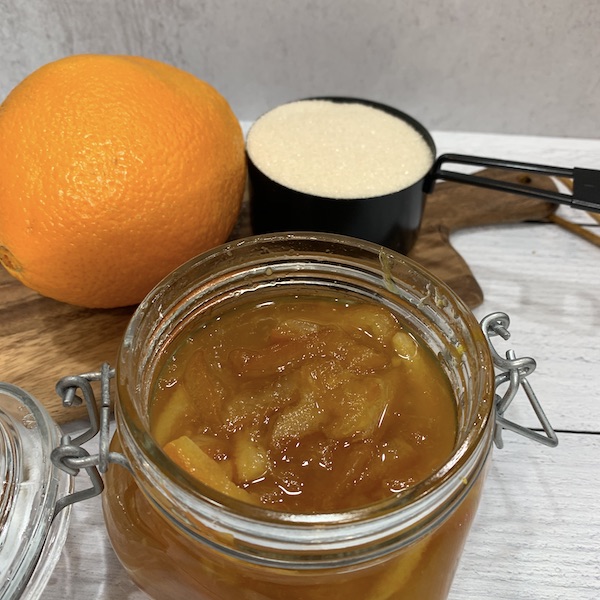 Want more allergy friendly recipe inspiration? Check out these other vegan and gluten free recipes:
If you loved this recipe, be sure to rate and review it below to let me know how you did!
Instant Pot Orange Marmalade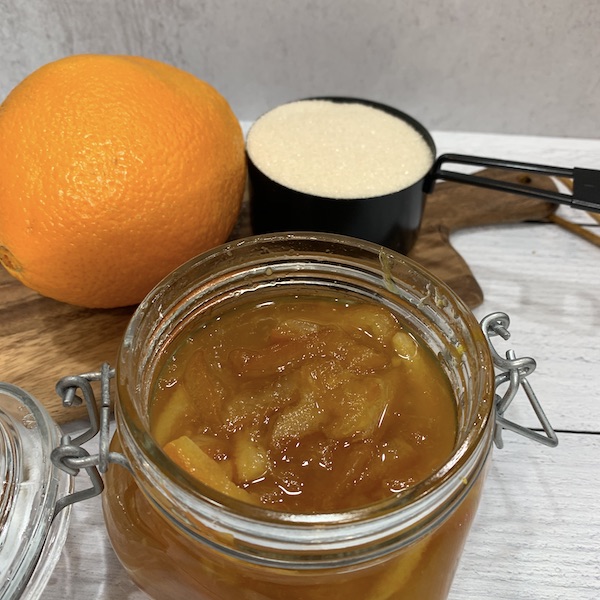 This easy Instant Pot Orange Marmalade is easy to make, and great to have it on hand.
We love it on just about everything!
With just two simple ingredients, it is gluten free, vegan, and allergy friendly.
Additional Time
10 minutes
Ingredients
2 lbs Naval oranges, sliced thin
2 lbs organic white sugar
1/2 cup of water
Instructions
First, soak naval oranges in a water with a dash of vinegar. Allow to sit at least 10 minutes, after all, we eat the skin with marmalade.
Rinse and dry oranges.
Slice thinly by hand, or with a mandoline.
Add sliced oranges to Instnat Pot along with 1/2 cup of water.
Cook on high pressure for 20 minutes, and allow pressure to naturally release.
After pot has naturally released, set to saute.
Add the sugar and stir frequenetly.
Heat while stirring frequently until the temperature has reached 212F, or the boiling point.
Turn Instant Pot off, and allow orange marmalade to cool and enjoy!
Notes
The trick to this recipe is equal parts oranges and sugar by weight.
Sometimes I'll just choose to make two oranges, and whatever the weight is it is!
I measure my oranges on a kitchen scale before cutting, then simply add the same amount of sugar by weight.
Be very careful when heating the mixture to the boiling pot - sticky boiling sugar will burn you since it can be hard to get off of you once it is on you.
Consider wearing overn mitts or heat proof gloves while stirring.