Are you craving a delicious comfort meal like macaroni and cheese? Then you must make this irresistible Vegan, Nut Free Mac and Cheese. It is creamy and pairs so nicely with just about any main dish. This tasty macaroni and cheese is even kid approved and much healthier than the traditional ones out there.
As an Amazon Associate I earn from qualifying purchases.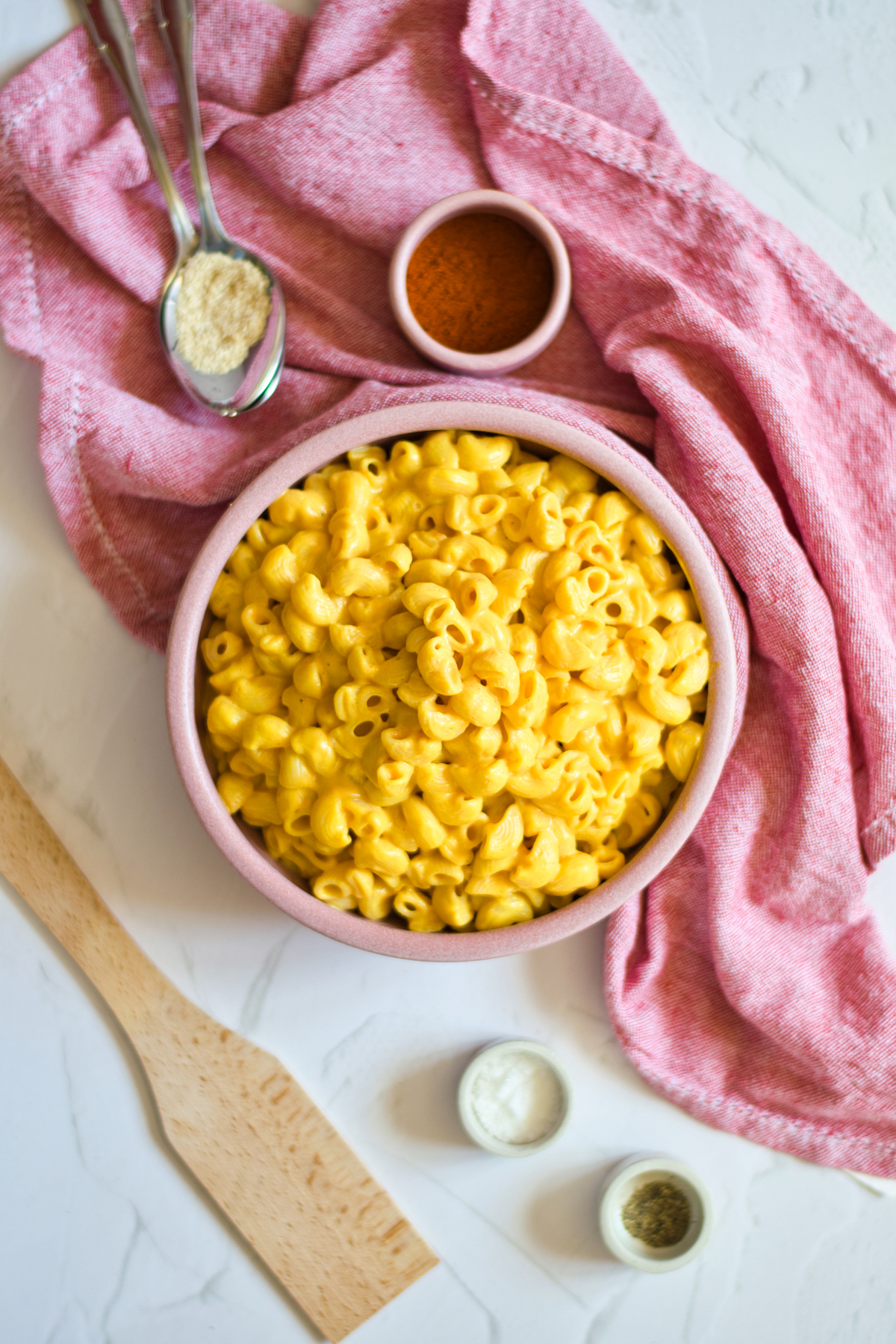 Who doesn't love a nice bowl of hearty macaroni and cheese? But when you're gluten free, or following a specific diet, in can be difficult to find a suitable recipe out there that satisfies your dietary preferences and still actually tastes good.
Don't worry, this gluten free macaroni and cheese is still quite delicious and you'll love that it is vegan and nut free too.
The combination of nutritional yeast and soy milk really bring out the creamy and cheesy taste you're looking for. This has become a family favorite comfort food recipe and since it's so easy (and healthy) I don't mind when it's on repeat on our meal plan. I love that the whole family can always agree on mac and cheese as a side dish, it just makes planning the perfect meal so much easier.
If you're a mac and cheese lover, I have a few other mac n cheese recipes you need to try! Chick fil A mac and cheese lovers, we have a gluten free copycat recipe for you! Maybe you're more of a classic mac recipe kind of person, we understand that and have that too.
Why you'll love this Vegan Nut Free Mac and Cheese
not only is this easy recipe vegan and nut free, but it is also gluten free!
ready in under 45 minutes
easy to scale to make more for a crowd
perfect for taking to holiday meals, potlucks, or just a casual dinner at home
you only need 12 simple ingredients that you already have on hand
made for those with a nut allergy, celiac disease, dairy allergy, and those following a vegan diet
Ingredients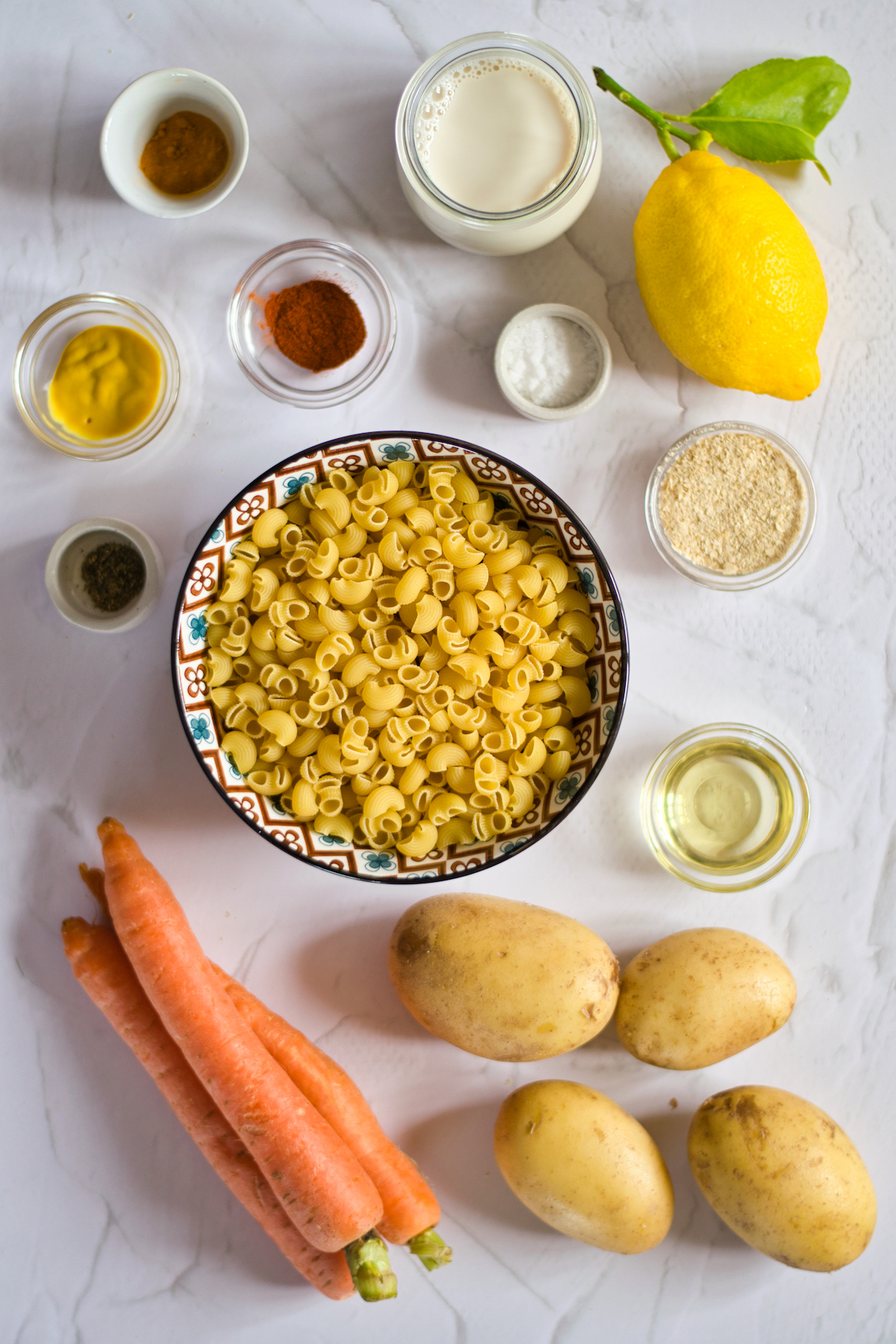 Get all the info on these ingredients in the recipe card at the bottom of the post.
Carrots
Yukon potato
Gluten-free Macaroni pasta
Olive oil
Soy Milk
Mustard
Smoked Paprika
Turmeric
Lemon juice
Nutritional Yeast
Salt
Black Pepper
How to Make Vegan Nut Free Mac and Cheese
We're going to break this easy vegan mac recipe up into different sections. Starting with the sauce, then pasta, and finally assembling and combining the two.
Fill a medium-sized pot with water and place over medium-high heat.
Peel potatoes and chop them and carrots into 1/2-inch cubes and add them into the pot.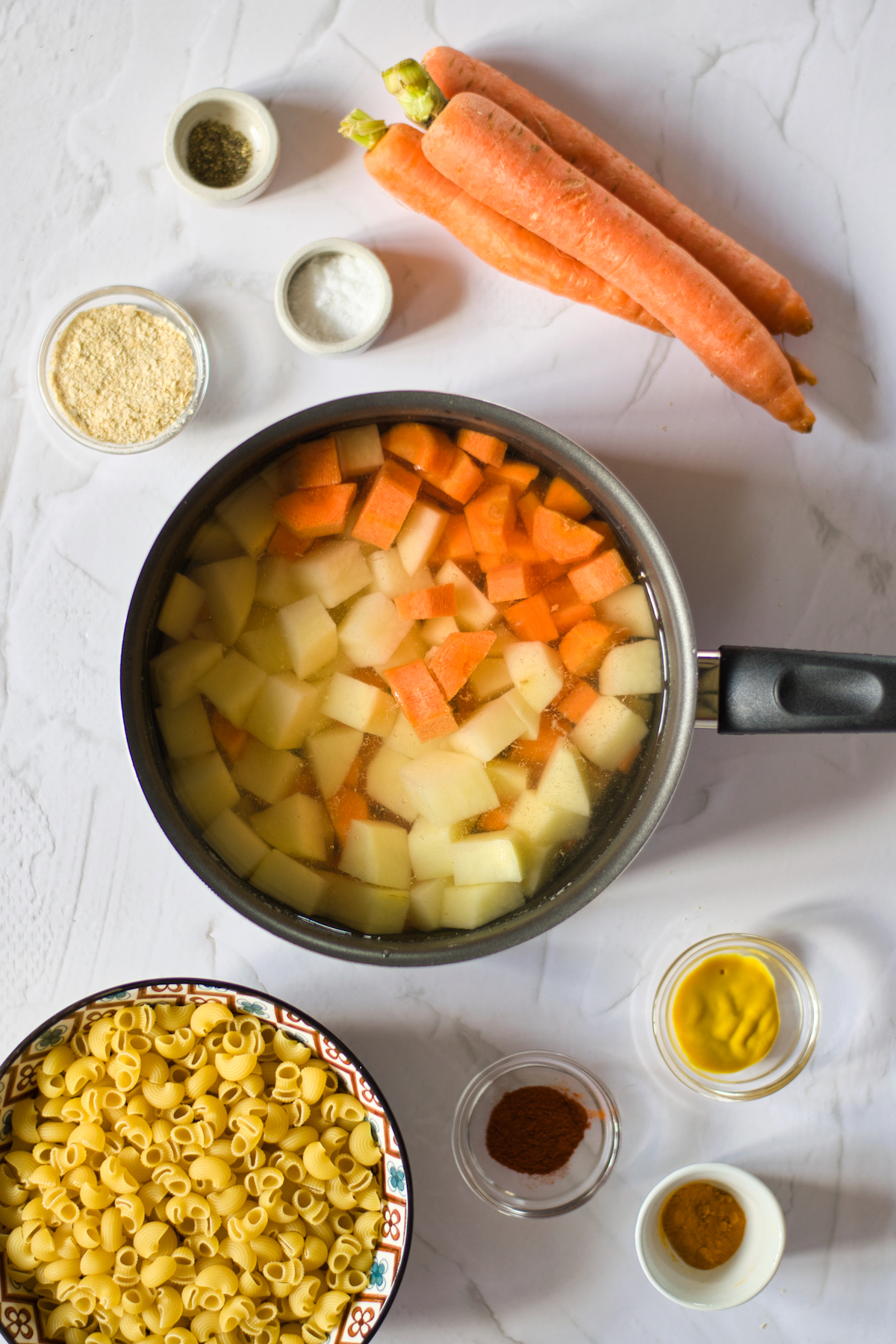 Boil vegetables for 15 minutes, or until they're soft enough to use to make a puree with.
Once soft, add the veggies to a blender with soy milk, smoked paprika, olive oil, turmeric, mustard, nutritional yeast, lemon juice, salt, and pepper. Blend for 5 minutes, or until the sauce becomes smooth and looks like a cheese sauce consistency.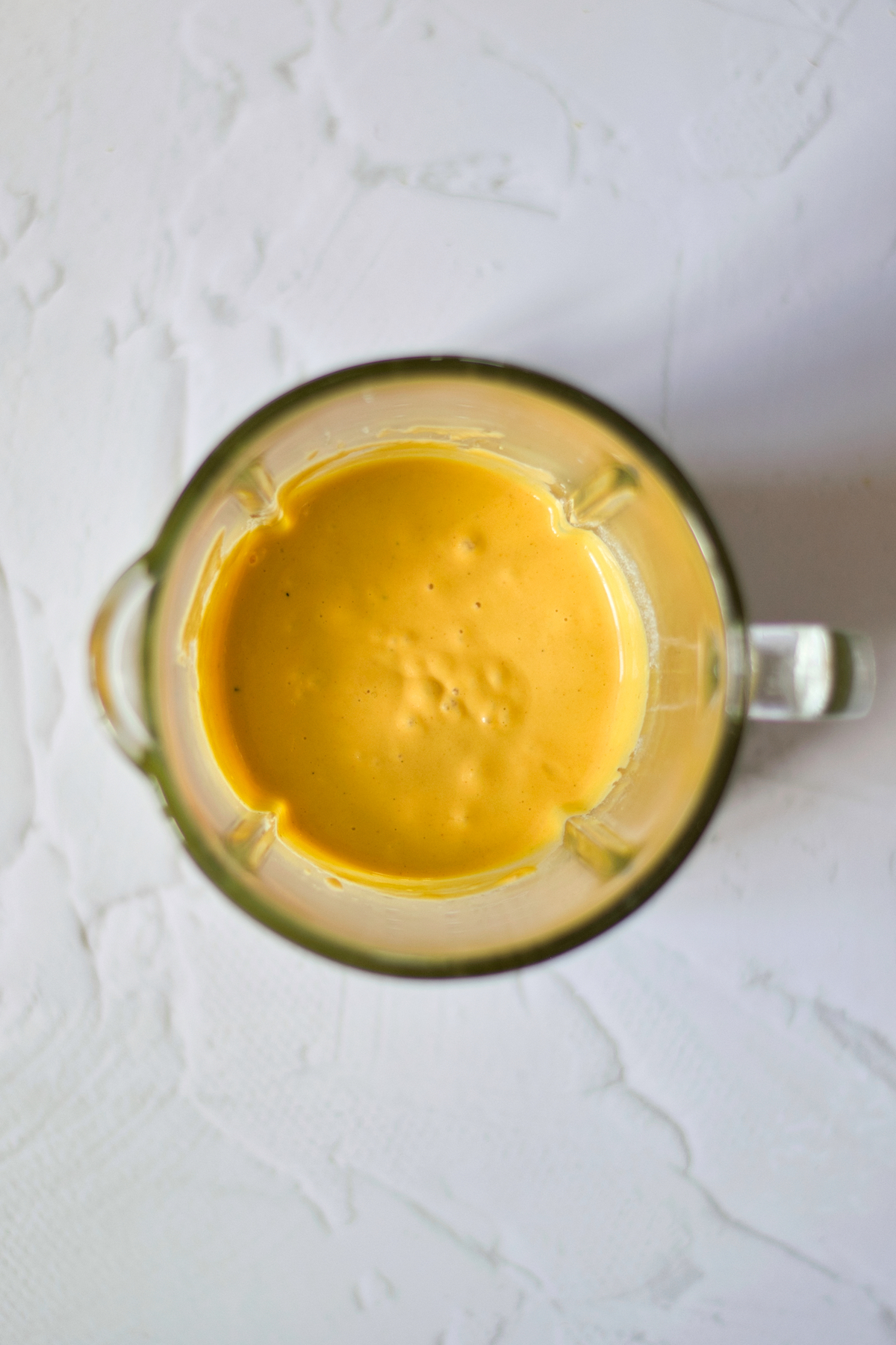 In another medium pot, add water and salt and bring it to a boil.
When water is boiling, add gluten-free pasta and follow cooking instructions on package.
Once pasta is finished cooking, drain and set aside for assembly
In a large saucepan or wok, add the pasta over low heat. Pour in the homemade vegan cheese sauce and stir well to fully coat and toss the pasta in it so it's fully covered.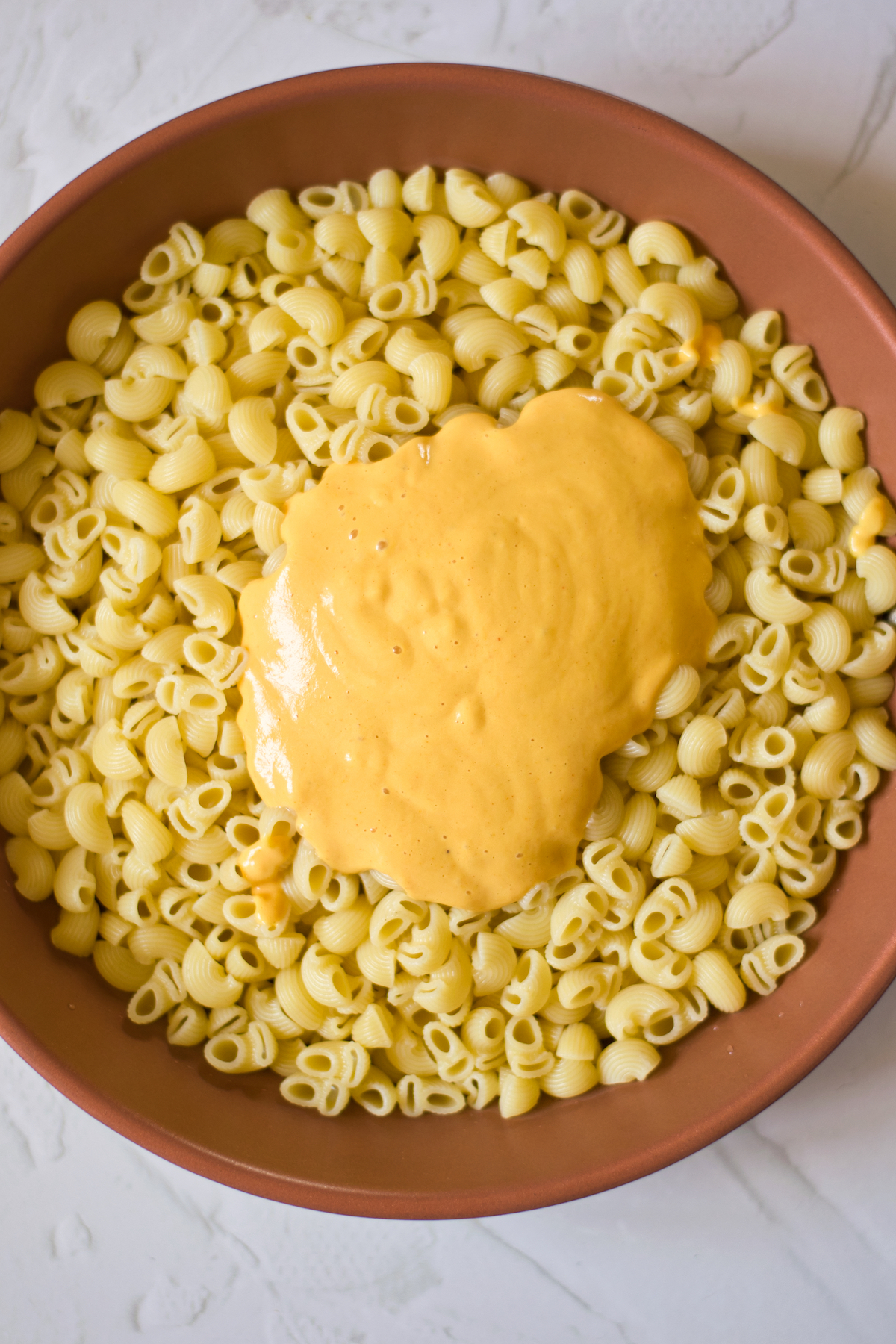 Serve and enjoy this amazing recipe.
Storage
Any leftover macaroni and cheese should be stored in an airtight container once it has cooled down. It should keep in the refrigerator for up to a week. The fact that it keeps for so long helps make it great to use as a meal prep recipe. It's also easy to reheat, see some of my tips on that below.
Tips and Variations
If you don't have a high-speed blender to toss everything in to make the sauce, you can use a food processor instead. It's just quite a bit to fit into a food processor and still have room to efficiently and effectively process and mix it all together.
We used soy milk, but you can use other non-dairy milk, like oat milk if needed. Plus, if you don't need this to be a nut free recipe, you could use almond milk or coconut milk.
Pay attention to the instructions on your pasta box to know how long you need to cook the pasta for. If you like al dente pasta, it will require less cooking time than softer pasta will.
If you find your sauce to be a little thicker than you like, add a splash of pasta water to thin it out some.
Want a baked vegan mac and cheese dish? Transfer everything to a casserole dish and sprinkle some gluten free breadcrumbs over top of the creamy vegan mac before popping it in the oven for a few minutes.
What else can I add?
Want to add some more tasty flavors to this dish? Here are a few great options to try:
Garlic powder, onion powder, and Italian seasoning to bring some extra Italian vibes
Any other veggies, like green peas or broccoli that you may commonly find in other mac and cheese dishes
If not vegan- add some protein like chicken or ground beef
Like heat? Try adding some chilly flakes, hot sauce, or red pepper flakes.
Want even more cheese? Add some fresh grated vegan parmesan cheese.
No yukon potatoes? You can try sweet potato if needed. It will probably change the flavor of the sauce, but it will still be good
Can I use other pasta?
Sure! If you don't have a gluten free macaroni on hand, you can use any other favorite gluten-free pasta that you do have on hand. Cook the pasta according to the instructions on the package and then toss with the vegan cheese recipe and enjoy. That's the best thing about this recipe, the cheesy sauce is the thing to focus on and then you can use whatever pasta you have on hand.
Can you make this vegan gluten and nut free mac and cheese ahead of time?
Absolutely! Sometimes I like to make the sauce ahead of time and store it in a container in the refrigerator until I'm ready to make the pasta at dinner time. When I do this, I will reheat the sauce on the stove while I'm making the gluten-free pasta. Usually, I will have to add just a tad bit of water to thin the sauce out some as it thickens in the fridge.
If you make both the sauce and the pasta ahead of time and store it in the fridge, give everything a good stir before serving to make sure it all gets mixed up again. I try to make this just a few hours in advance if I need to.
Can you freeze this mac and cheese?
I don't usually recommend trying to freeze anything with gluten free noodles. Many versions of gluten free pasta don't seem to freeze well. However, we have found that there are some brands that you can freeze and they hold up well. Charlie's Table is a good brand for gluten free pasta that freezes well.
Additionally, you can make the vegan cheese sauce ahead of time, and freeze it in a freezer-safe container or freezer-safe bag for up to 2 to 3 months. Then when you're ready to eat the vegan macaroni and cheese, just make fresh pasta, thaw the sauce and mix together. You may find that the sauce wants to separate after freezing and then thawing. If this happens to you, simply mix your sauce back together before tossing it with the pasta.
Why is my sauce runny?
This doesn't normally happen if you use the cooked vegetables. That's one of the ways to thicken up the sauce, but sometimes it can still happen. When this happens you can make a gluten free roux by combining a gluten free flour blend and water to make a paste like substance to add to the cheese sauce and try to thicken the creamy pasta recipe up some.
Now that you see just how easy it is to make the perfect vegan mac and cheese that's also nut free and gluten free, it's time to whip up a batch of this creamy goodness. You see, it's also a great way to hide some more veggies for your kids while helping build the good flavor of this tasty recipe.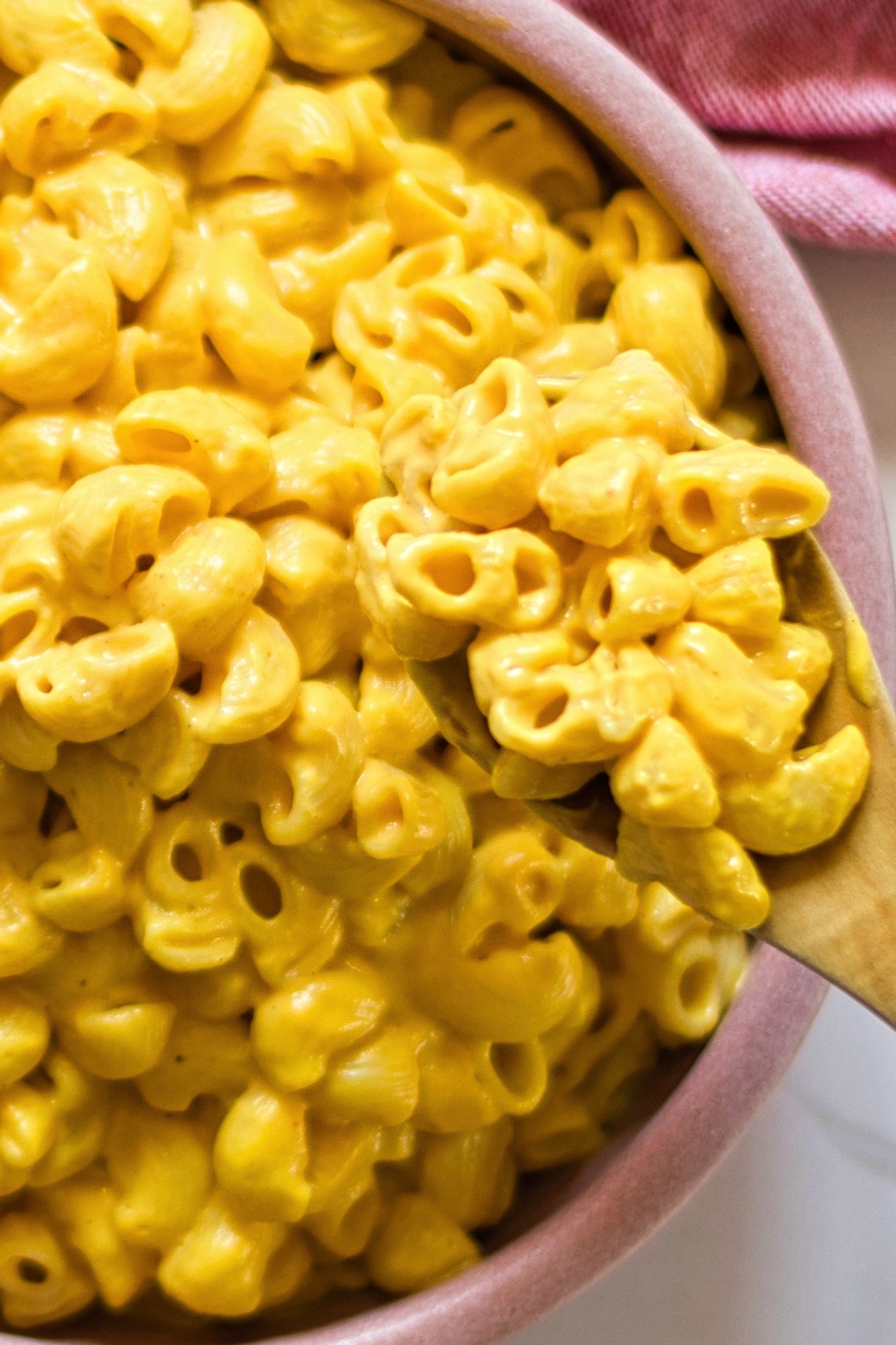 Vegan Nut Free Mac and Cheese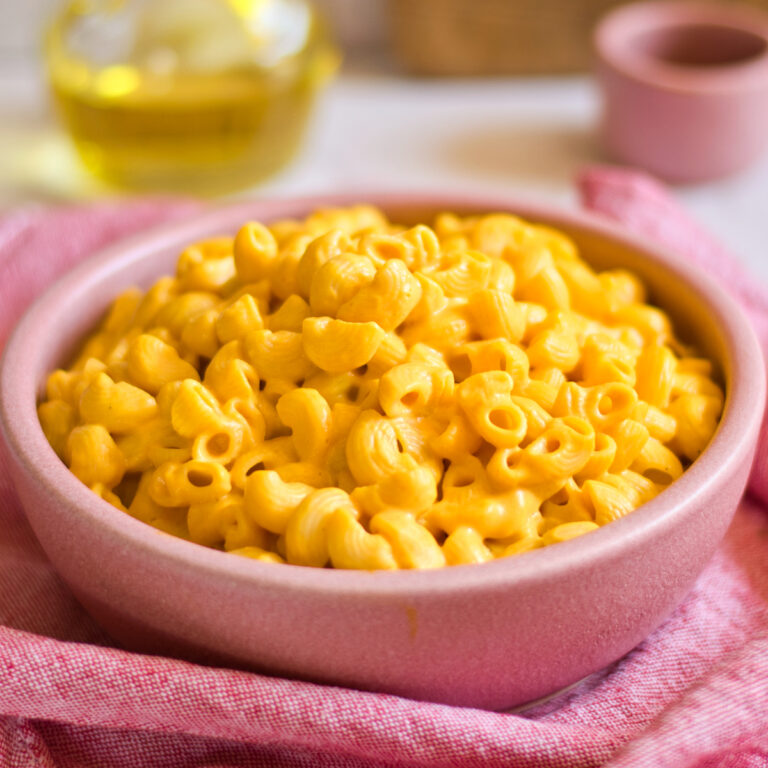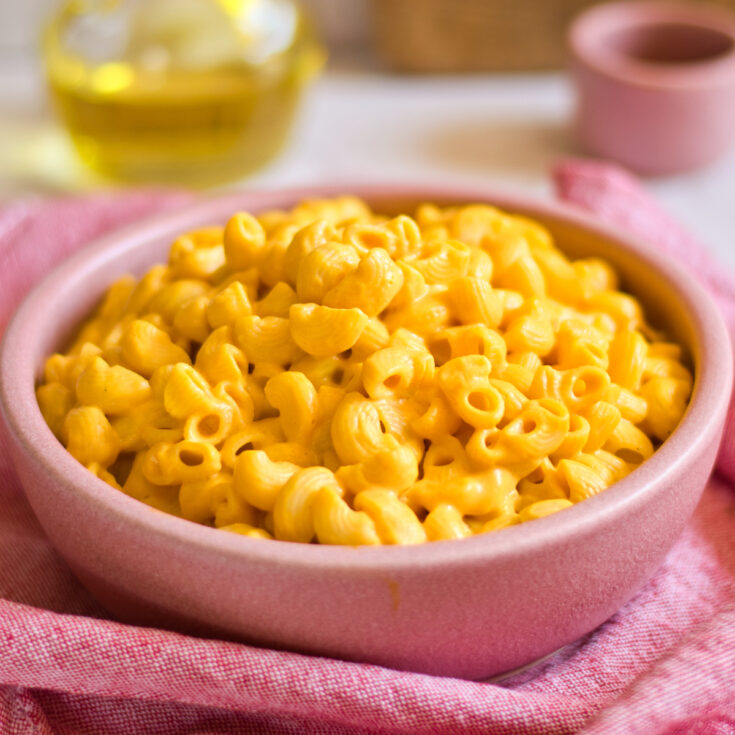 Ingredients
Carrots : 1 cup -2 medium sized carrots ( cut into 1/2 inch pieces)
Yukon potato: 1 1/2 cups (cut into 1/2 inch pieces)
Gluten-free Macaroni pasta: 12 once -350 gr
Olive oil : 2 tablespoons
Soy Milk : 1/2 cup
Mustard: 1/2 teaspoon
Smoked Paprika : /4 teaspoon
Turmeric : Pinch of it
Lemon juice: 1 tablespoon
Nutritional Yeast :1/4 cup + 2 tablespoons
Salt :2 1/2 teaspoons salt, or to taste
Black Pepper : 1/2 teaspoon
Instructions
To prepare this delicious and healthy version of Mac & Cheese, start by measuring and cleaning all the ingredients.
Sauce:
First, take a medium-sized pot filled with water and put it on medium-high heat. Next, take the carrots and potatoes and peel off the skin. Chop them into cubes ( 1/2 inch pieces) and place them into the pot. Boil the vegetables for at least 15 minutes or until they soften enough to make a purée. Once the Vegetables soften, deposit them into the blender and add the soy milk, smoked paprika, turmeric, olive oil, nutritional yeast, mustard, lemon juice, salt & pepper and blend for at least 5 minutes or until the sauce smooths and looks cheesy.
Macaroni Pasta:
First, take a medium-sized pot and fill it with water; add salt and bring it to a boil. Once the water is boiling, add the gluten-free pasta and cook for the time displayed in the package.
Assemble:
Now that the pasta and the sauce are ready, we will take a wok or a big-sized Saucepan and add the pasta. Place the saucepan onto low heat and pour the vegan cheese sauce making sure you toss around the pasta so the sauce covers all of it.
Enjoy...!!
Optional: top up with some chilly flakes or vegan parmesan cheese.
More Gluten Free or Vegan Recipes You Have to Try