Are you in the mood for an indulgent snack that won't leave you feeling guilty? Look no further than this Gluten Free Vegan Mug Cake! Delicious, simple, and incredibly satisfying – this homemade delight is sure to hit the spot. Not only does it leave out dairy and eggs like some conventional cakes, but it's just as easy (if not easier!) to make with nothing but a few ingredients, a large mug or ramekin, and less than 10 minutes of your time.
As an Amazon Associate I earn from qualifying purchases.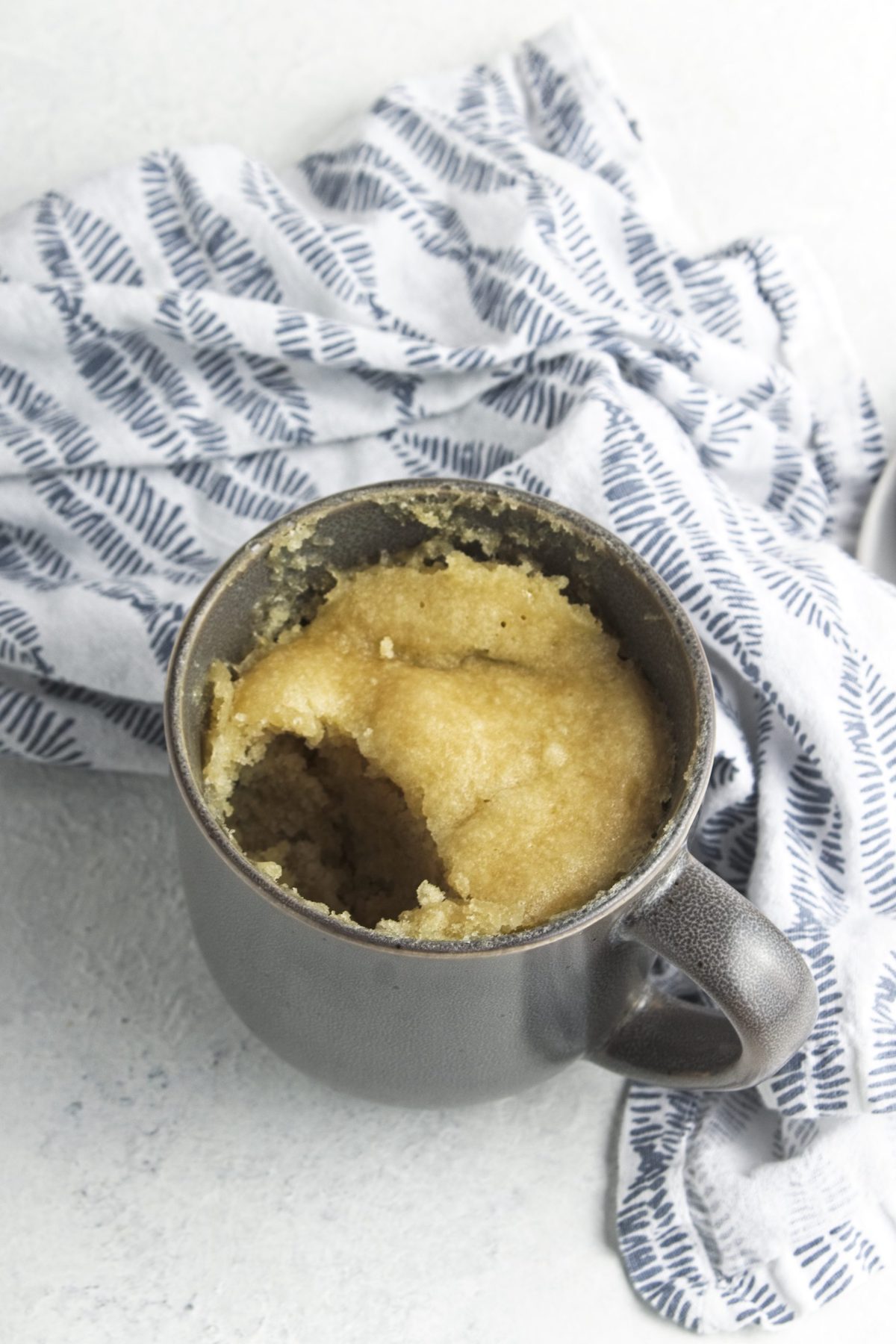 No baking prior or complicated recipes here; all you have to do is mix everything together in one bowl, plop it all into your dish of choice, pop it into the microwave for a few minutes, and voilà—your own personal dessert awaits to satisfy your sweet tooth!
Have you seen all those dessert in a mug recipes and have been secretly wanting to try one, but not able to because of the ingredients? Well, worry no longer because this dessert in a mug recipe is made with plant-based ingredients and doesn't contain any gluten either! Safe for various allergies and dietary restrictions, and it doesn't require any crazy replacement ingredients either- just ingredients you already have on hand if you are following a gluten free and vegan diet already!
Why You'll Love This Mug Cake Dessert
This tasty recipe makes a single serving- better for portion control
Less clean up compared to a traditional cake or larger dessert choice
Super quick dessert – ready in about 10 minutes
Super simple- you only need a handful of ingredients
This recipe is gluten free and safe for those following a vegan diet
Ingredients Needed for This Treat
Get more info on these simple ingredients in the recipe card found below.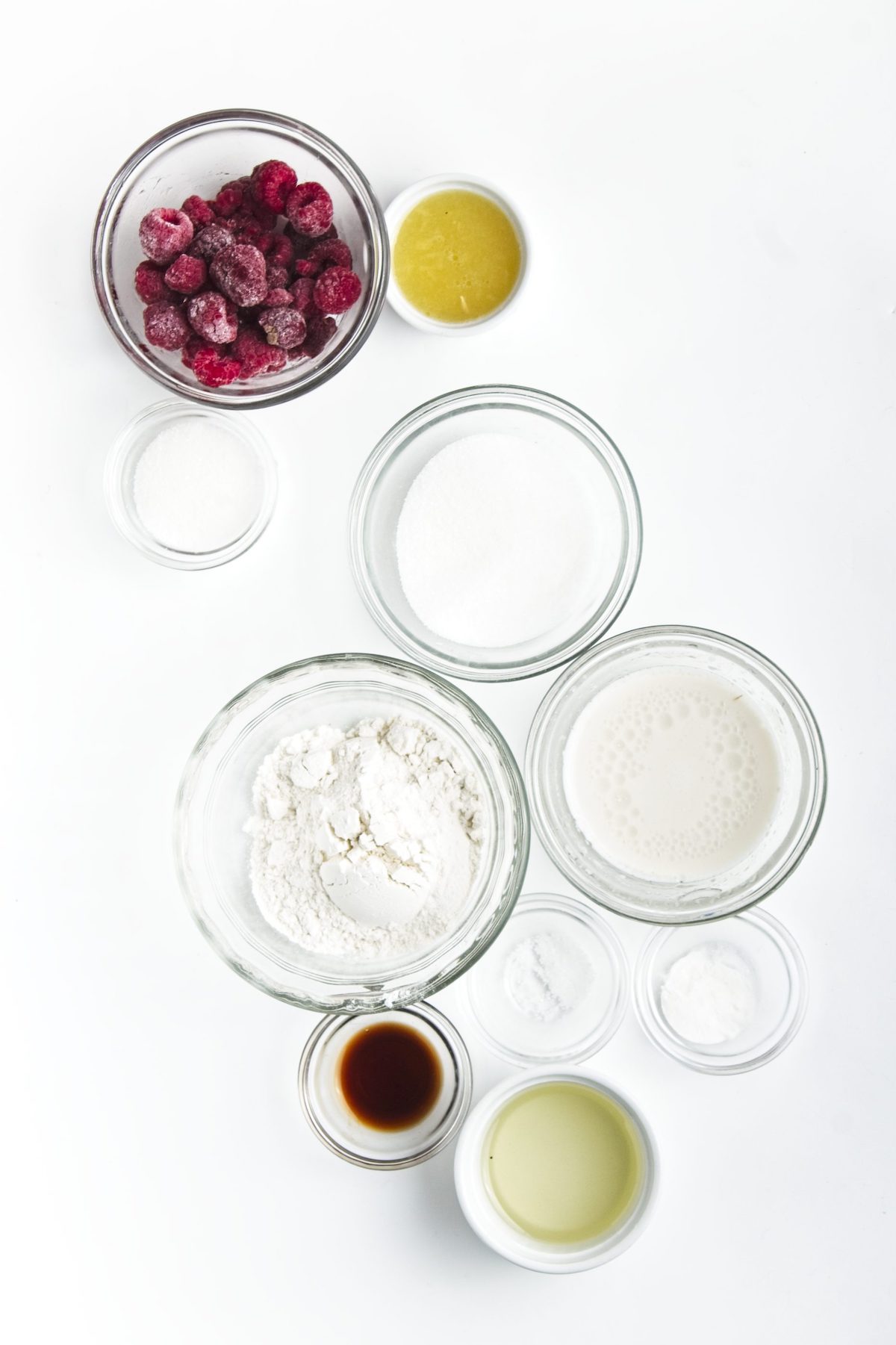 gluten free flour blend
granulated sugar
baking powder
salt
vegetable oil
almond milk (or other non-dairy milk)
vanilla extract
frozen raspberries
fresh orange juice
How to Make a Gluten Free Vegan Mug Cake
Combine dry ingredients: gluten free flour, granulated white sugar, baking powder and salt in a large measuring cup or small bowl. use a fork to combine.
Add your wet ingredients: dairy free milk, vegetable oil, and vanilla extract. Use the fork to whisk until smooth. Be sure to scrape the sides of the container to incorporate all the ingredients together.
Pour cake mix into a microwave safe mug.
Microwave on full power for 90 seconds to 2 minutes until the edges of the cake look cake like rather than batter.
Let cake cool for 5 minutes before enjoying.
While the cake is cooling, combine the raspberries, orange juice, and sugar in a microwave safe bowl or measuring cup.
Microwave everything together for 1 minute, or until everything is soft before stirring.
Repeat for another 2-3 minutes, using 60 second intervals, stirring in between each interval until it reaches your desired consistency. As the sauce cools it will thicken.
Drizzle sauce over mug cake, serve, and enjoy.
Storage
For best results, this gluten-free mug cake is best served right when you make it. I don't recommend trying to store leftovers. And, really, this is a single serving dessert, I doubt you'll have leftovers anyway!
Recipe Tips and Variations
You can use a fork or a small whisk to mix everything together for this quick treat.
Use whatever gluten-free flour blend you prefer. Check to see if you need. toad guar gum or xanthan gum to act as a binding agent if your flour choice doesn't have one. This recipe will work with any gf flour, like almond flour, coconut flour, or rice flour. And, if you don't need this. tobe a gluten free recipe, you can use a regular all purpose flour.
Want to use a natural sweetener instead of granulated sugar? Try drizzling the cake with maple syrup and using a different sugar alternative, like coconut sugar, in the vegan mug cake.
Try swapping the vegetable oil in this recipe with coconut oil or applesauce. The result will be a delicious and moist gluten-free mug cake that's just as simple as this easy recipe.
Check your vanilla extract for added sugar or other additives that might not be vegan or gluten free.
Making your own gluten free mug cake is a smart thing to do if you're attending a birthday party where regular gluten-containing birthday cake is being served. This way you don't feel left out and can enjoy in cake celebration too, but this time, with safe ingredients!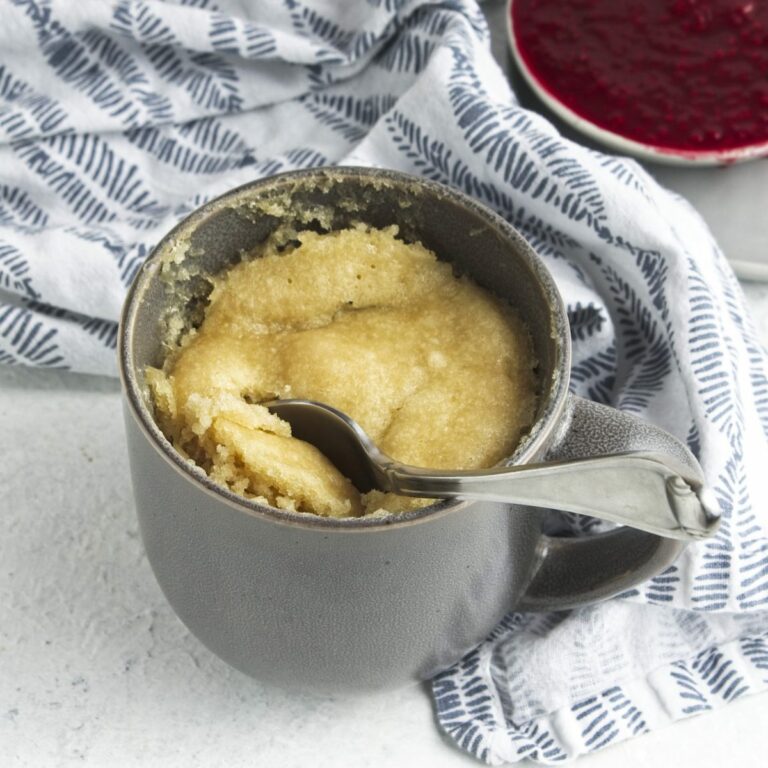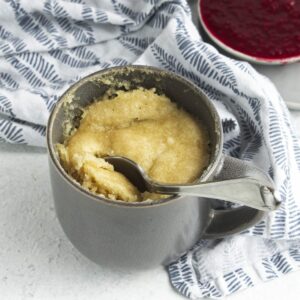 Vegan Vanilla Mug Cake with Raspberry Sauce
Ingredients
5

tbsp

gluten free flour

3

tbsp

sugar

1/2

tsp

baking powder

pinch

salt

2 1/2

tbsp

cooking oil

4

tbsp

almond milk

or other non-dairy milk

1/2

tsp

vanilla extract

1/2

cup

frozen raspberries

2

tbsp

orange juice

1

tbsp

sugar
Instructions
In a large measuring cup or small bowl, combine the flour, granulated sugar, salt, and baking powder. Stir with a fork to easily combine everything.

Add the almond milk, vegetable oil, and vanilla extract. Stir with a fork or a small whisk until smooth, making sure to scrape the side and corners to incorporate all the dry ingredients.

Pour into an ungreased, 12oz microwave safe mug.

Microwave on full power for 90 seconds to 2 minutes. Timing depends on strength of microwave-low watt microwaves may need up to 2 1/2 minutes until the edges are no longer batter.

Allow cake to cool for at least 5 minutes before eating.

In a microwave safe bowl or measuring cup, combine the raspberries, orange juice, and sugar.

Microwave for 1 minute until everything is soft. Stir combine.

Continue cooking for 2-3 minutes in 60 second intervals until sauce is close to desired consistency. Sauce will thicken slightly as it cools so don't cook it too far.

Drizzle sauce over cake to serve.
Questions
What size mug do I use for this single-serving dessert?
This recipe was developed using a 12oz (336ml) mug. Using a mug of a different size may change the overall outcome of this mug cake. It may need more or less cooking time. Keep this in mind if you need to use a different mug.
In addition, you can use a ramekin for this dessert, but, again, this may change the required time in the oven.
How long do you microwave a mug cake?
The length of time you need to use will vary depending on the wattage of your microwave. If you have a very cheap microwave that has low wattage, you may need up to 2 1/2 minutes to cook it. If you have a high powered microwave, you may only need 90 seconds for this vegan mug cake recipe.
You'll know your cake is done when the edges start to look like a cake rather than still wet and gooey like cake batter. They may start to pull away from the inside of the mug. Additionally, if you insert a toothpick into the center of the cake, it should come out clean with no wet batter.
What can I top my cake with?
There are lots of possibilities here – you can customize this mug cake to your own tastes.
Add a few vegan chocolate chips to make a gluten-free chocolate mug cake to satisfy that chocolate craving!
Serve this microwave mug cake with a scoop of dairy free ice cream or dairy free whipped cream for a super tasty gluten-free dessert.
Use any of your favorite dairy free options for toppings you like.
You can also jazz up this vegan mug cake by adding some fruits like blueberries, raspberries or strawberries.
You may also want to add in some nuts, or other crunchy things for texture, like toasted coconut flakes.
Try adding some vegan cocoa powder and dairy free chocolate chips for a double chocolate.
Next time you make this mug cake, add a dollop of peanut butter, almond butter, or other nut butter on top for another flavor variety to enjoy.
What dairy free milk should I use?
There is no right answer here. You can use whatever dairy free milk you have on hand and prefer. Any of these options should work:
soy milk
almond milk
coconut milk
oat milk
cashew milk
You can also use a combination of any of these milk alternatives to get the desired texture and flavor. For example, if you prefer something creamier, you can use a combination of almond milk and coconut milk. Try experimenting with different combinations to find the one that's perfect for you!
Can I use different extracts?
Certainly! Using different extracts is the perfect way to bring other flavors to your mug cake recipes. Instead of using vanilla extract, you can use flavored extracts, like maple extract, almond extract, orange extract, cinnamon extract, etc.
This is a great way to customize each individual mug cake which is an especially helpful thing to do if you are making a few different mug cakes at one time for multiple people to enjoy individual servings of dessert at once without making a large, regular sized dessert.
Can I make multiple mug cakes?
Yes, while this recipe makes one individual dessert, in one mug, for one person, you can certainly scale this recipe to make a few different mug cakes for your family. This is great when everyone is wanting cake but doesn't want the same flavor. It's also great to use as portion control if you enjoy cake but tend to overinduldge.
Are you excited to make a vegan fluffy vanilla mug cake? Want more tasty gluten free desserts to enjoy? Don't worry, we have a few other ideas that we think you will fall in love with too! Try this Gluten Free Vegan Gingerbread Load Cake or these incredibly decadentGluten Free Chocolate Cake Mix Cookies (also dairy free and vegan too!).