This deliciously simple Pulled Barbecue Chicken Instant Pot recipe comes together in no time thanks to the hard working Instant Pot. Make a batch of this one-pot wonder ahead of time and enjoy all week. Great for stuffing potatoes, sweet potatoes, serving over rice, in quesadillas or on a bun with coleslaw. Dinner is served!
As an Amazon Associate I earn from qualifying purchases.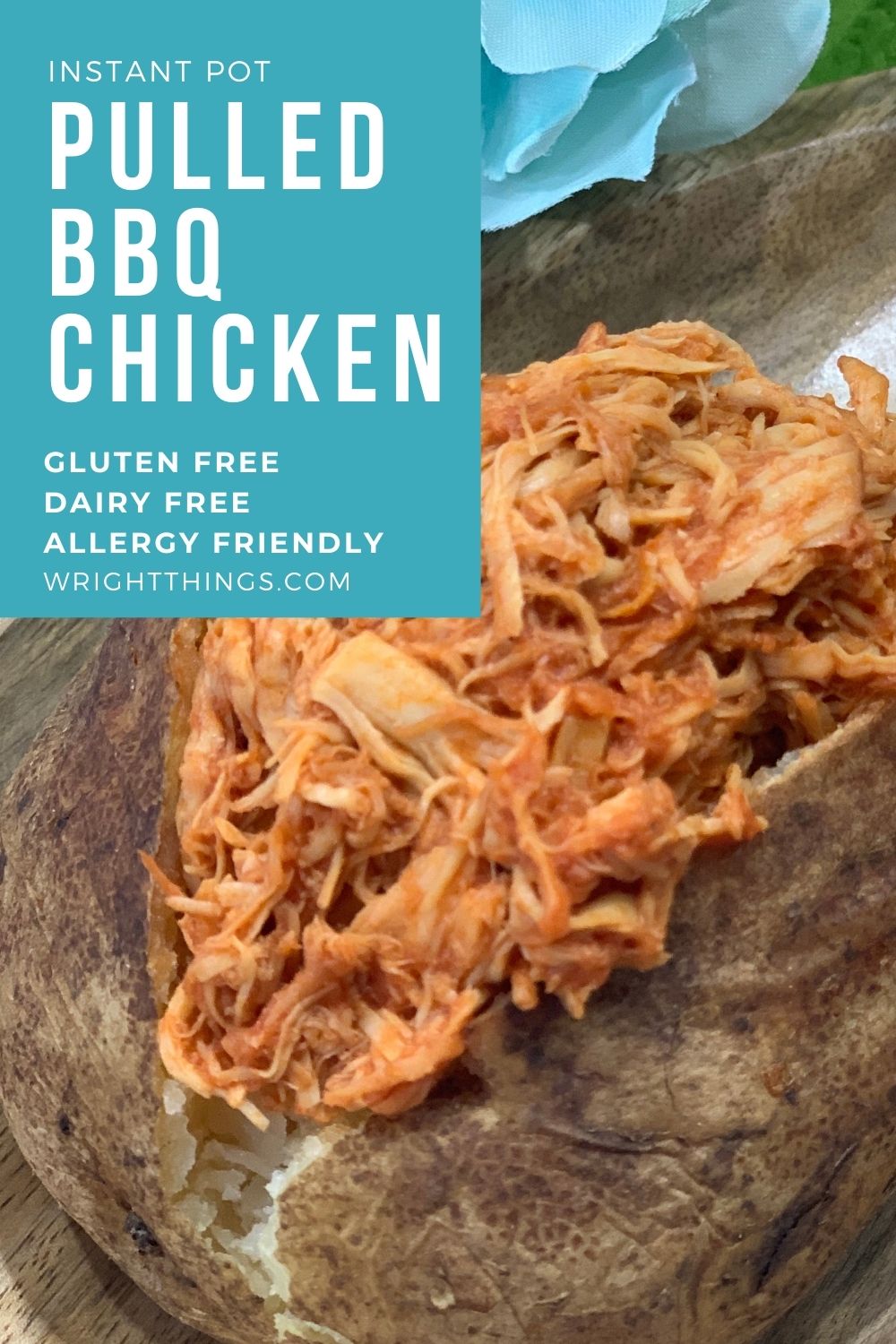 Have you ever had one of those weeks where there just doesn't seem to be enough hours in the day to get everything done? I know I have! This easy BBQ Shredded Chicken recipe is about to become your new best friend during those kind of weeks. And, if you're in need of another easy Instant Pot recipe for those busy weeknights, try this Instant Pot Shredded Chicken recipe.
Why I love the Instant Pot
If you aren't yet acquainted with the Instant Pot, now is the time. It is a multi-faceted kitchen workhorse that can work near miracles. While it can do the work of a slow cooker, it also has 6 other functions including my favorite, pressure cooking.
Did you forget to thaw your chicken this morning? Don't even worry about it! The Instant Pot has you covered. That's right, folks. You can throw in a frozen brick of chicken and 45 painless minutes later you'll have chicken that basically shreds itself.
Why You'll Love This Recipe
The Instant Pot does all the hard work for you
You can use the pulled bbq chicken for meal prep, making more than just one meal
Perfect for busy nights when you need dinner on the fly
It's a simple recipe that the whole family will love
A favorite way to prepare juicy, tender shredded chicken for various meals it can be used in- think bbq chicken salad, tacos, salads, and more

Ingredients Needed
Get more information on these ingredients in the recipe card near the bottom of the post in the printable recipe card.
chicken of your choice- you can use boneless skinless chicken breasts, boneless skinless chicken thighs, etc
can of crushed Ttmato, diced tomato, or tomato sauce- you just need some kind of tomatoes
white vinegar
apple cider vinegar
brown sugar
How to Make Instant Pot Pulled BBQ Chicken
This easy to make meal is a true weeknight dream come true. The preparation takes all of five minutes (less if you don't mind tomato chunks in your chicken!), and then you can set it and forget it while the instant Pot does the work.
First up, because the Instant Pot has a "burn" sensor, you'll want to add about a half cup of water to it first. This will keep the chicken from sticking to the metal and setting the sensor off. Next up, add your chicken.
TIP: If you didn't hear me earlier, here's the best part: you can use FROZEN chicken for this recipe! That's right. No defrosting necessary. I told you the Instant Pot was magical!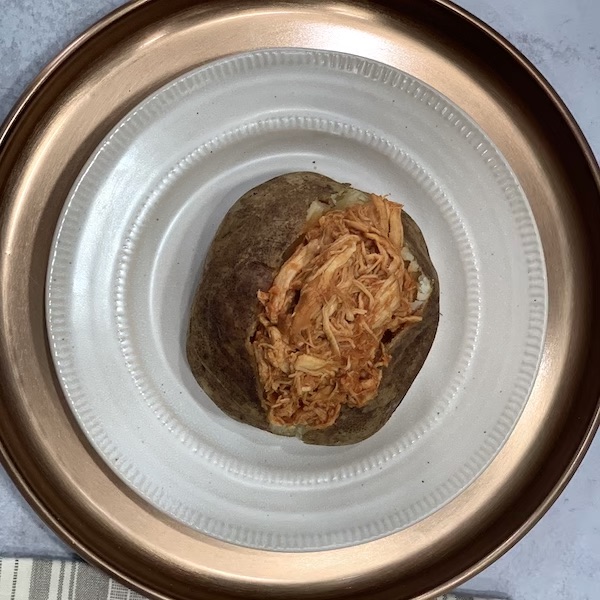 Next up, you'll make your BBQ sauce. If you want more of a "true" barbecue sauce for the chicken, simply add the remaining ingredients to a blender or food processor and whiz until smooth. If you don't mind some tomato chunks in there, simply add the remaining ingredients to the Instant Pot and give it a stir.
Set the Instant Pot to cook at high pressure for 30 minutes, then allow a natural release for 10 minutes. Dinner is almost ready!
TIP: If you used chicken with bones in it, now is the time to debone it and add back to the pot.
Remove the lid. See all that liquid in there? We're about to cook it off. Turn on the sauté function and stir. The chicken will basically pull itself as you stir, and the heat from the sauté function will evaporate off any excess liquid. As soon as your desired level of sauciness is achieved, you're all done!

Storage
Leftover chicken should be stored in an airtight container and kept in the refrigerator for up to 3-4 days. This easy recipe is great for meal prep and you can reuse the leftovers in many, various, easy meals for other lunches and dinners.
Tips and Tricks
The cooking time required for this tender Instant Pot bbq chicken recipe doesn't include the time it takes for the Instant Pot to come up to pressure or the time it takes for the natural pressure release to release the internal pressure.
When you add water to the pot, in the beginning, to help avoid the burn notice, if you want to, for more flavor, you can swap this out for chicken broth.
You can use this Instant Pot pulled bbq chicken for anything. You can eat it by itself, serve it on some tacos, on top of a salad, or make some of the best bbq chicken sandwiches on top of some brioche buns that you've ever had.
Use whatever your favorite bbq sauce is to give your shredded meat the best flavor.
Don't overcrowd the Instant Pot, work in batches if needed.
If you need help shredding the meat, you can use meat claws, or put the meat in a mixing bowl and run an electric mixer through it to shred the cooked chicken faster.
Frequently Asked Questions
What kind of chicken should I use?
The great thing about this easy one-pot barbecue chicken is that you can use basically any kind of chicken your heart desires. I generally use boneless, skinless chicken breasts for ease, but you can also use bone-in, skin on pieces. I have also used chicken thighs for this recipe and it turns out beautifully.
What if I want more sauce on my chicken?
Well, aren't you saucy! If you want a little extra flavor, ramp things up with our homemade gluten free bbq sauce!
How should I serve this BBQ chicken?
The ways to use this easy shredded chicken are nearly endless. We love to stuff it in baked potatoes, but that's just the start! You can serve it with crackers, over rice, or as a sandwich. Throw it in a quesadilla or make some nachos out of it. Go wherever your imagination takes you.
TIP: Read this post on how to make "baked" sweet potatoes in the Instant Pot.
How long will this chicken recipe last?
While we can never keep this shredded bbq chicken around for long, you could ostensibly keep it in the fridge for up to a week.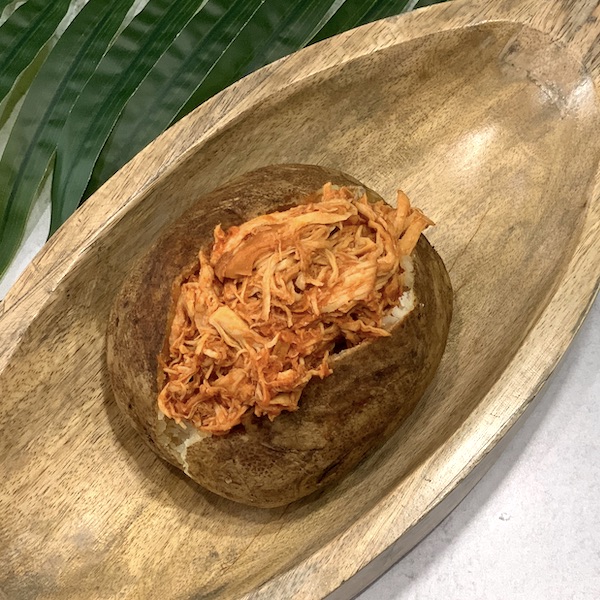 Want more allergy friendly Instant Pot recipe inspiration?
If you made this recipe and loved it, please be sure to rate and comment below!
Don't forget to follow me on Pinterest for even more great recipes!
Instant Pot Shredded BBQ Chicken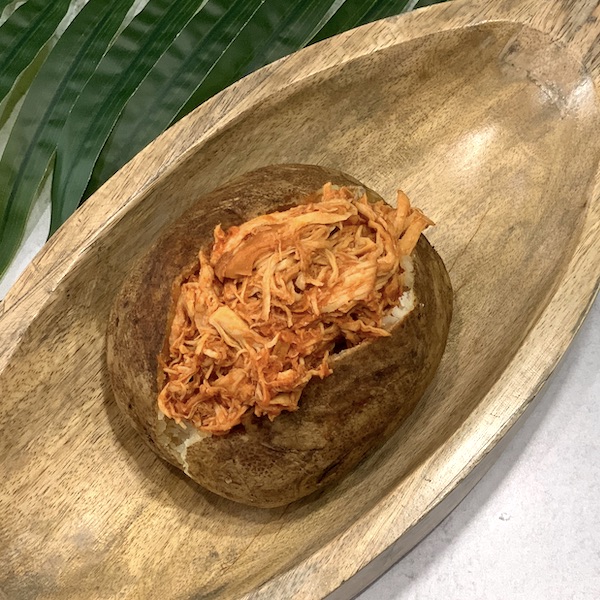 Ingredients
3 lbs chicken of your choice (frozen is OK!)
14 oz can Crushed Tomato, Diced Tomato, or Tomato Sauce, any tomato is ok!
7 oz white vinegar
1 oz apple cider vinegar
1/2 cup brown sugar
Instructions
Add 1/2 cup of water to the Instnat Pot
Add chicken to the Instant Pot
If you want a true BBQ suace, be sure to blend or put tomato into the food processor before you add it to the instnat pot. If you prefer chunks of tomatoes, feel free to skip this step.
Add tomato to the Instant Pot
Add white vinegar and apple cider vinegar to the Instant Pot.
Add Brown sugar, and stir.
Cook at high pressure for 30 minutes
Allow to natural release for 10 minutes.
Open the instant pot. There will be a good amount of liquid.
If using chicken with bones in it, debone chicken and break into chunks, then return to pot. If using boneless chicken, break up chicken with a pair of tongs or a serving spoon. This chicken shreds itself.
Stir chicken. It will break up.
Turn Instant Pot to saute, and allow liquid to cook down until desired sauciness is reached, while stirring. This will shred the chicken more.
Notes
You can use any type of chicken you wish for this dish, fresh or frozen. Personally, we usually use either bone in or boneless breasts, or sometimes thighs.
While this is pulled chicken, the chicken is so tender, it basically pulls itself! Just roughly break it up, and as you sautee the liquid off, stir and it will continue to shred.
Need more sauce? Don't forget to try our gluten free BBQ sauce without ketchup. We make our BBQ sauce completely from scratch, just like we did for this recipe. This makes sure our BBQ sauce is always allergy friendly.
Nutrition Information:
Yield:
12
Serving Size:
1
Amount Per Serving:
Calories:

299
Total Fat:

15g
Saturated Fat:

4g
Trans Fat:

0g
Unsaturated Fat:

9g
Cholesterol:

107mg
Sodium:

194mg
Carbohydrates:

11g
Fiber:

1g
Sugar:

10g
Protein:

28g
Nutrition data is estimated.