Sweet potatoes are one of the most underrated and under used foods around. This is because may people are a little intimated by cooking them.
As an Amazon Associate I earn from qualifying purchases.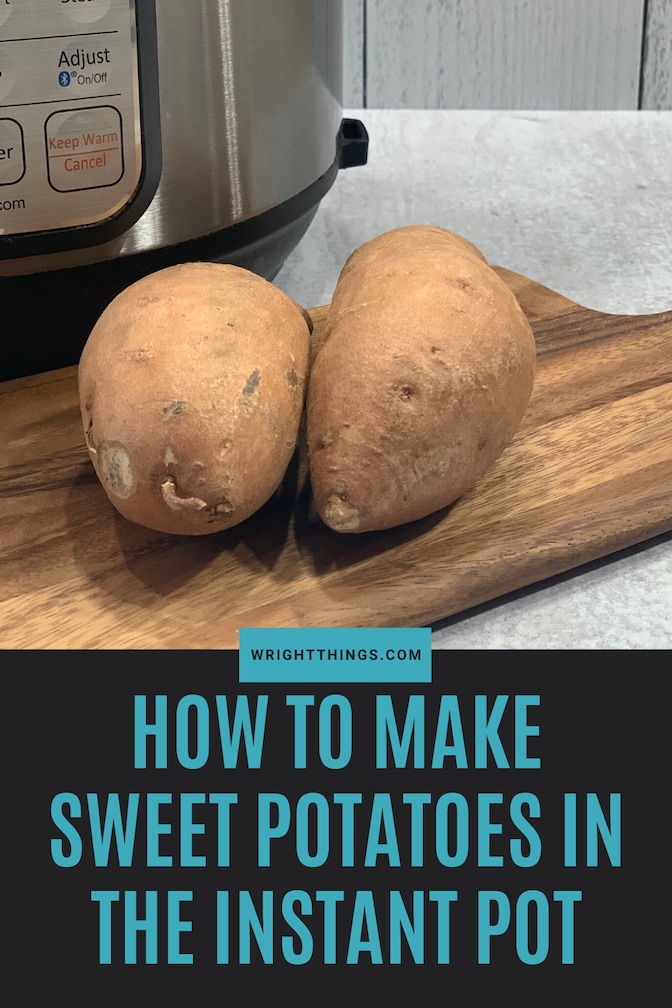 Sweet potatoes are hard. If you have ever tried to cut one up, you know what I'm talking about. That's why I figured out how to cook sweet potatoes whole in the Instant Pot.
Perfect mashed sweet potatoes, every time, no cutting or peeling necessary. The Instant Pot changed the way I cook mashed potatoes forever!
Cooking Sweet Potatoes in Instant Pot
Cooking sweet potatoes in the instant pot couldn't be more convenient.
They are low maintenance, and pretty much do their own thing with the Instant Pot.
I throw a batch in whenever I have the time. While they do take a while to cook in the Instant Pot, the actual effort required to cook them is next to nothing.
The best part is, sweet potatoes are super easy to peel after they have been cooked in the Instant Pot. I mean, look at this, they practically peel themselves!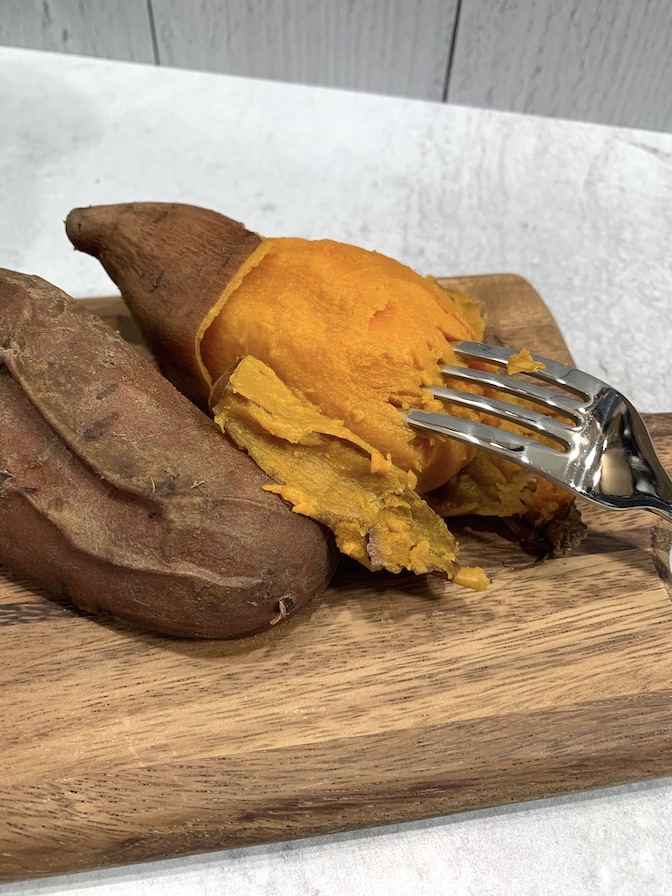 No scooping or cutting or trying to figure out if they are done yet when you make whole sweet potatoes in the Instant Pot.
How to Cook Sweet Potatoes in Instant Pot
When it comes to how to cook sweet potatoes in the Instant Pot, you don't need that many things, and it isn't that hard to do.
You will need the following for Instant Pot sweet potatotes:
An Instant Pot
The trivet that comes with your instant pot or a steamer basket
Sweet potatoes. As many or as few as you want. I always do at least 6 because we love mashed sweet potatoes for many things.
Water to make pressure.
That's it! That's everything you need! You don't need to worry about making holes in the sweet potatoes or really anything at all.
Here is what you need to do to make sweet potatoes in the Instant Pot.
Rinse off sweet potatoes.

Place on trivet or steamer basket in Instant Pot

Add 1/2 cup water

Set to high pressure for 45 minutes

Let pressure release naturally
Your sweet potatoes will look a little shriveled, and that is perfectly ok. The skin may even break, that's fine too.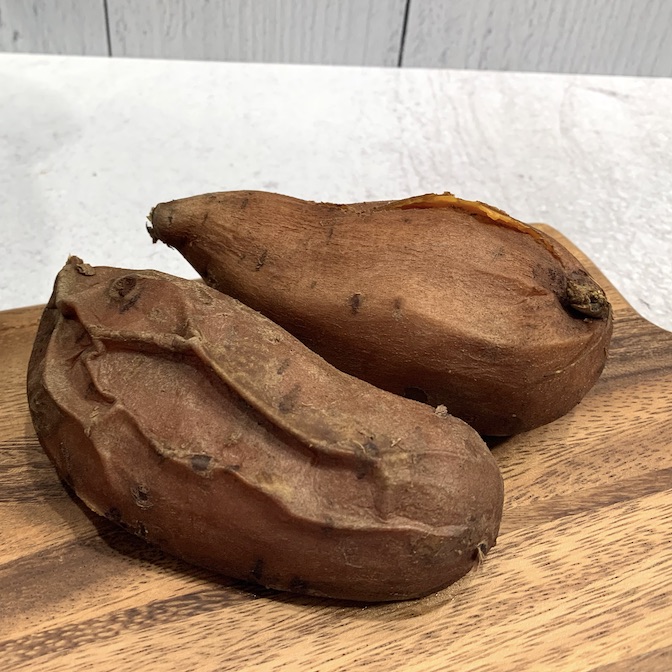 As you saw above, when the sweet potatoes are like this, the are super easy to peel. There's no scooping or fighting with the sweet potato, the skin comes right off.
Then, they can easily be mashed with just a fork. Just look at this texture!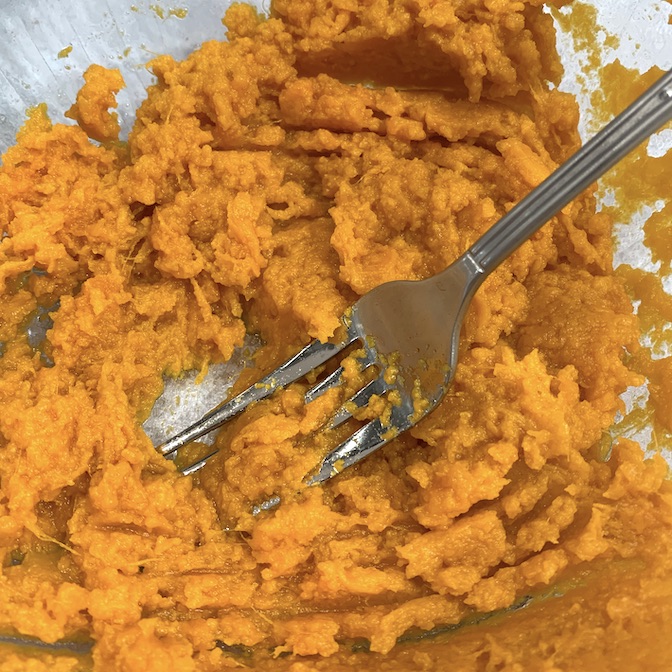 You can even eat them just like this! Perfect mashed sweet potatoes every time, w without needing to add anything to it.
Dairy free, gluten free, allergy friendly, vegan and paleo, you really can't go wrong with these Instant Pot mashed sweet potatoes.
Things to Do With Mashed Sweet Potato
There are so many things you can do with mashed sweet potato. I know I use it all the time.
Here are some of my favorite things to do with them:
Just eat them!
Make vegan sweet potato pie
Make sweet potato cakes
Use sweet potato for baking in place of eggs
That's just a few things, and hasn't been able to scratch the surface of all the possibilities.
Why You Should Eat More Sweet Potato
Besides the fact that sweet potatoes are delicious, the truth is they are a surprisingly good source of vitamins and minerals.
According to WebMD, Sweet Potatoes are full of vitamins and minerals like:
Vitamin A
B Vitamins
Vitamin C
Vitamin D
Calcium
Iron
Among many more different vitamins and minerals.
While sweet potatoes are low in fat, they do contain carbs, about 26 grams per sweet potato. There are also 3.9 grams of fiber per sweet potato, making them a tasty way to add more fiber to your diet.
Cooking sweet potatoes in the Instant Pot couldn't be easier, and they are a great addition to any meal.