These easy to make gluten-free, dairy-free, & nut-free blondies are a real crowd pleaser. They are one of my go-tos for a quick dessert to bring to a party, and they're free of most allergens so everyone can take part!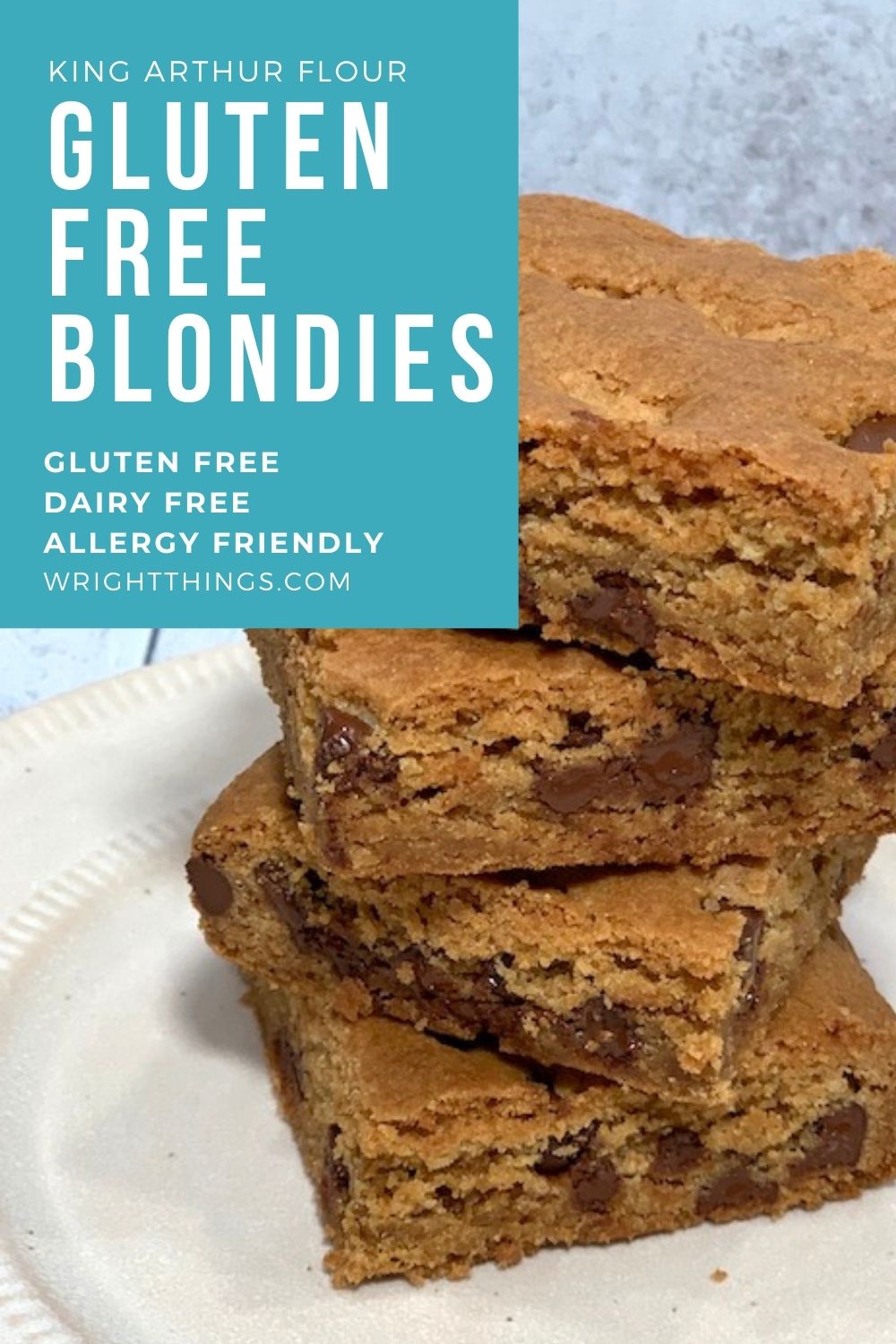 Blondies are a quintessential American dessert bar, second only to brownies. As their name states, they are a blonde version of a brownie, filled with buttery toffee flavor and nearly infinitely adaptable.
What makes my recipe special is that it is gluten-, dairy-, nut- and soy-free, meaning I've eliminated all the major allergens. That's right! Just about anyone can enjoy these delicious treats.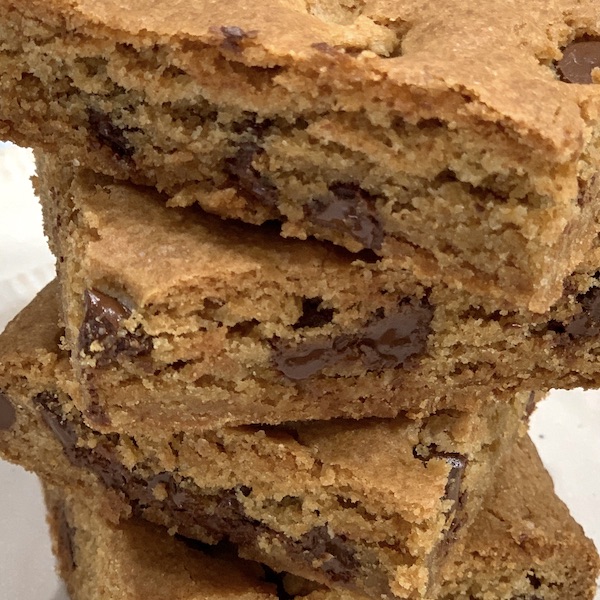 What you'll need
These simple gluten free blondies require just 7 simple ingredients that you likely already have on hand: gluten free flour, brown sugar, coconut oil, an egg, vanilla extract, salt and chocolate chips.
TIP: If you're not a fan of chocolate, feel free to swap out for your favorite filling! Dried fruit, white chocolate, or toffee would all be divine. Or even get creative and mix and match your favorites! Dried banana and chocolate, dried cranberries and white chocolate, chocolate toffee… the sky is the limit!
I happen to love King Arthur's Gluten Free All Purpose Baking Mix for this dessert bar recipe. It is filled with 20 grams of whole grain goodness per serving, and I honestly can't tell that it isn't regular flour (except that it doesn't make me sick!).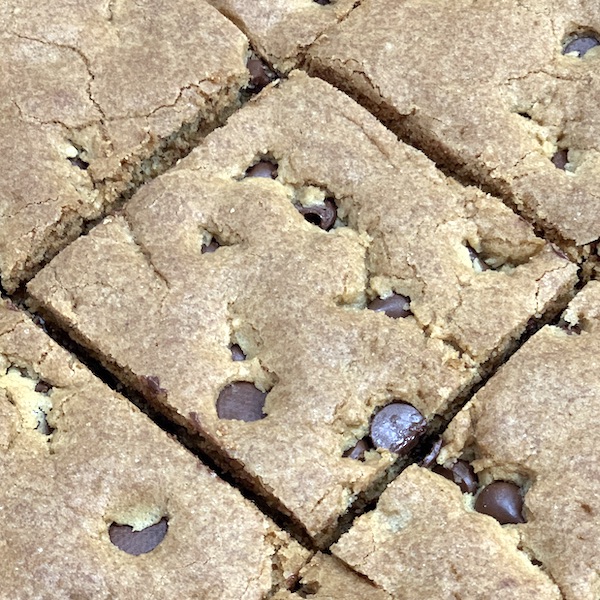 How to make these allergy friendly blondies
Making these allergy free blondies could hardly be any easier! First, you'll whisk together your coconut oil, egg, vanilla and brown sugar until combined. In a separate bowl, mix together your King Arthur Gluten Free Baking Mix and salt.
Using a wooden spoon or firm spatula, mix dry ingredients into wet, stirring until combined. Finally add your favorite mix ins – chocolate chips, dried fruit, toffee bits – and press into a prepared baking tin. All that's left is to bake, cool, cut and enjoy!
Frequently Asked Questions:
Can I make these blondies vegan?
You sure can! Easily transform this into a vegan blondie recipe by substituting either:
Flax Egg (1 Tbsp ground flaxseed + 3 Tbsp water)
1/4 C Silken Tofu (this will work better if you have a stand or hand mixer)
1/4 C fruit or squash puree
1 Overripe Banana (this will impart a banana flavor)
Depending on your flavor preferences and your allergies, there's a solution out there for everyone.
Can I substitute a 1-to-1 gluten free flour mix for the baking mix?
While you can definitely make these using a gluten free flour mix, you will need to add leavening to get the same result. I haven't tried yet, but I would suggest subbing an equivalent amount of gluten free flour with 1 tsp baking powder. If you try this, let me know how it goes in the recipe comments below!
What other mix ins would work?
The beauty of blondies as a dessert bar is that they are basically infinitely adaptable. If you're not allergic to nuts, feel free to add in your favorites! Prefer white chocolate to dark? Have at it! Your imagination is the limit. Here's a list of ideas, although it is in no way comprehensive:
Gluten Free Pretzels
M&Ms
Toffee Bits
Dried Fruit
Freeze Dried Fruit
White Chocolate
Nuts (if you're not allergic!)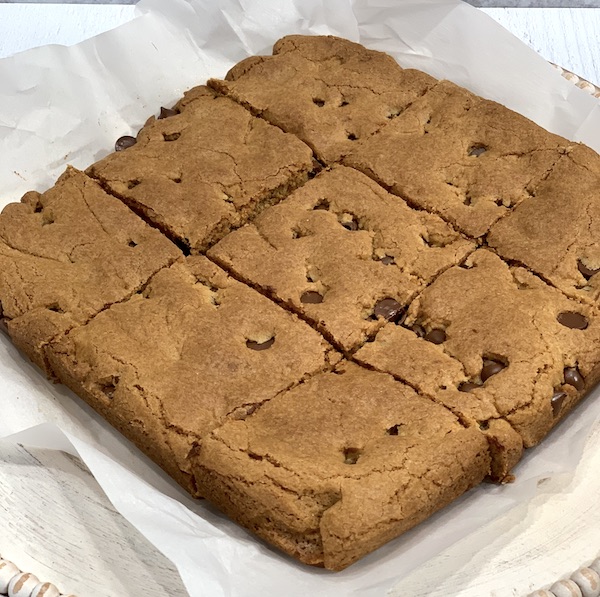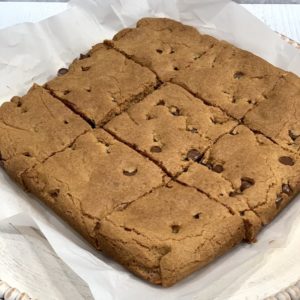 King Arthur Gluten Free Baking Mix Recipes
Look, I can't say enough good things about King Arthur Gluten Free Baking Mix, I use it pretty exclusively when it comes to my gluten free baking (much of it which is also vegan)
Here are my favorite recipes where I use King Arthur Gluten Free Baking Mix.
If you're new to Gluten Free Baking, you can swap King Arthur Gluten Free Baking mix pretty easily 1-1 as you would use regular flour. I have noticed sometimes you do need to use slightly more liquid than you would with a regular flour.
You can also swap it for any gluten free recipes you come across with flour blends.
There are two things that make King Arthur Gluten Free Baking mix really unique. It contains both Xanthan Gum and Baking Powder, so it lends itself wonderfully to yeast based recipes and recipes where you want to see some fluff and rise like scones and cakes.
If you love this recipe and want more allergy friendly recipe inspiration, be sure to follow me on Pinterest!
Yield: 9
King Arthur Gluten-Free Blondies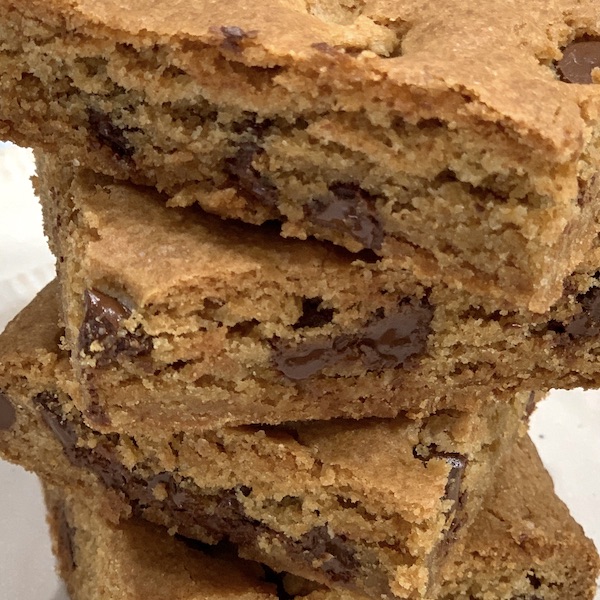 These easy to make gluten free, dairy free, nut free blondies are a crowd pleaser. They are one of my go-tos for a quick dessert, or to bring to a party.
Ingredients
1.5 Cups King Arthur Gluten Free Baking Mix
1/4 tsp salt
1 Cup brown sugar
1 Egg
2/3 cup coconut oil
1 tsp Vanilla Extract
1/2 Cup nut free chocolate chips
Instructions
Preheat oven to 350F
Line a 9x9 baking pan with parchment
Mix King Arthur Gluten Free Baking Mix and salt in a bowl and set aside.
Add the egg, brown sugar, vanilla extract, and coconut oil to a bowl and whisk until combined.
Use a spatula to add the King Arthur Gluten Free Baking Mix and salt to the egg, brown sugar, and coconut oil mixture. Trust me, you don't want to whisk this!
Mix by hand until well combined and flour is absorbed. It will be a firm dough.
Mix in 1/2 cup nut free chcolate chips.
Spread mixture into prepared pan, pressing down it so the pan is filled.
Bake at 350 for 20 minutes, or until internal temperature reaches 210F.
Allow to cool, before removing parchment and blondies from pan, and cutting into 9 equal pieces.
Notes
This is a great recipe to bring to a party, or just for a snack. We always have a batch of this gluten free dariy free treat in our house.
We love to use Pascha Allergy Friendly chcolate chips, but you can mix in just about anything you want!
Or, leave them out and just enjoy the crispy crunchy golden brown cookie!
Recommended Products
As an Amazon Associate and member of other affiliate programs, I earn from qualifying purchases.