Meatloaf is one of those meals that is instant comfort food. I mean who doesn't love meatloaf?
As an Amazon Associate I earn from qualifying purchases.
Unfortunately, if you follow a gluten free diet like I do, meatloaf becomes a bit more complicated. It is one of those foods you wouldn't necessarily expect to contain gluten, I mean, it is called meatloaf.
The fact of the matter is meatloaf often has breadcrumbs or another gluten based binding agent. Can you make meatloaf without breadcrumbs? Of course you can. Read on to find out how.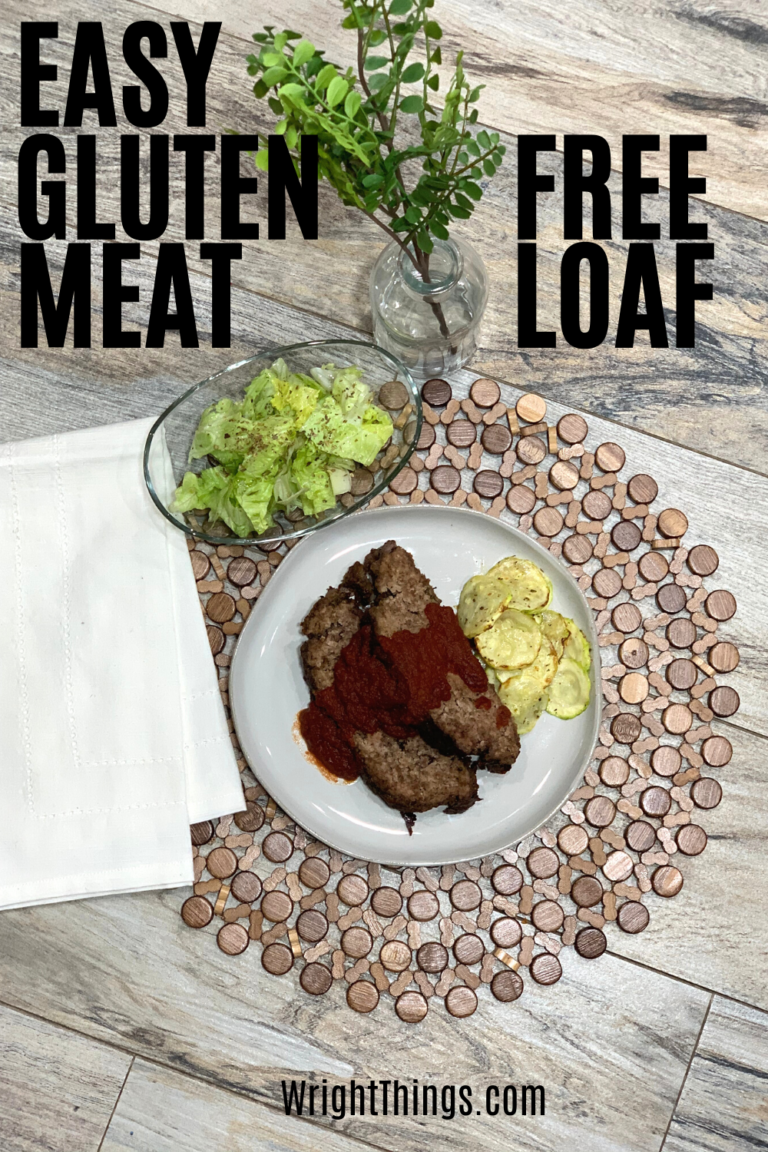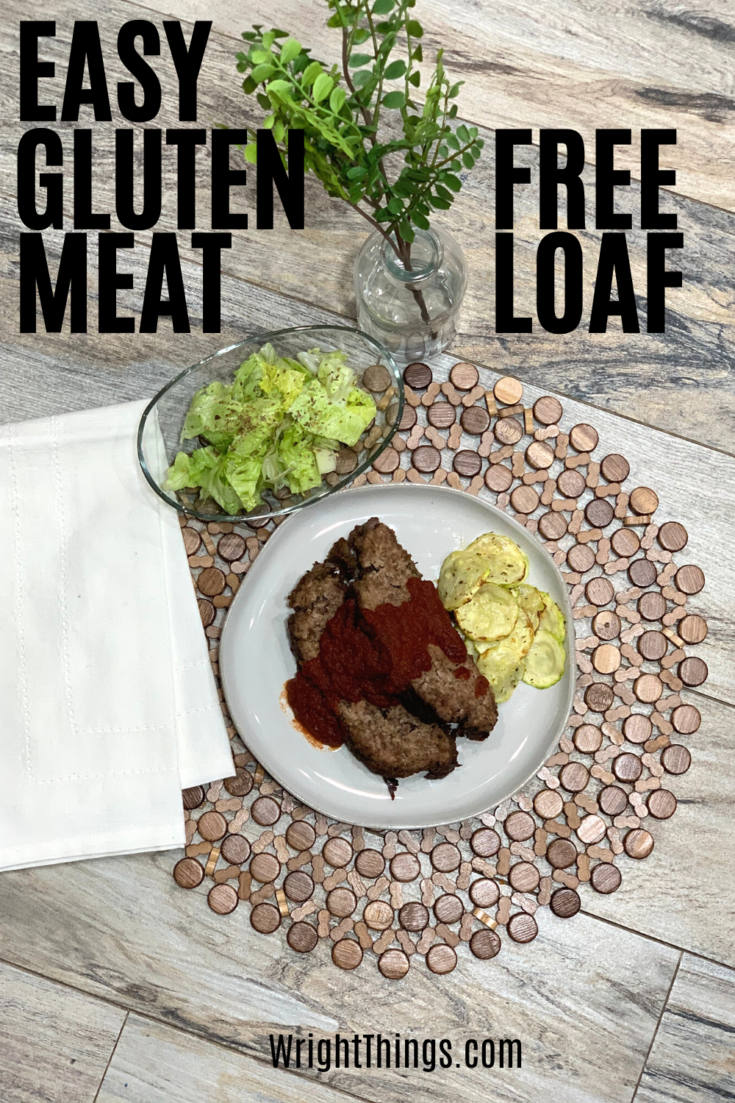 Today, we are going to look at a breadcrumb free meatloaf recipe. This means that our meatloaf is also paleo and keto friendly in addition to being gluten free!
So first things first, the answer to the most important question…
How to Make Meatloaf Without Breadcrumbs
So what do we put in our meatloaf instead of breadcrumbs? The answer may surprise you. Nothing.
That's right. We aren't going to replace the breadcrumbs in our recipe with a gluten free version, or anything else. After all, this is meatloaf!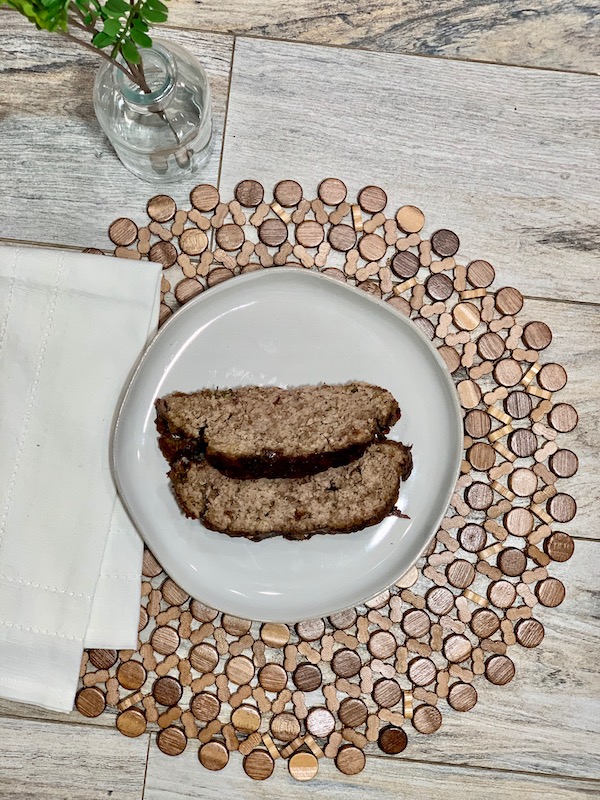 The trick to making gluten free meatloaf without breadcrumbs is all in how we physically make our meatloaf. I add water and fresh chopped parsley, and really mix it up. You want the ground beef to squish through your fingers without issue, and have a very soft texture.
The meatloaf without breadcrumbs will still absorb water, it just needs a little hands on TLC from us.
Then, we just shape it into our favorite form of a loaf, and let it cook.
This breadcrumb free meatloaf will still be super tender, but stay together without issue. It is all in the loaf making! When it comes to how to make meatloaf without breadcrumbs, it really isn't that difficult at all!
What About a Substitute for Ketchup in Meatloaf?
Many popular meatloaf recipes include ketchup. Personally, I have never been a fan 0f this, but I get that many people want that sweet tomato flavor with their meatloaf.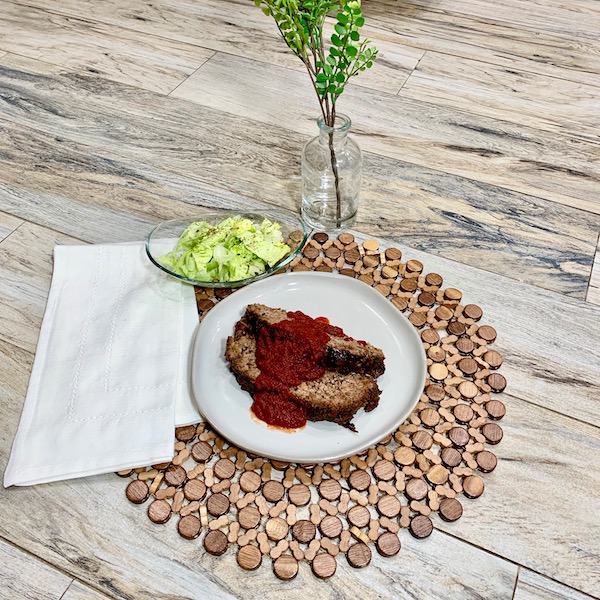 BBQ sauce is a great substitute for ketchup in meatloaf. I don't coat the top of my meatloaf with a substitute for ketchup, or anything at all. This is just because everyone in my family prefers their meatloaf differently.
I serve my homemade, gluten free BBQ sauce on top of my meatloaf slices. This BBQ sauce is seriously the best, because it does't have ketchup in it and is made from just four simple ingredients.
Easy Gluten Free Meatloaf Without Breadcrumbs
This meatloaf couldn't be easier to put together for delicious gluten free dinner.
With three simple ingredients, you can't go wrong. Whether you put homemade BBQ sauce on top, or eat it plain, this main course goes with all of your favorite side dishes.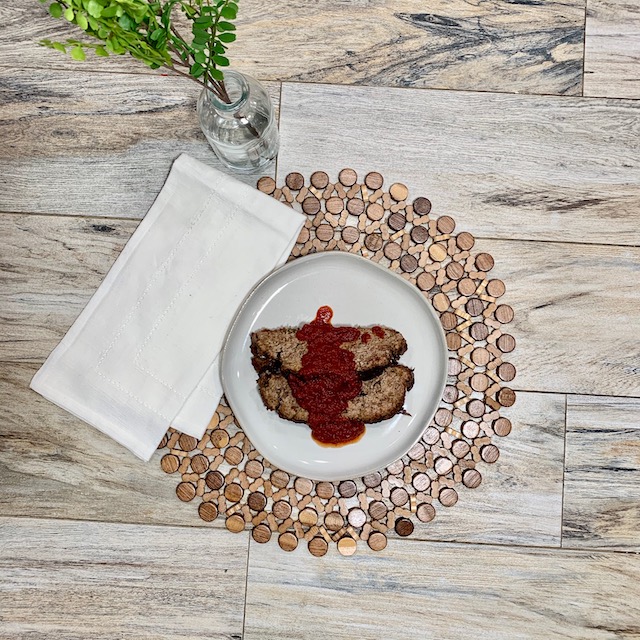 The best part of this recipe is it lends itself to adding more things. For example, you can chop up veggies like carrots and red peppers finely in your Vitamix, and simply add it to the mixture.
Have questions about meatloaf without breadcrumbs? We have answers!
What can I use instead of breadcrumbs in meatloaf?
Breadcrumbs are not essential to a delicious meatloaf. They're merely there for texture and help hold the meat together, but this can be accomplished with some potatoes or oats.
Potatoes have a similar effect on the taste of your dish as breadcrumbs, which is why they work so well in filling out your meal. You may also want to consider using oats instead of bread crumbs because they add more flavor and stick better than their wheat-based counterparts.
What else can you use in meatloaf without breadcrumbs? There are many optionsfor replacements that will work in a meatloaf. Some are healthier than others, but it all depends on what you're looking for in your meal. Another popular option for meatloaf without breadcrumbs is cornmeal, which has its own unique flavor profile to give your dish some extra dimension.
Substitutes for Breadcrumbs in Meatloaf
Looking for more ideas? Try these great substitutes for breadcrumbs in meatloaf.
Crushed crackers (gluten free or regular)
Vegetables (ground carrots, celery, peppers, and mushrooms all work well)
Crushed potato chips
Crushed corn-based cereal
Crushed tortilla chips
Flax Seeds
Oats pulsed in the blender or food processor
You can also substitute egg in meatloaf recipes easily too!
What happens if you don't put breadcrumbs in meatloaf?
The meatloaf will come out a little bit more moist and is denser than usual. The trick is to really mix it up well before you form in into its loaf shape. It may also taste slightly different if you're used to having meatloaf with breadcrumbs in it. We also have a ton of ideas for substitutes for breadcrumbs if you really miss the texture.
What is the purpose of breadcrumbs in meatloaf?
Breadcrumbs are traditionally used to bind together the ground meat, fat and spices. Some extra time can help you get around the missing breadcrumbs my really making sure to mix your meat and seasonings together. The same holds true when making meatballs without breadcrumbs.
Gluten Free Meatloaf Without Breadcrumbs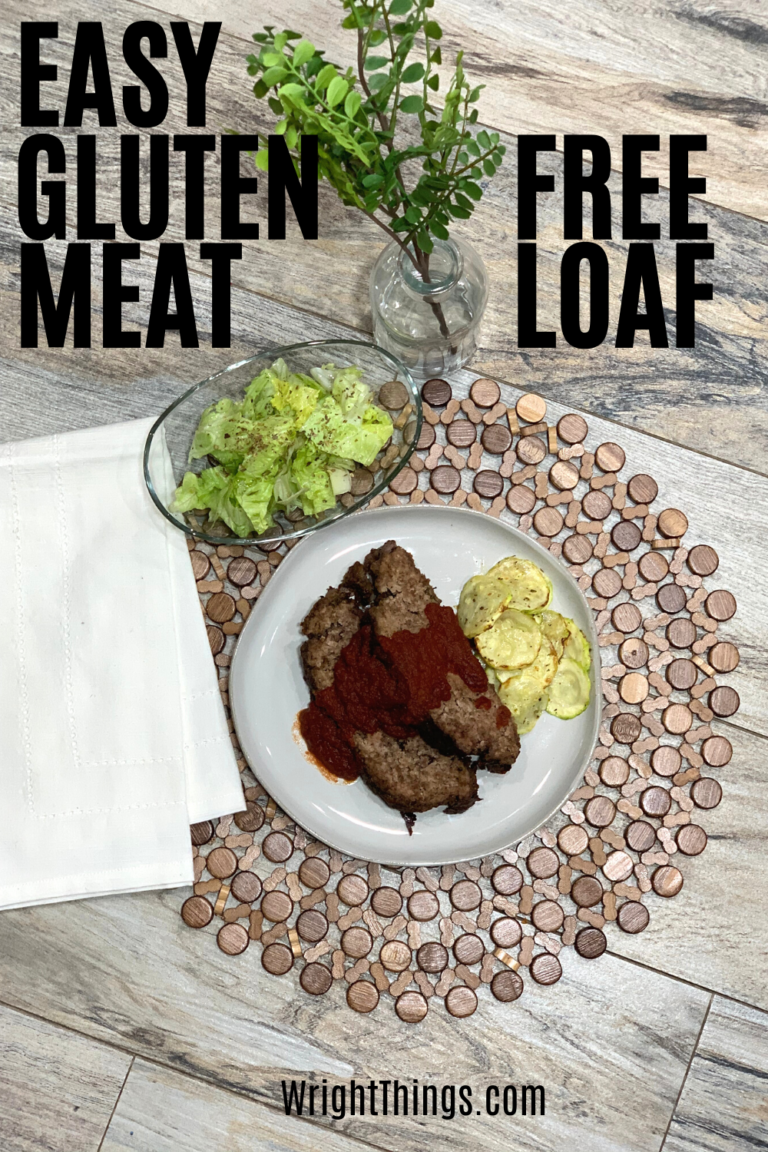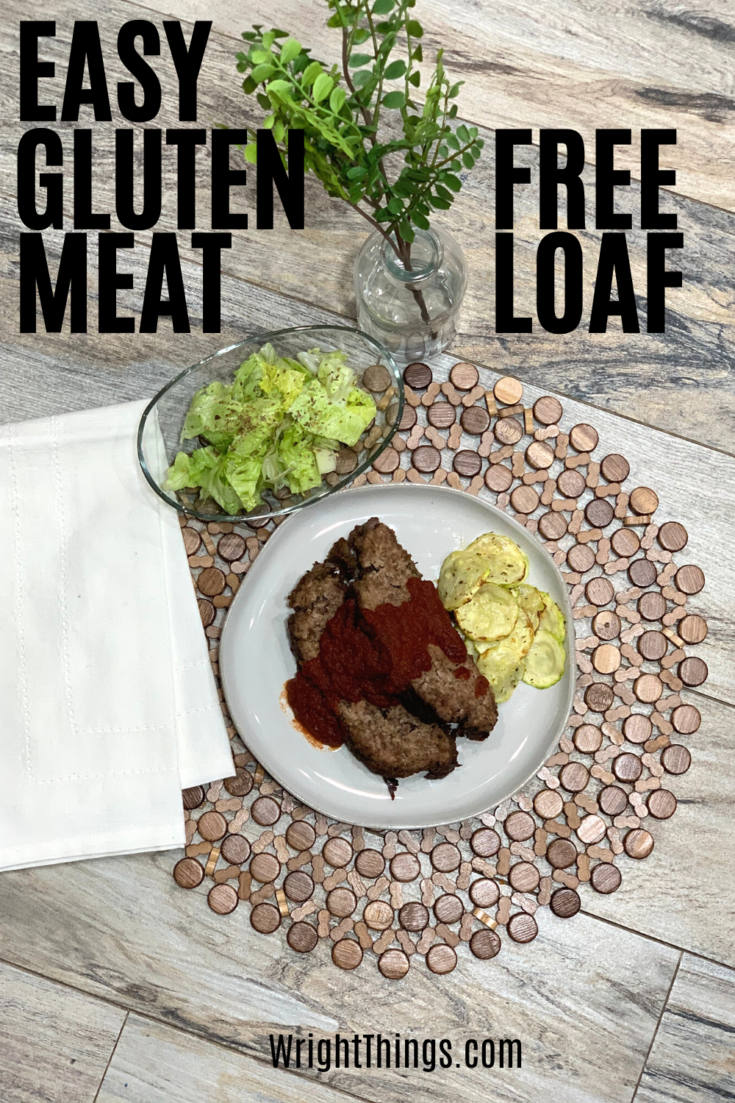 This gluten free meatloaf without breadcrumbs is a perfect weeknight dinner. It removes gluten containing breadcrumbs, also making it keto and paleo friendly. You won't even miss the breadcrumbs!

We love leftover meatloaf here, so this is enough for dinner and some lunches the next day.

Prep Time 10 minutes

Cook Time 1 hour 30 minutes

Total Time 1 hour 40 minutes
Ingredients
4 pounds ground beef
1 cup parsley leaves
3/4 cup water
1 cup homemade BBQ sauce (optional)
Instructions
Preheat oven to 375 F
Place ground beef in bowl.
Either chop parsley finely, or place parsley and water into vitmix and blend until parsley is chopped.
Add parsely and water to ground beef
Mix parsely, ground beef, and water very well. You are looking for a very moist texture that makes an audible squish between your fingers.
Shape meatloaf into your preferred loaf shape in a 13x9 pain.
Cook in oven at 375F for 1.5 hours, or until internal temperature is 160 F and top is crunchy. Dump off grease after an hour of cooking.
Promptly remove meatloaf from pan when removed from oven, so it does not sit in grease.
If desired, top slices with homemade BBQ sauce.
Notes
We use 4 pounds of ground beef since we love to have meatlaof for leftovers!

When using 3 lbs of ground beef, reduce water to 1/2 cup and parsley to 3/4 cup.

When using 2 lbs of groupd beef, reduce water to 1/4 cup and parsley 1/2 cup.

You can also add ground vegetables to this recipe, like ground carrots or red peppers. The Vitamix is great for matching ground vegetables to ground meat.
Nutrition Information:
Yield:
10
Serving Size:
1
Amount Per Serving: Calories: 496Total Fat: 32gSaturated Fat: 12gTrans Fat: 1gUnsaturated Fat: 15gCholesterol: 161mgSodium: 169mgCarbohydrates: 0gFiber: 0gSugar: 0gProtein: 49g

Have extra meatloaf? Don't miss our guide to reheating meatloaf! You can also learn if you should cover your meatloaf when baking it here – and why it matters.