Instant pot Broccoli has got to be one of the easiest side dishes around. It is super easy to make a big batch in the Instant Pot, and let everyone add their own toppings! Best of all, it is a quick side dish that is naturally gluten free, dairy free, and allergy friendly.
As an Amazon Associate I earn from qualifying purchases.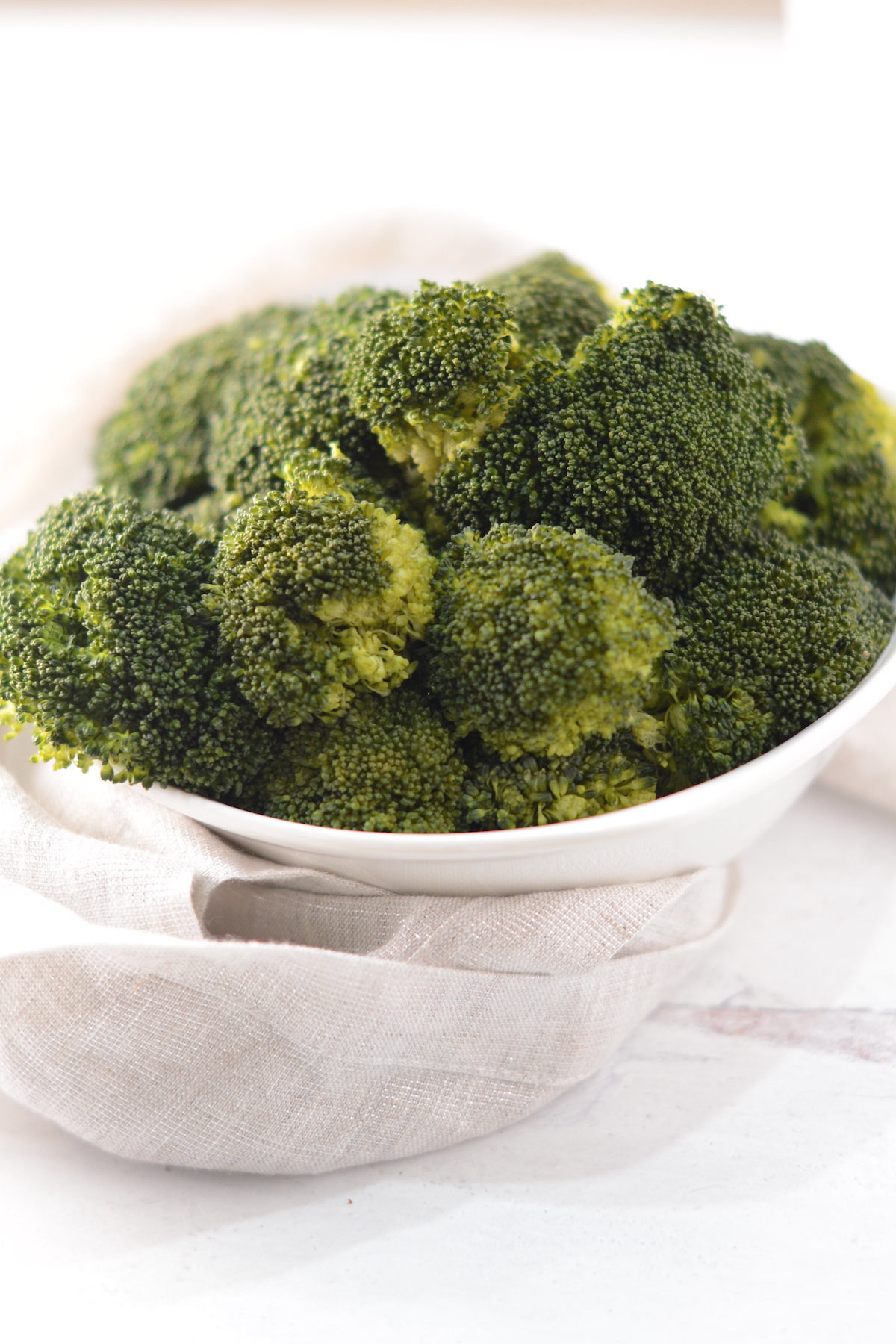 If you have an Instant Pot, you're only minutes away from the one of the quickest and healthiest side dishes around. We are going to cover everything you need to know to make the best broccoli in your Instant Pot!
How to Make Instant Pot Broccoli
It couldn't be easier to make Instant Pot broccoli.
Start by washing your broccoli, and cutting it how you like it if it came in heads. Some like smaller florets, some like bigger ones. Totally up to you and your preferences! This method works with all differnt cuts of fresh broccoli.
Then wash your broccoli. I like to cut, then wash it.
Next, put a steamer basket in your Instant Pot, and load it up with that broccoli.
Add one cup of water, and set your Instant Pot to 0 time on high pressure. Yes, you heard that right, 0, zero!
Side note: everyone on the internet will tell you the Instnat Pot only needs 1/2 cup of water to come to pressure. While this is true, I have found some things to just come out better with a full cup…plus if you accidentaly forget to turn it off or unplug it, you have a bit of extra liquid and won't be scrubbing the bottom of the pot!
When your Instant Pot is done, quickly releas the pressure as soon as it beeps. You don't want your broccoli to overcook.
Then enjoy your Instant Pot broccoli! We like it plain, but you may want to add a drizzle of extra virgin olive oil, oregano, parsley, or even chili powder!
The beautiful part of making it plain in the Instant Pot is that everyone can dress up their broccoli however they would like.
Have questions? I have answers becasue I can't even tell you how many times I have steamed broccoli in the instant pot.
How long do I Steam broccoli in the Instant Pot?
How long you steam your brocoli depends on how you like it. We like ours cooked for 0 minutes which leaves it a bit crunchy. If you want softer broccoli steam it for 1 minute
Can you steam broccoli in instant pot without steamer basket?
You can steam your broccoli without a steamer basket, but it may get a bit water logged. If you want to steam broccoli in the Instant Pot without a steamer basket, he best course of action is cutting the broccoli in larger pieces, and place it on the trivet your Instnat Pot came with.
This is a bit of an art form, but it can be done! If you don't already have a steamer basket, consider getitng one. I've been through several, and my favorite is a classic metal steamer basekt.
How do you steam broccoli in Instant Pot duo crisp?
You can steam broccoli the same way if you have a duo crisp since it can function just like a regular Instant Pot. I would either steam the broccoli in a steamer basket like a regular Instant Pot, or use the duo crisp lid and air fryer – broccoli won't hold up well to cooking it twice.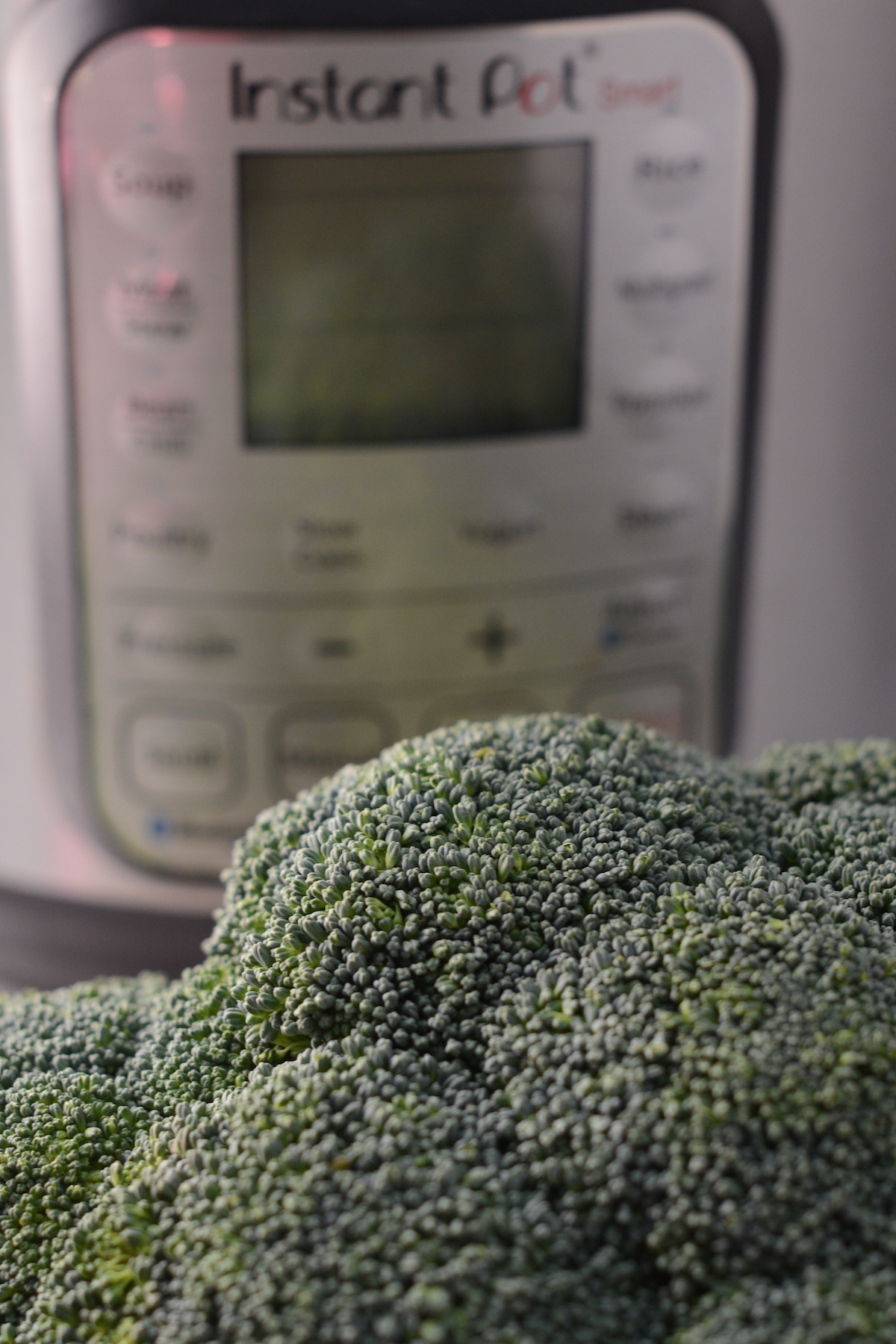 Looking for other great side dishes? Here are some of our favorites.
Be sure to pin this recipe for later and share it with your friends!
Yield: 6
Instant Pot Broccoli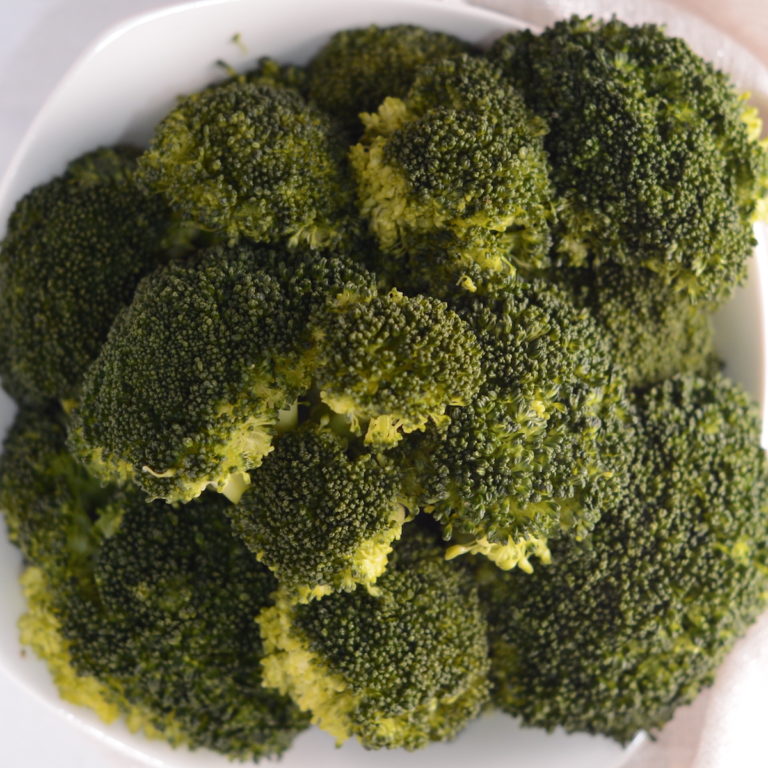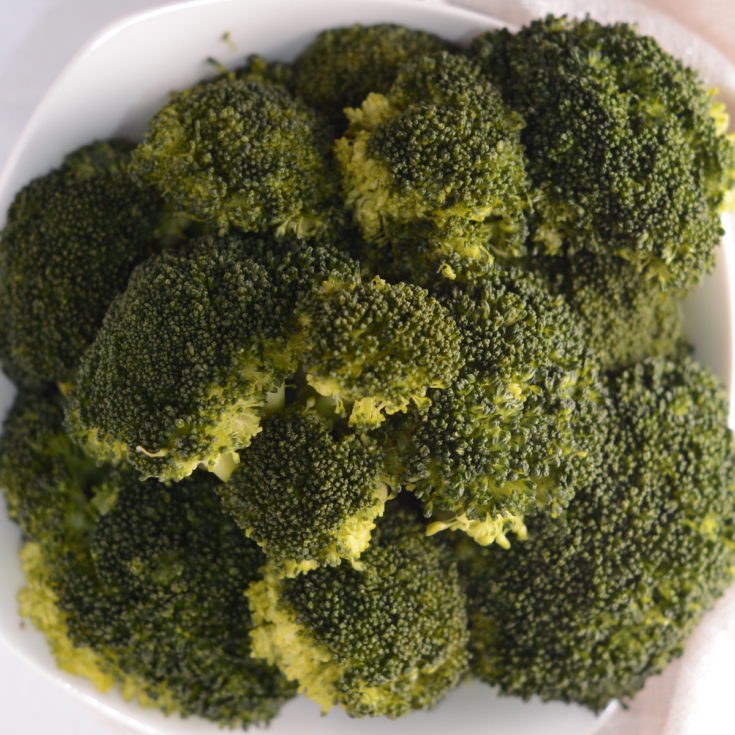 Instant Pot broccoli is a quick and easy side dish that is loved by all. It is easy to add your favorite toppings to this crunchy and delicious steamed broccoli.
Additional Time
10 minutes
Ingredients
2 Heads of Broccoli (Yield approximately 6 cups, you can use as much or as little as you would like)
1 Cup Water
Instructions
Cut broccoli heads into florets and wash. You can also use pre cut florets!
Place steamer basket in Instant Pot.
Add broccoli florets and 1 cup of water.

Close lid of Instant Pot. Set Instant Pot to high pressure and time of 0 for crunchier broccoli and 1 for softer broccoli.
Release pressure immediately after Instant Pot has completed.

Recommended Products
As an Amazon Associate and member of other affiliate programs, I earn from qualifying purchases.
Nutrition Information:
Yield:
6
Serving Size:
1
Amount Per Serving:
Calories:

43
Total Fat:

1g
Saturated Fat:

0g
Trans Fat:

0g
Unsaturated Fat:

0g
Cholesterol:

0mg
Sodium:

52mg
Carbohydrates:

9g
Fiber:

4g
Sugar:

2g
Protein:

3g
Nutrition data is estimated.