Meatloaf is a classic comfort food, and it can be a great option for an easy weeknight dinner. Plus, there are lots of variations on the recipe, so you can find one that fits your taste. And if you want to make meatloaf without eggs, it's actually pretty easy to do.
As an Amazon Associate I earn from qualifying purchases.
Whether you are out of eggs, or have an egg allergy, the good news is eggs are very easy to replace in meatloaf
Let's take a closer look at why people use eggs in meatloaf, and what some alternatives are.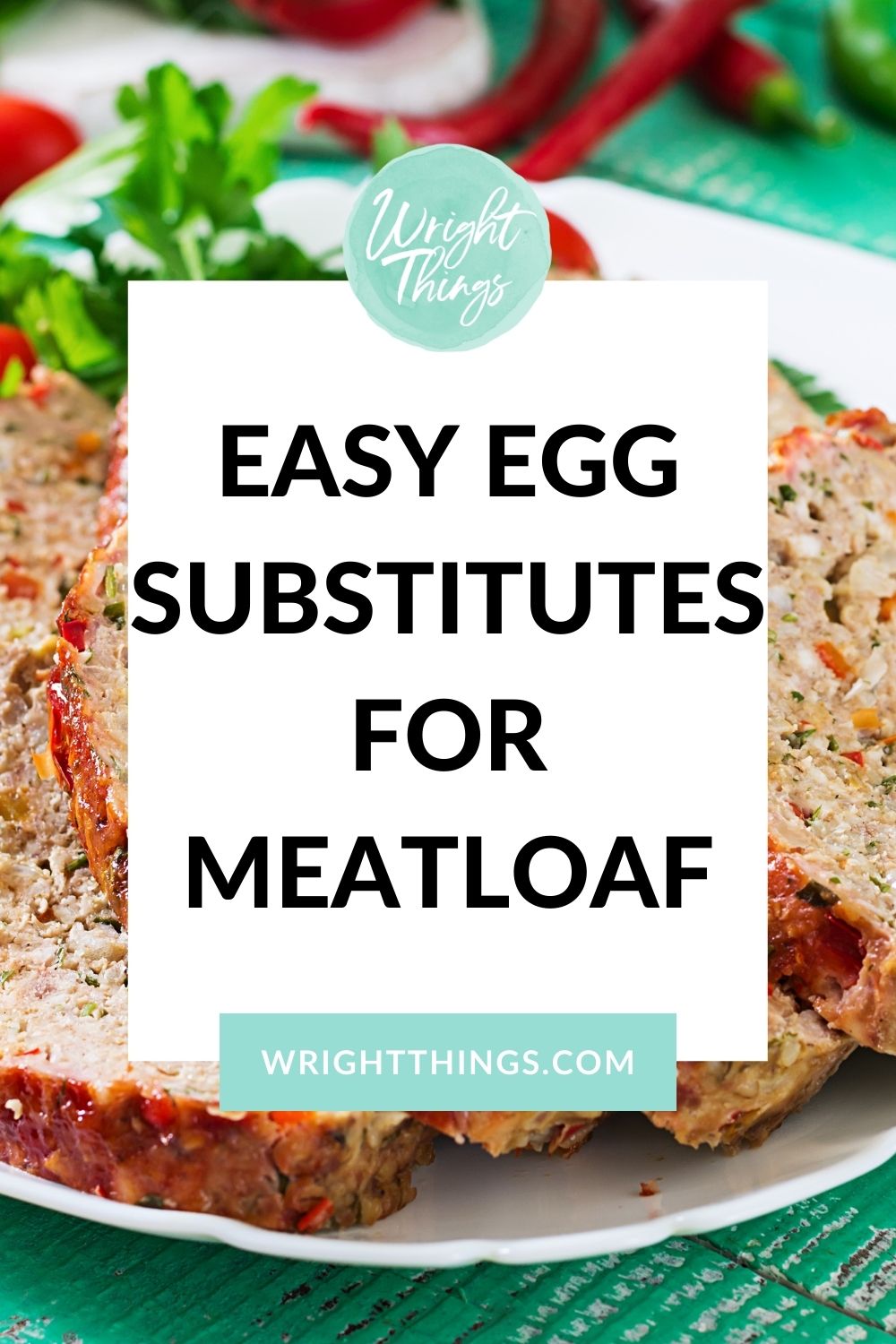 Why do you put eggs in meatloaf?
Eggs are often used in meatloaf because they help to hold the mixture together. They act as a binder, and can help to keep the meatloaf from falling apart. They also add additional protein to the meatloaf.
Can you make meatloaf without eggs?
There are a lot of recipes for meatloaf out there, and many of them don't call for eggs. So, the answer to this question is yes, you can make meatloaf without eggs. In fact, there are a few different ways to do it.
What are some other alternatives to eggs in meatloaf?
If you don't have eggs, or if you have an egg allergy, there are a few other things you can use to bind your meatloaf mixture together.
Some people use additional bread crumbs, and you can also add oatmeal instead of breadcrumbs or in addition to it. You can also use additional liquid along with this, such as milk (dairy or non dairy), stock, or water.
One good tip is to mix whatever you plan on using as your binding agent together before you add it to the meat mixture.
You can also use an egg substitute like just egg, egg beaters, flaxseed meal mixed with water.
You don't need eggs or breadcrumbs for meatloaf.
The truth of the matter is you do not need eggs or breadcrumbs for meatloaf at all. I've been making meatloaf without both of them for years.
Many times, I simply pick our favorite vegetables at the moment, and grind them up in my Vitamix along with some parsley and cold water. Then I add this mixture to the ground beef I am using and mix it well, and shape the mixture. I love this method because it results in a very flavorful meatloaf.
This method has never failed me.
The truth is you can put just about anything you want in meatloaf, no matter what dietary restrictions you have (or what ingredients you may be missing at the moment).
What happens if you don't put egg in meatloaf?
Absolutely nothing! As long as you properly mix your meatloaf and form it, it does not matter if you use egg in your meatloaf or not. If you are unconfident about your meatloaf making abilities, or find it is not staying together well for you, consider making your meatloaf in a 9-by-5 inch loaf pan to make it stay together! Be sure to put your loaf pan on a rimmed baking sheet to catch any excess grease!
Eggless meatloaf is just as delicious as any other meatloaf!
Looking for some more meatloaf tips? Check out how to make meatloaf without breadcrumbs, how to reheat meatloaf, and what you need to know about covering meatloaf when baking.
Substitute for Eggs in Meatloaf
Looking to substitute something for eggs in meatloaf? Here is a huge list of egg alternatives for meatloaf.
breadcrumbs
oatmeal
milk (dairy or non dairy)
stock
water
just egg plant based egg alternative
flaxseed meal mixed with water
green pepper, red pepper, or orange pepper
celery
carrot
mushrooms
bread soaked in water or milk (dairy or non dairy)
butter
olive oil
mashed potato (sweet potato works well for ground chicken or ground turkey based meatloaf)
parmesan cheese
yellow onion
just about anything
Anything on this list and just about anything you can imagine will go great in your meatloaf. Personally, I make meatloaf without breadcrumbs, egg, or milk, and it is always a family favorite.