Meatloaf is a classic comfort food, and it can be a great option for an easy weeknight dinner. Plus, there are lots of variations on the recipe, so you can find one that fits your taste. And if you want to make meatloaf without eggs, it's actually pretty easy to do.
As an Amazon Associate I earn from qualifying purchases.
After reading this post, you'll feel continent in your ability to find the best egg substitute for meatloaf! Whether you are out of eggs, have an egg allergy, or are avoiding eggs for any other reason, the good news is eggs are very easy to replace in meatloaf.
Let's take a closer look at why people use eggs in meatloaf, and what some alternatives are.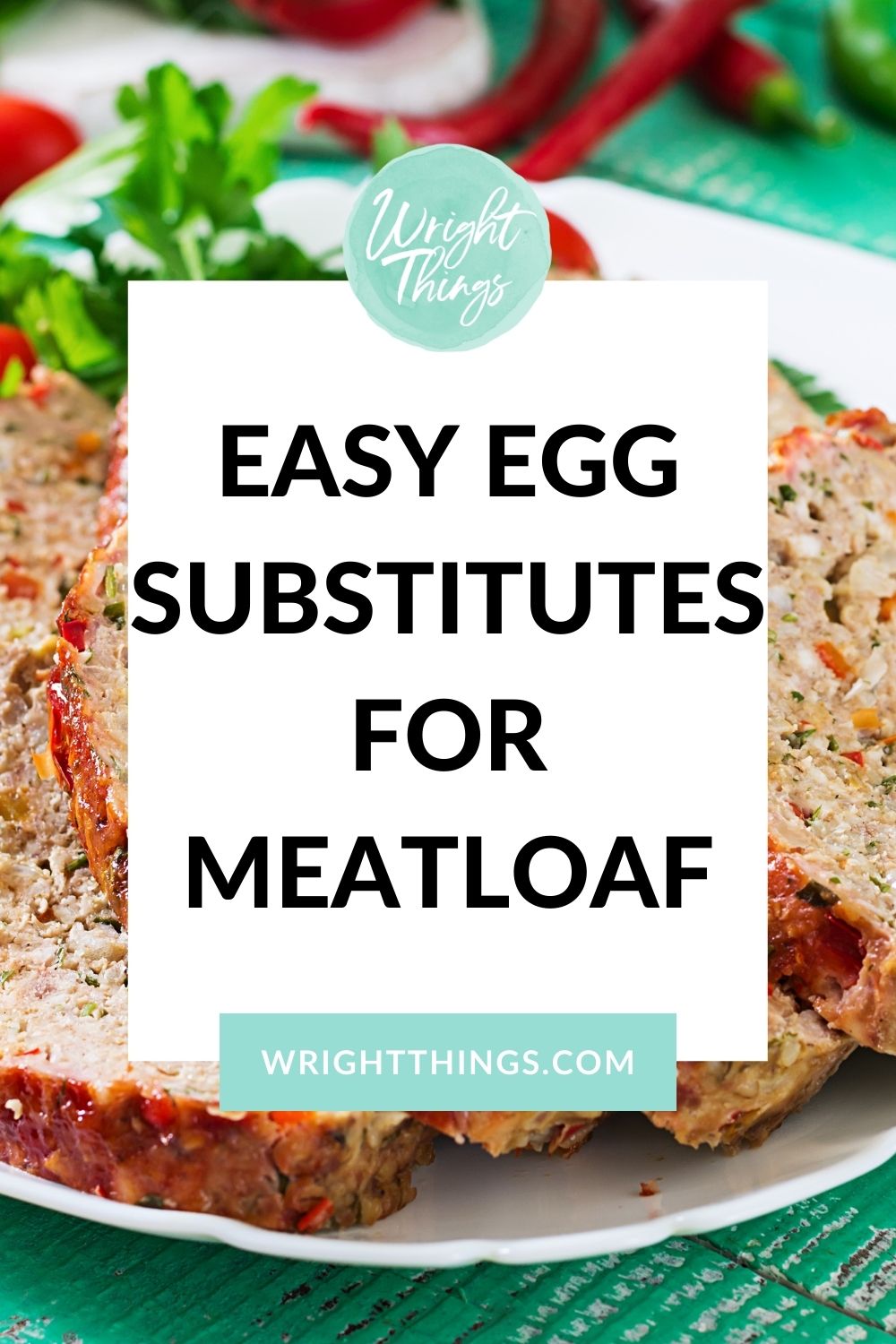 Why do you put eggs in meatloaf?
Eggs are often used in meatloaf because they help to hold the mixture together. They act as a binder, and can help to keep the meatloaf from falling apart. They also add additional protein to the meatloaf and can provide other health benefits to your loaf. Without eggs, you may have a crumbly meatloaf, but there are plenty of ways to help prevent a meatloaf that falls apart.
Can you make meatloaf without eggs?
There are a lot of recipes for meatloaf out there, and many of them don't call for eggs. So, the answer to this question is yes, you can make meatloaf without eggs. In fact, there are a few different ways to do it. Let's check out some of the best substitutes.
What are some other alternatives to eggs in meatloaf?
If you don't have eggs, or if you have an egg allergy, there are a few other things you can use as great egg replacements to bind your meatloaf mixture together. Here are some of our favorite alternatives to use, but you can find an even longer list with some of these ideas and more shared a little further down in the post.
Breadcrumbs: Try using some additional breadcrumbs to help act as a binding agent to help hold your loaf together.

Oatmeal: Try adding some oatmeal and some kind of cooking liquid. You can add milk, stock, or water to the oatmeal to act as a thickener. It doesn't matter if it's dairy free milk, or traditional cow's milk, or any flavored stock, it all will work.

Store Bought Traditional Egg Substitutes: Grab any of the traditional egg substitutes that you get from the grocery store. These can be things like flax eggs, flax seeds, or egg beaters. You'll likely need to follow the directions on the packages to see how much water you need to mix with those substitutes. Plus, the package should tell you how much of the egg substitute to use in place of eggs in your meatloaf recipe.

Mayo: Since this is high in fat it makes for a great substitute and it provides a rich flavor for your meat loaf as well. However, keep in mind that many mayos are made with eggs. So, if you're avoiding eggs for allergies, this may not be the best option for your. But they do make vegan mayo that may also work as a binding agent depending on the ingredients. Since it is a thicker agent, start with just a tablespoon added to your meat mixture and mix it all up to see the consistency of your loaf. Add more if needed, but work in small increments to ensure that you don't end up with a mushy, messy, loaf of meat. I also recommend if you're going to use this substitute, then make sure to use a good, high-quality mayonnaise.

Flour: Like oatmeal, you can mix the flour with some sort of liquid, like water, stock, or milk to create a paste to add into your large bowl of ground meat and vegetable mixture. As with the rest of these alternatives, start adding in a small amount at a time, mix and check consistency, before adding in more.

Bread crumbs: While many recipes are already using breadcrumbs as an ingredient, you can add more to your meatloaf mixture to help it stick together. If you're out of premade breadcrumbs, you can make your own. You should use a few day old bread to make your own breadcrumbs as they tend to act as a binding agent better when using old bread versus a fresh loaf of bread.

Gelatin: This is a great substitute to use in place of eggs in your meatloaf. Make sure to grab the unflavored gelatin mix to ensure that you don't get any hints of flavor added to your meatloaf. Meatloaf can always feel like a surprise meal with every bite, but you don't need those crazy gelatin flavors in there! You'lll need a small package of gelatin and about 2 Tablespoons of warm water to mix together before you add it to the loaf mixture.

Yogurt: This is an okay option if in a pinch. It's not a great binding agent, but it helps hold in the moisture to make sure you have a nice, moist loaf instead of a dry meatloaf of meatloaf.

Applesauce: Applesauce is a very common egg substitute, it's probably one of the most common ones second to the egg replacements you can buy from the store. I think it's a common swap because not only does it provide wonderful binding agent properties, but it also adds in some moisture to whatever you're using it in. There is something to keep in mind when using applesauce as an egg replacer- it usually adds a slight apple flavor. I also suggest always using unsweetened applesauce as an egg substitute. If you are okay with a little apple flavor in your meatloaf, this is a great way to make your eggless meatloaf. I usually suggest trying about a quarter cup of unsweetened applesauce per egg that your meatloaf recipe calls for.

Aquafaba: Aquafaba is a good alternative to eggs, and I bet if you're vegan you are quite familiar with it. If you aren't vegan, or don't know what aquafaba is, it's the liquid that you get with the box or can of chickpeas. It's very common to use in vegan recipes and is a good option if you need something to add a little moisture to your recipe as well.

Chia Seeds: Again, these are very familiar items in the vegan eating world to be used as an ingredient for many recipes. They make a great swap to use in meatloaf and they don't usually change the taste of your loaf either, so that's always nice. You'll mix your tablespoon of chia seeds with the quarter cup of warm water to act as your binding agent with your meat loaf mixture.
As you can see, you don't need eggs or breadcrumbs for meatloaf.
The truth of the matter is you do not need eggs or breadcrumbs for meatloaf at all. I've been making meatloaf without both of them for years.
Many times, I simply pick our favorite vegetables at the moment, and grind them up in my Vitamix along with some parsley and cold water. Then I add this mixture to the ground beef I am using and mix it well, and shape the mixture. I love this method because it results in a very flavorful meatloaf.
This method has never failed me.
The truth is you can put just about anything you want in meatloaf, no matter what dietary restrictions you have (or what ingredients you may be missing at the moment).
What happens if you don't put egg in meatloaf?
Absolutely nothing! As long as you properly mix your meatloaf and form it, it does not matter if you use egg in your meatloaf or not. If you are unconfident about your meatloaf making abilities, or find it is not staying together well for you, consider making your meatloaf in a 9-by-5 inch loaf pan to make it stay together! Be sure to put your loaf pan on a rimmed baking sheet to catch any excess grease!
Eggless meatloaf is just as delicious as any other meatloaf!
Looking for some more meatloaf tips? Check out how to make meatloaf without breadcrumbs, how to reheat meatloaf, and what you need to know about covering meatloaf when baking.
Substitute for Eggs in Meatloaf
Looking to substitute something for eggs in meatloaf? Here is a huge list of egg alternatives for meatloaf. I have even more ideas listed above for you if you don't find something here that you want to use.
breadcrumbs

oatmeal

milk (dairy or non dairy)

stock

water

just egg plant based egg alternative

flaxseed meal mixed with water

green pepper, red pepper, or orange

bell peppers

celery

carrot

mushrooms

bread soaked in water or milk (dairy or non dairy)

butter

extra virgin

olive oil

(only add about a tablespoon of olive oil at a time since it's very runny)

mashed potato (sweet potato works well for ground chicken or ground turkey based meatloaf)

parmesan cheese

yellow onion

just about anything,

see more ideas above!
Anything on this list and just about anything you can imagine will go great in your meatloaf. Personally, I make meatloaf without breadcrumbs, egg, or milk, and it is always a family favorite.
Tips for adding egg substitutes to your meatloaf ingredients
Check out these simple tips to help transform your eggless meatloaf into the best meatloaf dinner recipe you have ever had!
Whatever substitutions you decide to use, do so carefully. If you are going to be adding something in more of a liquid form, be sure to add it in small increments. You don't want to accidentally add too much moisture to your meatloaf! Add the ingredient of choice in a small amount, then mix it up well and reassess if you need to add more or not.

Think about your substitution. Does it have a strong flavor? Will it carry that strong flavor to your otherwise delicious meatloaf? We have seen people add things like avocado instead of eggs, but that has such a strong flavor, we didn't want to add it to our list. But, you can certainly try using it if you prefer. But keep in mind that your meatloaf will have a strong avocado flavor. If you're an avocado flavor lover, then this idea may be for you!

If you are struggling to get the right mixture and consistency to your loaf, get it the best you can, and then let your loaf pan do the work for you. While some recipes tell you to make your loaf yourself and cook it freestanding. If you are struggling to make yours look nice, just plop it right on in the loaf pan and let the loaf pan hold it all together for you as it bakes! Easy peasy, no stressing out over that.

It also helps to keep in mind what kind of ground beef you're using in your recipe to help determine what binding agent you should choose. If you're using extra lean ground beef, you may want something with a little extra moisture. If you're using an 80/20 ground beef you may want something different.
The BEST Meatloaf Storage Tips
Make your easy eggless meatloaf recipe however you prefer, serve and enjoy it, and then be sure to store it properly to get the most out of it. Leftovers should be stored in an airtight container or wrapped tightly with plastic wrap and then store it in the refrigerator for 3-4 days.

You can freeze your meatloaf cooked, or uncooked, in a freezer safe container for up to 2-3 months.
Now that you see just how easy it is to make meatloaf without eggs, grab your favorite recipe and make some for dinner tonight!