Because I have so many food allergies, I'm always reading labels. Besides avoiding the things I'm allergic to (which is nearly impossible with BBQ sauce), I also like to avoid thinks that I just don't think should be there. This led me to create my own gluten free BBQ sauce recipe many years ago.
As an Amazon Associate I earn from qualifying purchases.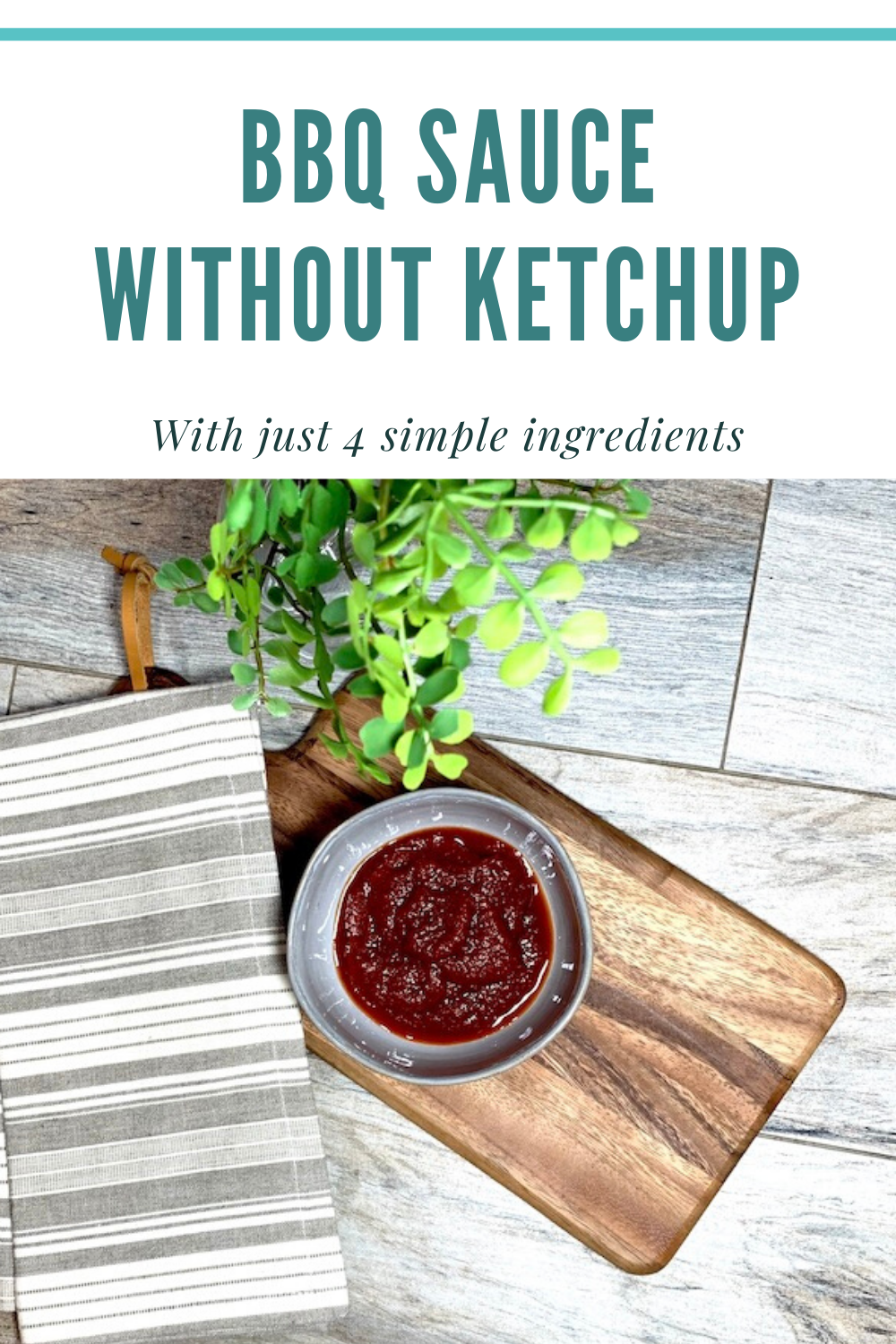 Homemade BBQ Sauce Without Ketchup
When I started reading about how to make great BBQ sauce, one of the things that surprised me was how many recipes had ketchup as a base. While I have nothing against ketchup, I don't really see it as an ingredient for a sauce!
I decided to do a little bit more research, and figured out you don't need to use something already made like ketchup to make a great gluten free BBQ sauce.
In fact, homemade BBQ sauce without ketchup is much more inexpensive than any BBQ sauce you could buy in the store, or a ketchup based BBQ sauce.
My homemade BBQ sauce without ketchup only uses 4 simple ingredients. From there, it is the perfect base to add variation to, like fruit to add a different angle, or spicy peppers to give it a bit of a kick.
It can also be made in a wide variety of thicknesses and textures to ensure you get the BBQ sauce perfect to you.
It is also the perfect accompaniment to, well, almost anything, without changing a thing. Especially chicken tenders!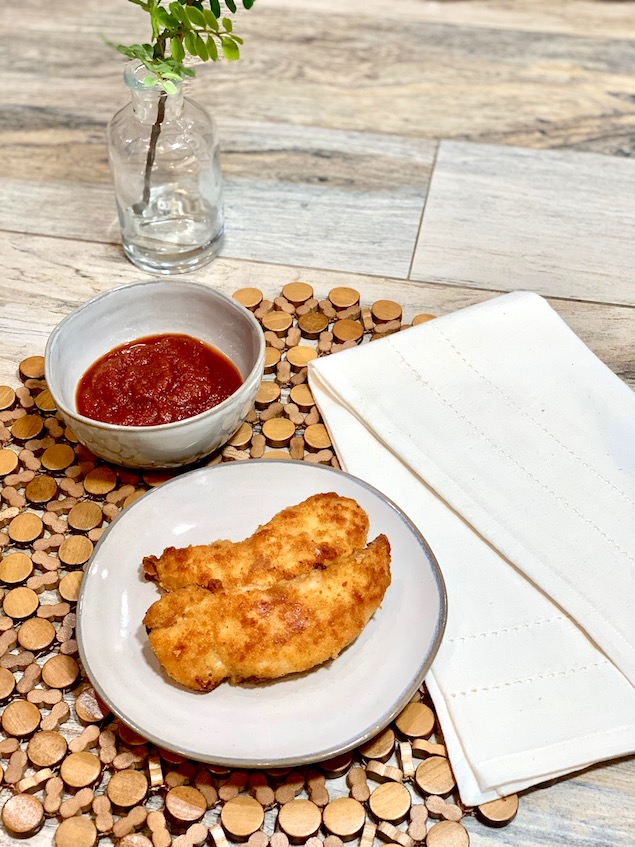 The Simplest Homemade BBQ Sauce Recipe (Gluten Free, Dairy Free, Vegan)
Besides being gluten free, this BBQ sauce is also free of any major allergens. If you are allergic to things like onion and garlic, you know how hard it can be to find something like BBQ sauce!
Canned tomatoes of your choosing (for me, it is whatever I have on hand, be it crushed, or whole, or even puree), brown sugar, white vinegar, and apple cider vinegar, that's it! That's all there is to this gluten free BBQ sauce recipe.
Sometimes I like to pulse crushed tomatoes in my Vitamix, other times I don't bother. It is all up to you what texture of tomatoes you use.
This is by far the easiest, tastiest, and healthiest gluten free BBQ sauce recipe you could ever find!
Have questions about making homemade barbecue sauce without ketchup? We have answers.
What is the difference between ketchup and BBQ sauce?
Ketchup is a very sweet condiment. BBQ sauce, on the other hand, typically has some sort of vinegar in it to cut through the sweetness and also give it that tangy flavor that most people crave.
Other than that, they have a very similar composition and once you learn how to make your own BBQ sauce making your own ketchup is also super simple. That's why ketchup is often used in BBQ sauce recipes, but let's face it, ketchup has many ingredients and isn't as cost effective as just plain tomatoes.
How do you make BBQ sauce from scratch without ketchup?
BBQ sauce couldn't be simpler to make.
You'll only need vinegar, brown sugar, tomato and water to get started. You can add other ingredients if you want (like molasses for that distinctive sweet taste) but the above four will do it! You can use whatever types of tomato you have on hand like diced tomatoes, crushed tomatoes, tomato sauce, or whole tomatoes. If you're using diced, crushed, or whole canned tomatoes you may want to send them through the blender or food processor first.
What can I substitute for the ketchup in a BBQ sauce recipe?
You don't have to use ketchup, although it does give your BBQ sauce a great color. You can use another type of tomato product instead, such as canned diced tomatoes, crushed tomatoes or whole peeled tomatoes. If you're using canned diced or crushed tomatoes, then you may want to blend them up first to get a nice smooth saucy consistency.
What can I add to barbecue sauce?
The great thing about this barbecue sauce without ketchup is that it is a great base to add other flavors to and customize to your own personal tastes. You can also split off smaller sections and flavor them individually for the ultimate in custom BBQ sauce. Here are some ideas on what to add to BBQ sauce for flavor.
Maple syrup for added sweetness
Red wine vinegar for more depth of flavor
Japaleno peppers or tabasco sauce for heat
Cayenne pepper
Chili powder
Espresso or espresso powder if you like coffee
Homemade BBQ Sauce Without Ketchup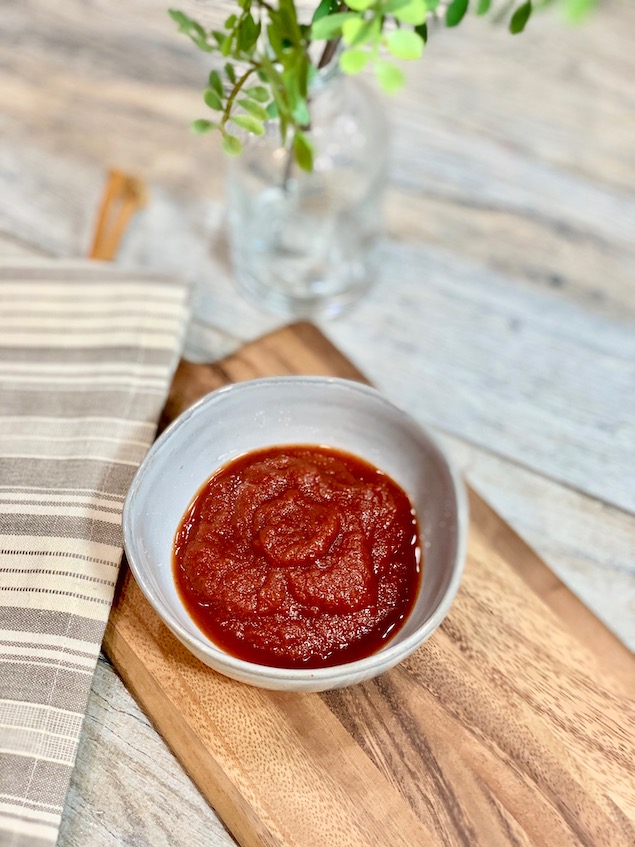 This gluten free, homemade BBQ sauce without ketchup couldn't be simpler to make with 4 ingredients. It is also dairy free and allergy friendly!
It is also a great base to experiment with based on your personal taste to make sweeter or even spicy!
Total Time
2 hours
10 minutes
Ingredients
28 oz tomatoes of your choosing (1 large can, I like crushed)
1 cup brown sugar
2 Tablespoons Apple Cider Vinegar
14 oz White Vinegar (Half of the large can)
Instructions
Blend 1 28 oz can of tomateoes to your desired texture, and empty into pot. I use my Vitamix for this.
Add 1 cup brown sugar to the pot.
Add 2 Tablespoons Apple Cider Vinegar to the pot.
Add 14 oz White Vinegar. I like to measure half of the tomato can and rinse it out with the vinegar, so I get every last bit of tomato without having to scrape the can/
Stir well.
Bring to a boil, then simmer on low for approximately 2 hours, or until desired thickness is reached.
Notes
This recipe can be easily doubled, tripled, or more based on how much BBQ sauce you need.
To add dimension to this easy gluten free BBQ sauce without ketchup, feel free to add dried or fresh fruit, cayenne pepper, chili poweder, chopped dried or fresh peppers, and more!
This sauce is a great base to tweak exactly to your prefrences. We like to add things to small portions of sauce at a time to see if we like the flavors before commiting to a full batch of flavored sauce.
We will often do a naked wing night where everyone makes a little bit of their favorite sauce to try with the wings!
Nutrition Information:
Yield:
24
Serving Size:
1
Amount Per Serving:
Calories:

38
Total Fat:

0g
Saturated Fat:

0g
Trans Fat:

0g
Unsaturated Fat:

0g
Cholesterol:

0mg
Sodium:

4mg
Carbohydrates:

9g
Fiber:

0g
Sugar:

8g
Protein:

0g