If you're a coconut milk fan and love to learn to cook and bake with it, you're going to love these Coconut Milk Pancakes. If you're avoiding dairy milk for any reason, like allergies, intolerances, or are just plain out of regular milk, you can still make a fancy stack of fluffy pancakes from scratch!
As an Amazon Associate I earn from qualifying purchases.
Making pancakes from scratch is really one of the easiest recipes. If you love a little coconut flavor with your pancakes, then you'll love this pancake recipe.
The hints of coconut in the pancakes bring a nice tropical flavor that will make you feel like you're being whisked away on an island vacation to have breakfast.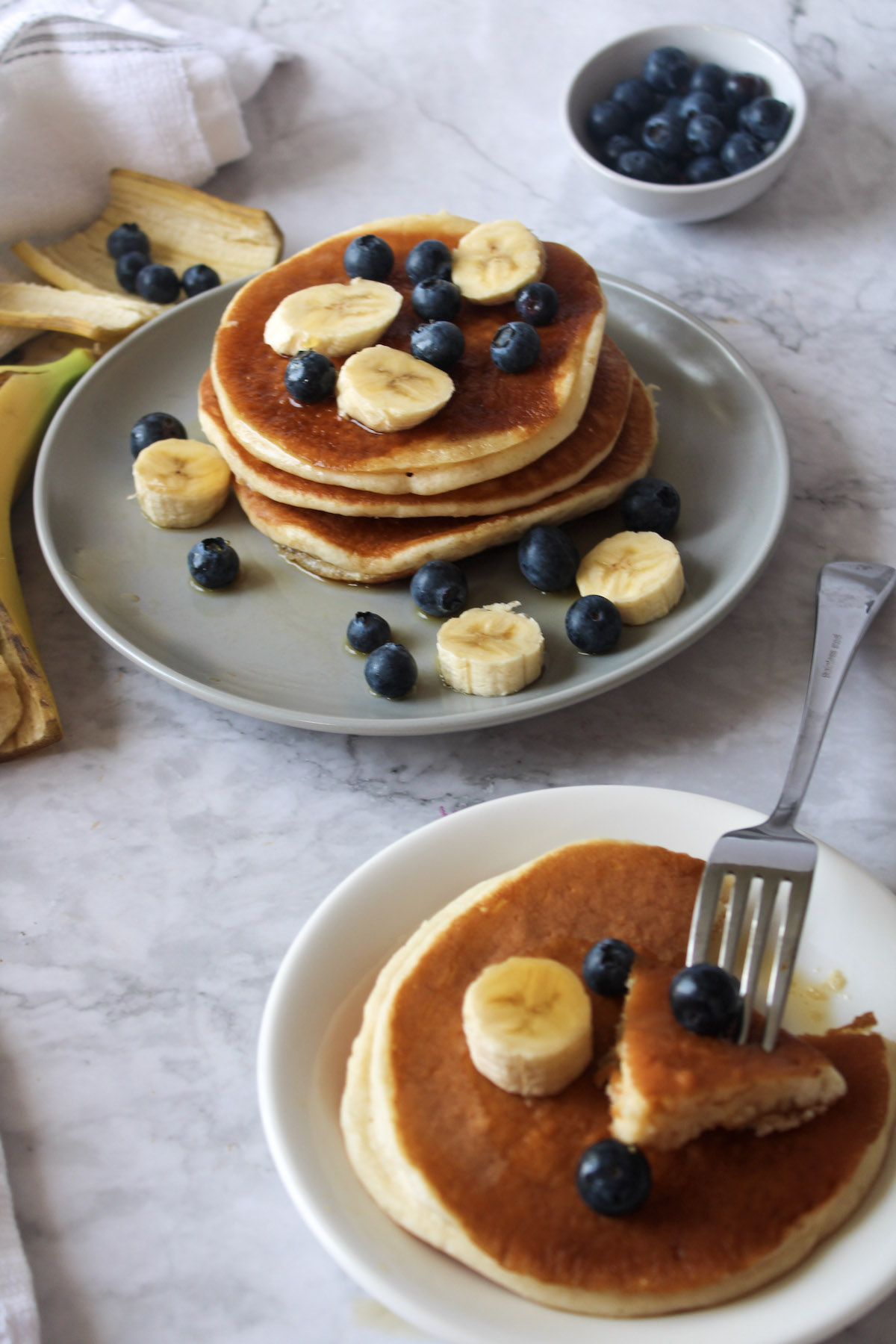 Pancakes are such a versatile breakfast item. They can be the main star or share the spotlight with other breakfast items like eggs, sausage, or even French Toast. And, pancakes are even a great thing to make when you want to have breakfast for dinner. That's always a hit with our kids!
Plus, you can always make an extra big batch and have some for leftovers, or breakfast ready for a couple of days this week! They even freeze well so you can have them on hand when you need something super easy!
Why You'll Love This Breakfast Recipe
You only need 7 ingredients to make a batch of tasty coconut milk pancakes
Easy recipe to follow- so easy the kids can help
Great for those who can't have cow's milk
This recipe is easily doubled or tripled to make more for leftovers, meal prep, or freeze some for down the road
Ingredients Needed
You only need a handful of ingredients to maek these tasty hotcakes! Get more info, like how much to use of each individual ingredient in the recipe card at the bottom of the post.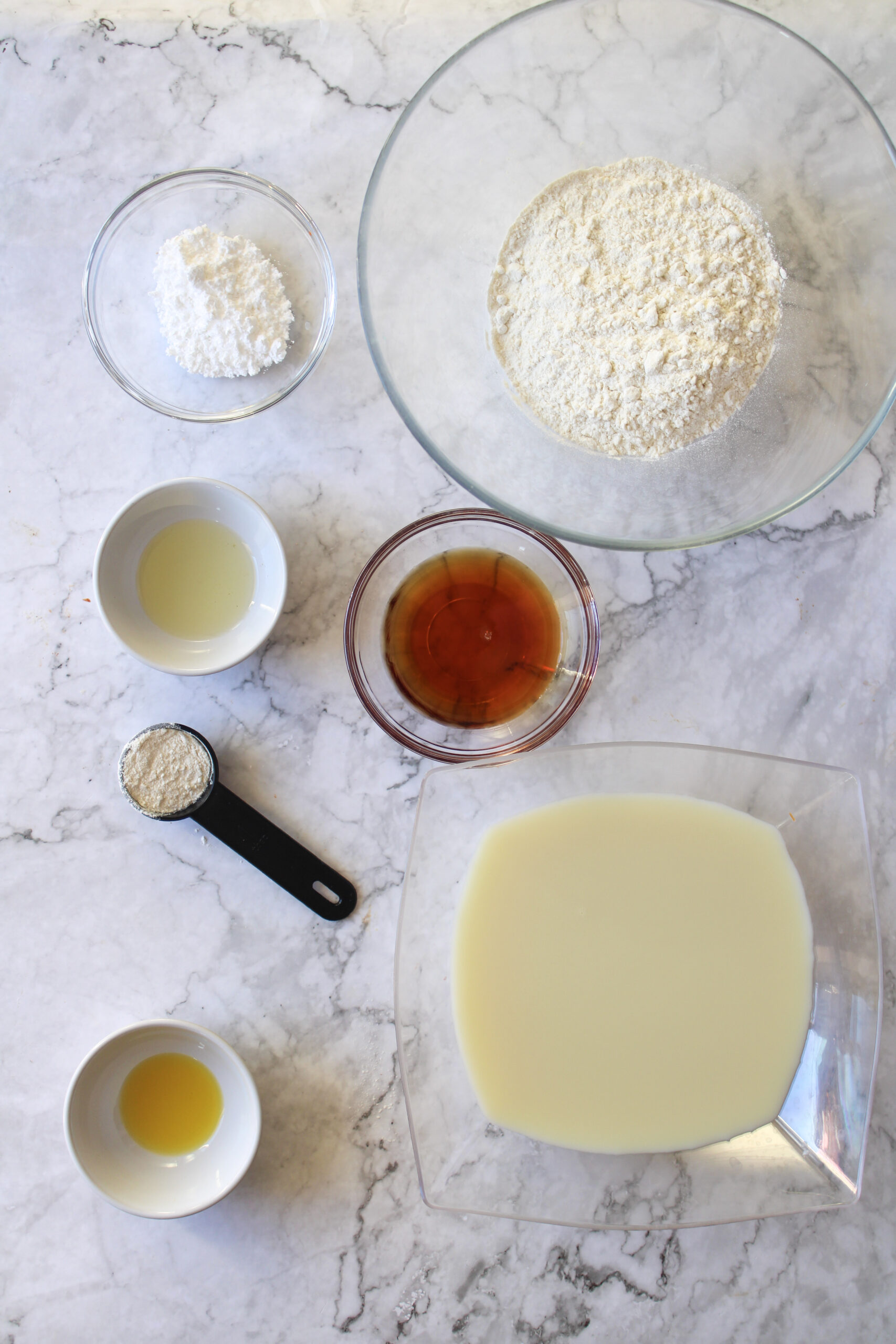 coconut milk
coconut oil
eggs
flour
baking powder
vanilla extract
How to make Coconut Milk Pancakes
Here are the super simple recipe instructions to make a batch of pancakes with.
In a large bowl, mix your wet ingredients: coconut milk, coconut oil, vanilla extract and eggs.
In a separate bowl, mix the dry ingredients: the flour and baking powder together.
In increments, add some of the dry ingredients to the wet mixture. Stir and then add some more.
Don't overmix the batter, some lumps in the pancake batter are totally okay.
Heat your frying pan up on the stove over medium-low heat to medium heat and add a little coconut oil or nonstick spray so the pancakes don't stick to the pan.
Carefully pour some batter into the pan with melted coconut oil and cook your pancakes for around 2 minutes, or until the pancake starts to bubble on the pan. This may take more or less time depending on the size and thickness of your pancakes.
Flip the pancake to the other side to cook the other side until both sides are golden brown in color.
Repeat with the remaining batter until all pancakes have been made.
Serve and enjoy your fluffy coconut pancakes with maple syrup, fresh berries, coconut flakes, or other garnishes.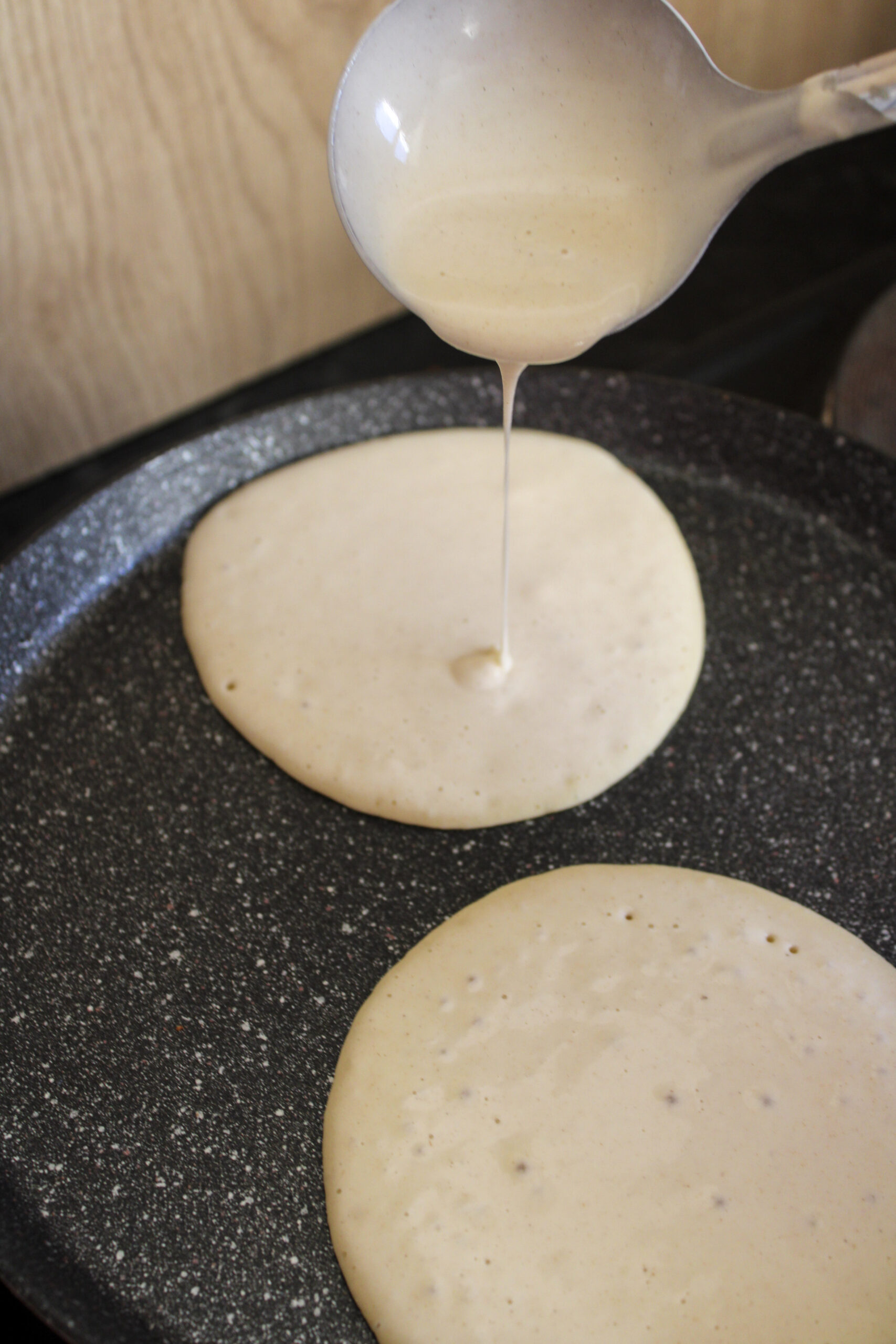 Storage
Leftover fluffy pancakes should be stored in an airtight container or a zip-top bag that you can squeeze any excess air out of. We recommend waiting to store the pancakes until they have cooled down to room temperature so they don't create condensation on your container or bag and then make soggy, not so delicious pancakes.
Can I use coconut flour?
Yes, you can use coconut flour for this recipe, but you may end up with pancakes that start to fall apart. The gluten in the wheat flour helps hold the pancakes together. If you choose to use coconut flour in your recipe, you may want to add some coconut cream into your pancake batter. The fat from the coconut cream helps hold the pancakes together.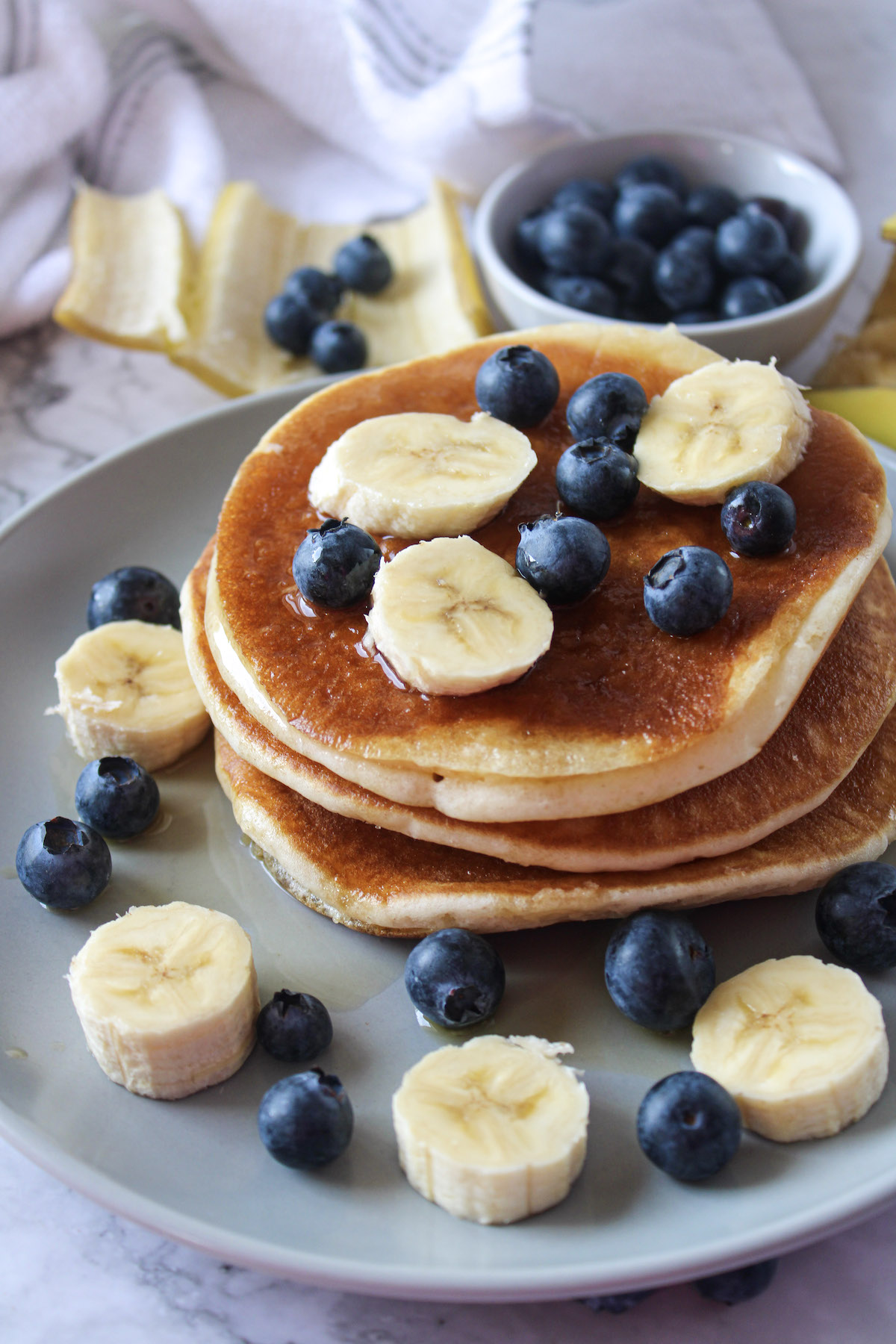 Can I add things to the pancake batter?
You can add things like mini chocolate chips, blueberries, or other fresh diced fruit to the pancake batter to create flavored pancakes. When scooping your batter out of the large mixing bowl, be sure to get some of the mixins with each scoop. They tend to sink to the bottom of the mixing bowl.
Also note that when you are adding your batter with add-ins to the pan, be sure there is enough pancake batter around the extra ingredients so they don't get stuck to the pan or start burning while the pancakes are trying to cook.
Tips and Variations
If you want to make this an all coconut recipe and eliminate gluten from this recipe to make them gluten free pancakes, you can use coconut flour instead of traditional wheat flour. See our other tip on using coconut flour above. You could also add a dash of coconut sugar and coconut syrup to sweeten things up a bit.
You could also swap the flour out of other flour varieties, although we have not tested it with this recipe, we have various other pancake recipes where we have traded out other elements to use what other ingredients we had or didn't have and to help make allergen friendly pancakes. You can see those ideas below in the other pancakes recipe section.
You don't want to use the shelf stable can of coconut milk, you want to use a refrigerated unsweetened coconut milk.
Make a larger batch of pancakes by using a large hot griddle, or something like a Blackstone, instead of a non-stick pan.
More of the Best Pancake Recipes
Here are some more tasty pancakes!
Pancakes without Milk (no milk at all- no almond milk, soy milk, oat milk, etc)
Bisquick Pancakes
Oat Milk Pancakes
Sheet Pan Pancakes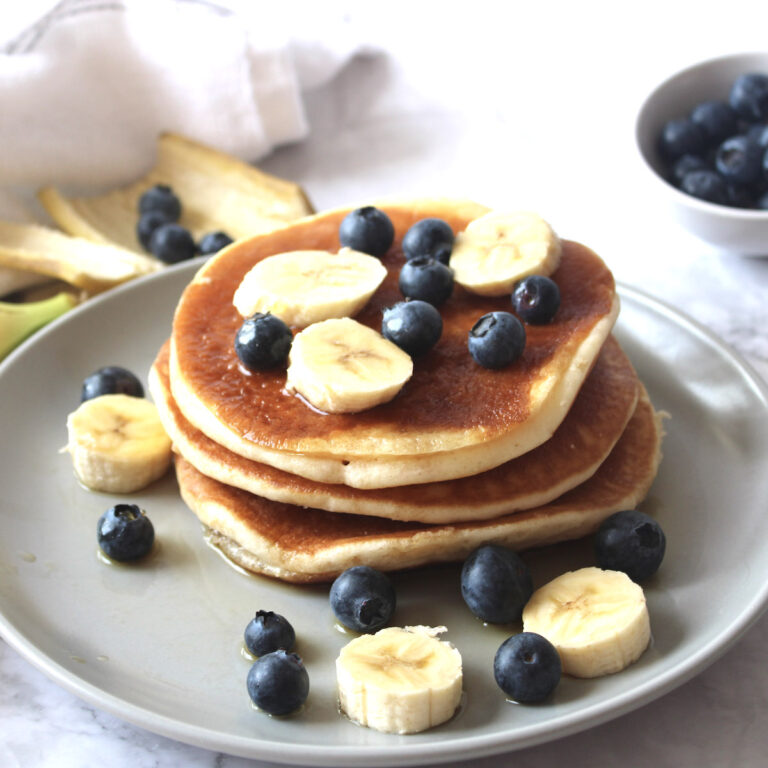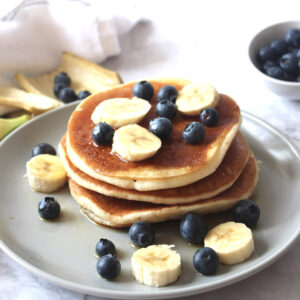 Coconut Milk Pancakes
Fluffy and delicious pancakes made from scratch using coconut milk.
Ingredients
1 ½

cup

flour

1 ¼

cup

coconut milk beverage

1

tbsp

olive oil

for frying

1

tbsp

cane sugar

1

tsp

vanilla extract

1

tbsp

baking powder

3

tbsp

maple syrup
Instructions
In a medium sized bowl mix all dry ingredients: flour, baking powder and cane sugar.

Pour in coconut milk and add vanilla extract, using a hand mixer or whisk beat for about 2-3 minutes until fully incorporated.

Drizzle an olive oil into a large non-stick frying pan and pour in batter to make medium sized pancakes- about 4in in diameter. Fry for about 2-3 min until golden brown. Flip over and cook for another minute.

Serve warm. Pour in a maple syrup and add your favourite fruits.
Notes
Note: Use the type of coconut milk you would use for drinking in this recipe, not canned coconut milk.