Looking for a new Saturday morning breakfast recipe? These fluffy, airy, light, and golden brown Oat Milk Pancakes are the perfect thing to whip up on a cozy morning for the family.
As an Amazon Associate I earn from qualifying purchases.
You can't go wrong with a tall batch of healthy oat milk pancakes! These are so perfect and incredibly easy to make. You only need 5 minutes to make the batter and then about 20 minutes to cook the pancakes, you'll have the perfect breakfast whipped up in no time.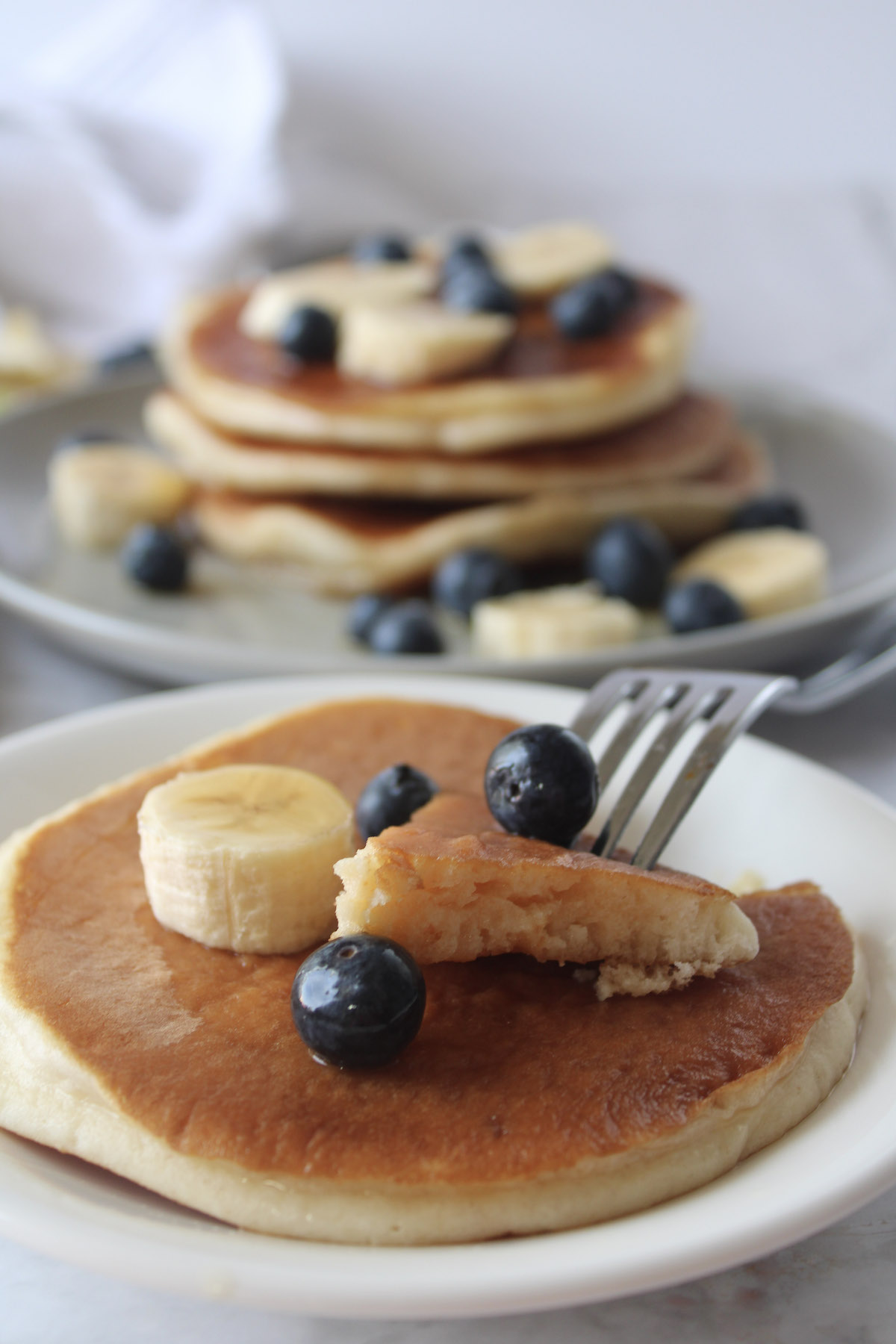 If you're all about the delicious brunch recipes, you'll need to try any of these incredible recipes: Pancake Spaghetti (the crazy viral TikTok breakfast idea) or some fantastic scones!
Pancakes are always a hit in my house. The kids love when I make a big stack of pancakes and I can't get over how easy these oat milk pancakes are to make. So, I don't ever mind when the kids start asking for some.
Why You'll Love This Pancake Recipe
This recipe is super easy to scale to make more
You'll end up with fluffy airy pancakes every time
This recipe only requires a handful of simple ingredients
Fluffy pancake recipe that's ready in only 25 minutes
Easily customizable to make a stack of pancakes exactly how you like them
These pancakes are dairy free, vegan, and nut free
Great for meal prep, especially since they're freezer friendly
Ingredients Needed
Get more information on these pantry staple ingredients in the recipe card below.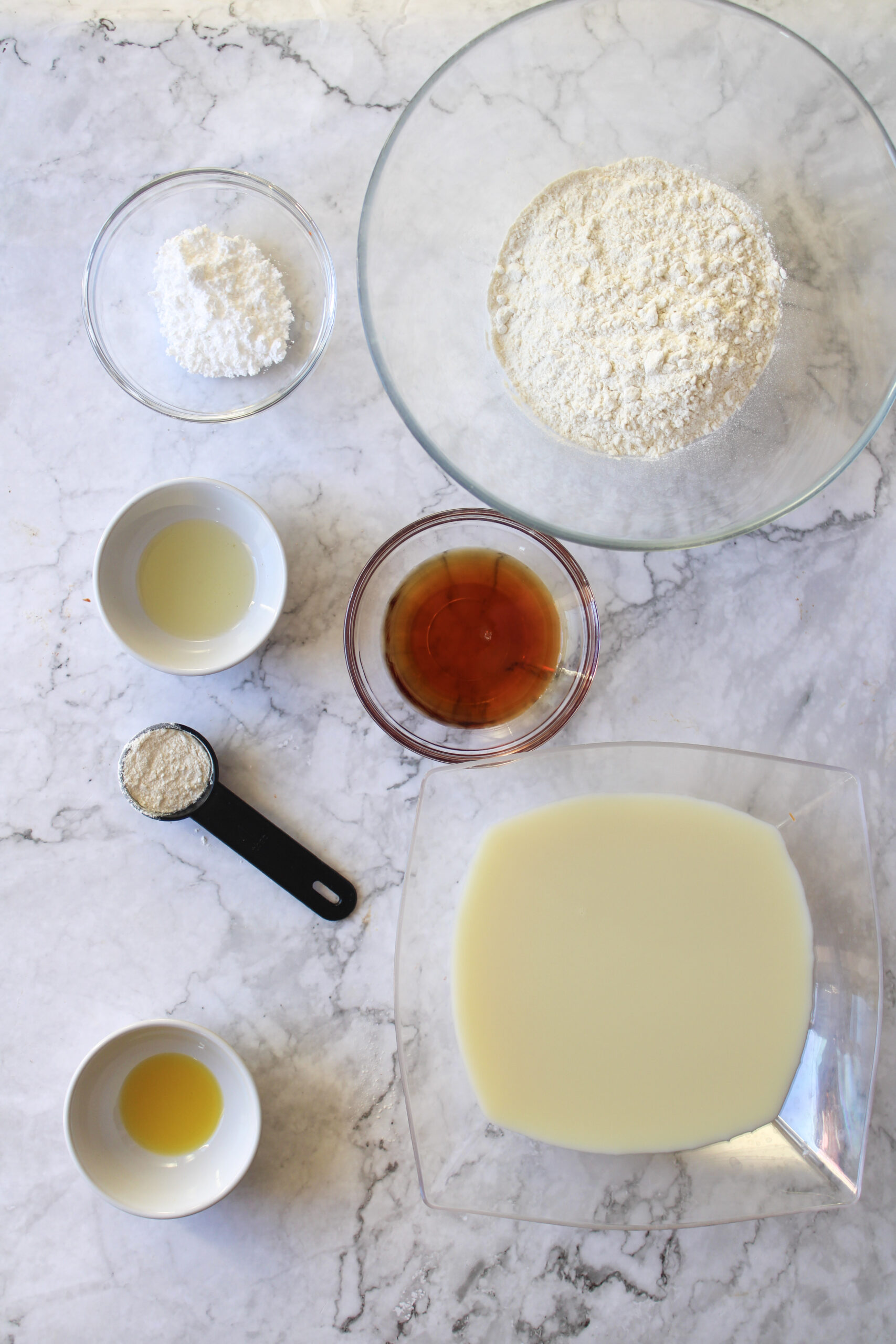 flour
oat milk
olive oil
cane sugar
vanilla extract
baking powder
pure maple syrup
How to Make Oat Milk Pancakes
Here is how to make a stack of perfect dairy free pancakes!
In a medium-sized mixing bowl, mix all of the dry ingredients: flour, baking powder, and cane sugar.
Now add the wet ingredients. Pour in the oat milk and add vanilla extract. Use a hand mixer to beat for about 2-3 minutes, or until fully incorporated.
Carefully, add olive oil into a large non-stick pan over medium heat and pour batter into pan to make pancakes that are about 4-inches in diameter. Cook pancake for about 2-3 minutes, or until the bubbles start to pop. Flip pancake over and cook for another minute or until they're nice and golden brown.
Serve warm and pour your maple syrup over the stack of pancakes. Add your favorite fruits, fresh berries, or other favorite toppings, if desired.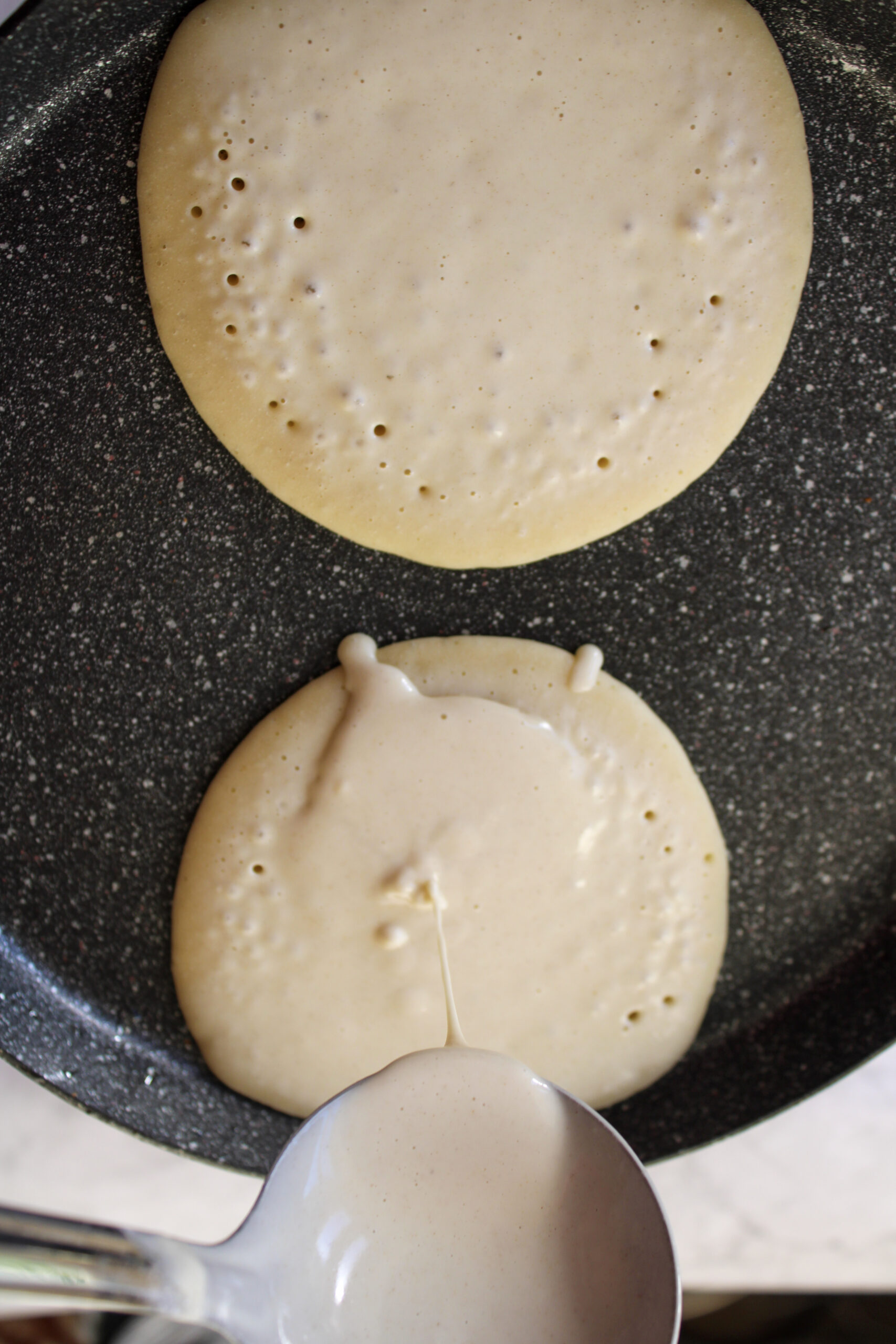 Storage
Leftover pancakes should either be wrapped in plastic wrap, or stored in an airtight container or ziptop bag. Keep your fluffy oat milk pancakes in the refrigerator for up to 2-3 days.
Additionally, you can freeze your pancakes in the freezer for up to 3 months. I prefer to flash freeze pancakes for later. Once your pancakes have cooled, place them on a parchment paper lined baking sheet and then lay your pancakes on it so they aren't touching.
Place the sheet pan in the freezer for a few hours until they are frozen solid. Once they're frozen, remove the pancakes from the baking sheet and transfer them to a freezer safe container or freezer bag before freezing for good for a few months.
Tips and Variations
Thicker oat milk works better in this oat milk pancake recipe.
I like to use self rising flour, but if you want to trade it out, you can use whole wheat flour.
If you want to trade out the olive oil, you can use vegetable oil, coconut oil, butter, vegan butter, etc to prepare the pan.
While we love this dairy-free pancake option made with oat milk, you can certainly use different kinds of milk- regular milk, coconut milk, almond milk, or soy milk. Granted I haven't tried this specific recipe with those milk options, I image they would work just fine, giving you the perfect weekday breakfast.
These vegan pancakes are full of flavor and easily scalable. Sometimes I like to make a triple batch to make sure we have enough for leftovers for days, or to make sure that we have enough to freeze for later.
I used unsweetened oat milk for this pancake recipe, but you can easily use vanilla oat milk or feel free to make your own homemade oat milk using your favorite recipe.
What Can I Add to Our Oat Milk Pancakes?
These tasty, fluffy pancakes are great just how they are, but you can certainly add in things to your pancake batter to make them even more flavorful. Try adding some of these ideas:
Fresh fruit (like bananas or blueberries you see in the pictures- note that blueberries will sink to the bottom of your pancake batter, so scrape the bottom of the bowl when making your pancakes)
Mini chocolate chips
Cinnamon chips
Butterscotch chips
Sprinkle some brown sugar
Coconut flakes
What Toppings Can I Add?
The options to top your oat milk pancakes recipe with are endless! Try any of these on your easy breakfast:
drizzle some peanut butter
nutella
chocolate sauce
honey
maple syrup
whipped cream
fresh fruit
molasses
cream cheese glaze
Why are my pancakes rubbery?
Unfortunately, pancakes that are rubbery, chewy, or tough usually wind up that way because you overmixed the batter. Keep in mind that it is totally okay for the batter to have lumps in it. You only want to mix until the dry ingredients are just mixed into the wet ingredients! Avoid overmixing that batter.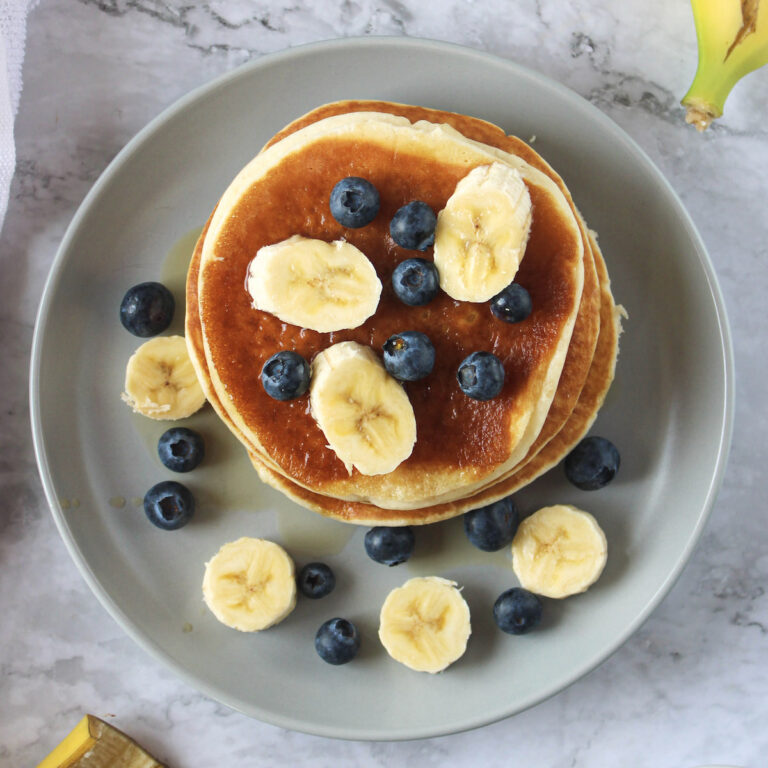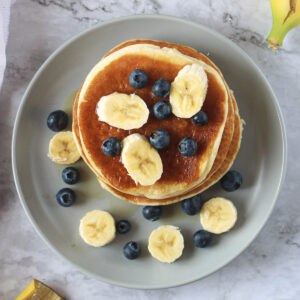 Oat Milk Pancakes
Fluffy and delicious pancakes made with oat milk.
Ingredients
1 ½

cup

1 ¼

cup

oat milk

1

tbsp

olive oil

for frying

1

tbsp

cane sugar

1

tsp

vanilla extract

1

tbsp

baking powder

3

tbsp

maple syrup
Instructions
In a medium sized bowl mix all dry ingredients: flour, baking powder and cane sugar.

Pour in an oat milk and add vanilla extract, using a hand mixer or whisk beat for about 2-3 minutes until fully incorporated.

Drizzle an olive oil into a large non-stick frying pan and pour in batter to make medium sized pancakes- about 4in in diameter. Fry for about 2-3 min until golden brown. Flip over and cook for another minute.

Serve warm. Pour in a maple syrup and add your favourite fruits.
Delicious Oat Milk Pancakes are the perfect family friendly recipe that you didn't know you needed. There are tons of other pancake recipes that we have been working on lately. I know you're going to love them, keep checking back for these recipes coming soon: