You can still create fluffy and delicious Bisquick Pancakes without Egg with this super simple, easy breakfast pancake recipe! Pancakes really are the perfect breakfast food and they go with sooo many delicious breakfast foods. They're the perfect breakfast idea!
As an Amazon Associate I earn from qualifying purchases.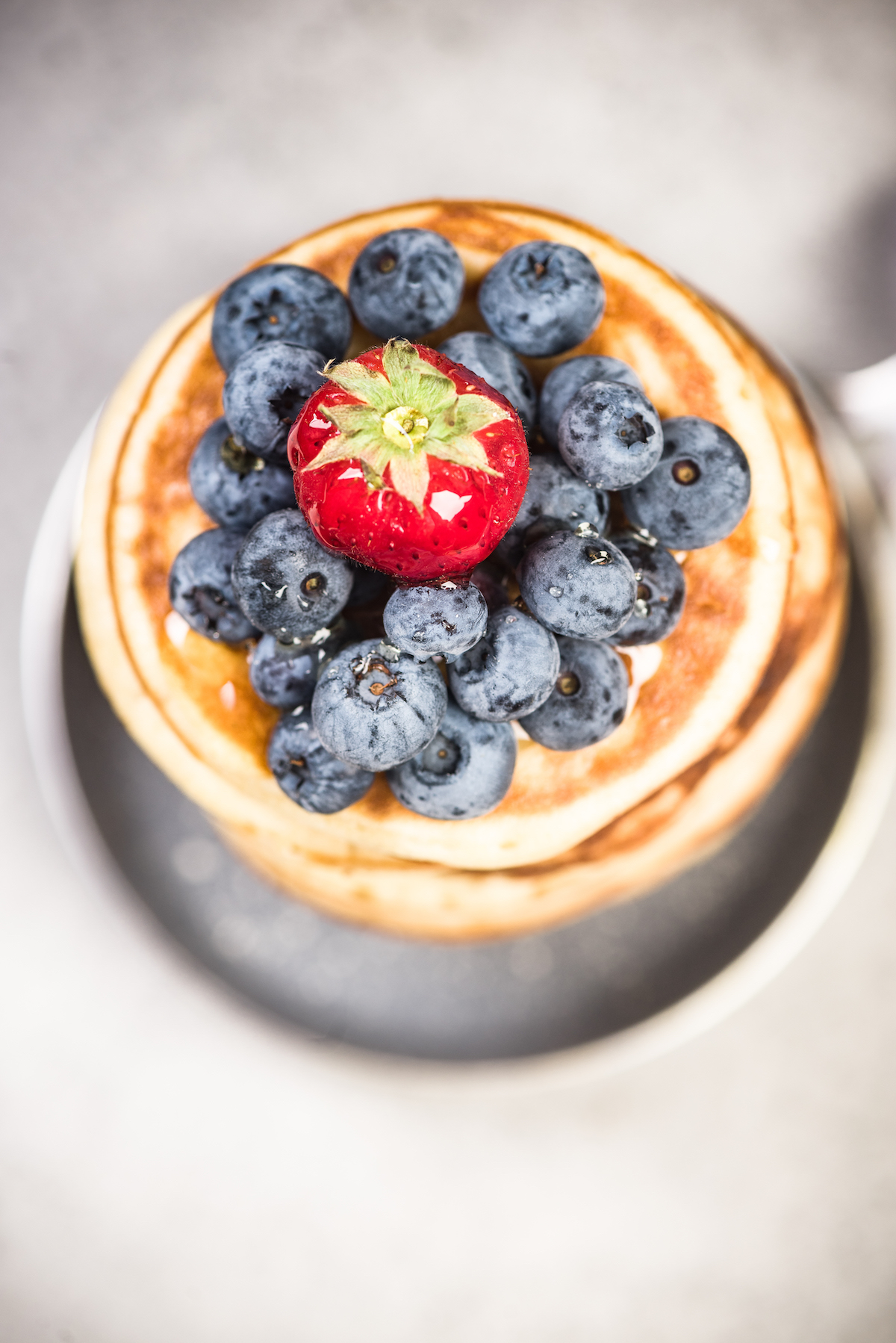 You don't even need an egg replacement to make a batch of tasty pancakes. Ditch the flax egg and other egg substitutes, and make these pancakes without it!
If you haven't tried making your pancakes on a griddle or Blackstone yet, you need to. It makes pancake days even easier. Make a ton of pancakes at once in no time. Plus with this shortcut recipe, you really only need 3 things to gather and mix, does it get any easier than that?!?!
Why You'll Love This Pancake Recipe
You only need 3 simple ingredients to make a stack of delicious pancakes
Great for those with egg allergies
Still get fluffy, tasty pancakes
Ready in a matter of minutes
Ingredients Needed
Get more info on these ingredients in the recipe card below.
Bisquick
Milk
Oil- we suggest something like vegetable oil or canola oil
How to Make Bisquick Pancaked Without Egg
It's super simple to make these pancakes!
Simply combine the ingredients in a large mixing bowl until well combined. Don't overmix.
In a pan on the stove over medium heat, pour the batter into the pan making pancakes the size that you prefer.
Once the bubbles start to pop, flip over and cook on the other side on the hot pan.
Serve and enjoy your golden brown pancakes with your favorite toppings.
Pro Tip: You can also just use the directions on the box and just use these ingredients.
Storage
These pancakes are always hit at my house and I rarely have leftovers unless I make a double or triple batch with the intentions of having leftovers. But if you have leftovers, we totally have you covered!
Leftover pancakes can be placed in an airtight container, ziptop bag, or covered with plastic wrap and can be kept in the refrigerator for up to 3-4 days. It doesn't matter if you choose a container, a gallon-size ziptop bag, or wrapping them in saran wrap, whichever method, I always suggest placing a piece of parchment paper in between each pancake so they don't all end up sticking together.
You can freeze these homemade pancakes by placing them in a freezer safe container or freezer bag and place them in the freezer for up to 2-3 months. I also recommend trying to flash freeze these pancakes so they don't all clump together. To flash freeze pancakes, place them on a parchment lined baking sheet and place them in the freezer for a few hours. Once they're frozen solid, transfer them all to your freezer safe container.
Thaw your pancakes before reheating in the microwave and serving again. You can also reheat your pancakes in the oven on a warm setting.
Tips and Variations
Want just a little extra sweetness in the pancake mix? Add a dash of vanilla extract to your mix and enjoy.
You can use either regular cow's milk or a dairy free alternative milk to make these pancakes. You can use almond milk, coconut milk, soy milk, etc to make this delicious breakfast.
Don't overmix the pancake batter or you'll end up with dense hockey pucks for pancakes rather than light, fluffy, and airy pancakes.
I find adding some melted butter to my pan on the stovetop before I add the pancake batter really helps prevent them from sticking and adds a nice flavor to the egg free pancakes.
What Can I Top Pancakes With?
The options to top a stack of pancakes with are endless. Here are some of our favorite ideas that you can certainly give a try:
fresh fruit like strawberries, blackberries, or blueberries
banana slices or mashed bananas or other fruit
maple syrup, honey, or molasses
whipped cream or other whipped topping
drizzle some peanut butter, chocolate sauce or strawberry sauce on top
pick your favorite jam- blackberry, grape, strawberry, mixed berry, etc.
Can I Make This A Vegan Pancake Recipe?
Certainly, these Bisquick Pancakes are really easy to make vegan, especially since you are already omitting the eggs from the classic traditional pancake recipe. Did you know that the Original Bisquick pancake mix is naturally vegan? It is in the United States, at least. However, if you're looking to make these in the UK, we've been told that the Betty Crocker Bisquick version isn't vegan, so keep that in mind.
However, if you're States-side and using the original mix, you're good to go!
If you want to make vegan bisquick pancakes, all you have to do is make sure you use a dairy free milk alternative. It really is easy to make these dreamy pancakes vegan pancakes when using a non-dairy milk!
Additionally, you can make pancakes with a dairy milk substitute.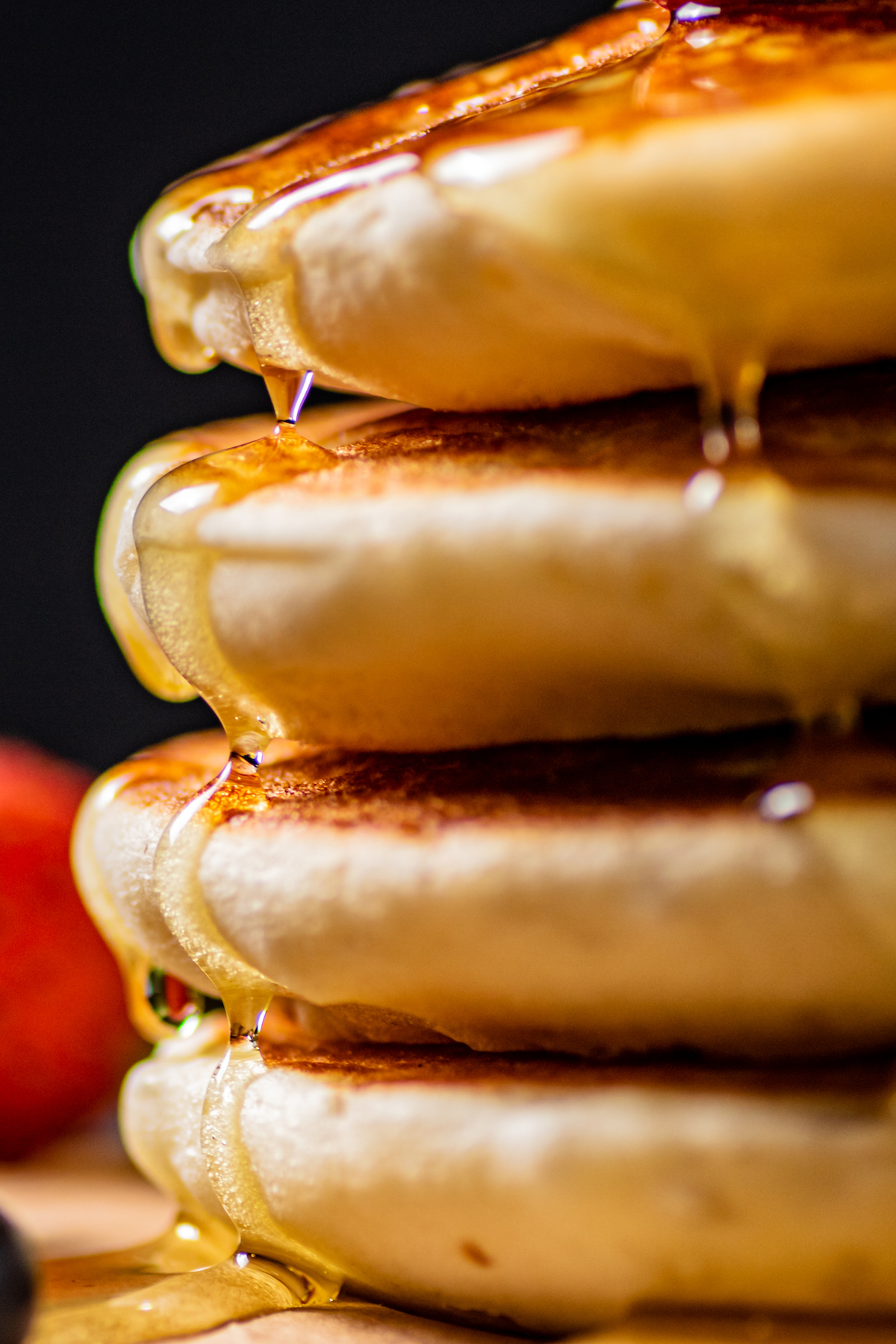 Can I Make Gluten Free Pancakes?
Yes, you can make gluten free pancakes with Bisquick. Bisquick makes a gluten free version of their pancake mix. You can then make those gluten free pancakes without eggs like we did in this easy pancake recipe, or you can follow the directions on the gluten free pancake mix bowl.
What can I use in place of eggs in Bisquick?
While we make these pancakes without an egg substitute, if you are heart set on using an egg replacement for these pancakes, you can. Keep in mind that using one of these ingredients may add additional flavors to your pancakes that you may not be expecting.
If you want to use an egg replacement ingredient, you can try one of these ideas, all you have to do is add it to the dry ingredients and make the eggless pancakes like you would with this recipe or any other pancake recipe. Here are some options to try, just add a 1/4 cup of any of these ideas per one egg that the recipe calls for:
unsweetened apple sauce
a half mashed banana
mashed sweet potato per egg
any storebought egg replacer
In most cases when you use one of these replacements, you may not need as much milk, so add that in slowly and mix to see the consistency of your pancake batter before adding any more. You don't want soupy batter and you certainly don't want a pancake batter that is too firm.
Now that you see just how incredibly simple it is, you can make your favorite Bisquick Pancakes without Eggs in no time!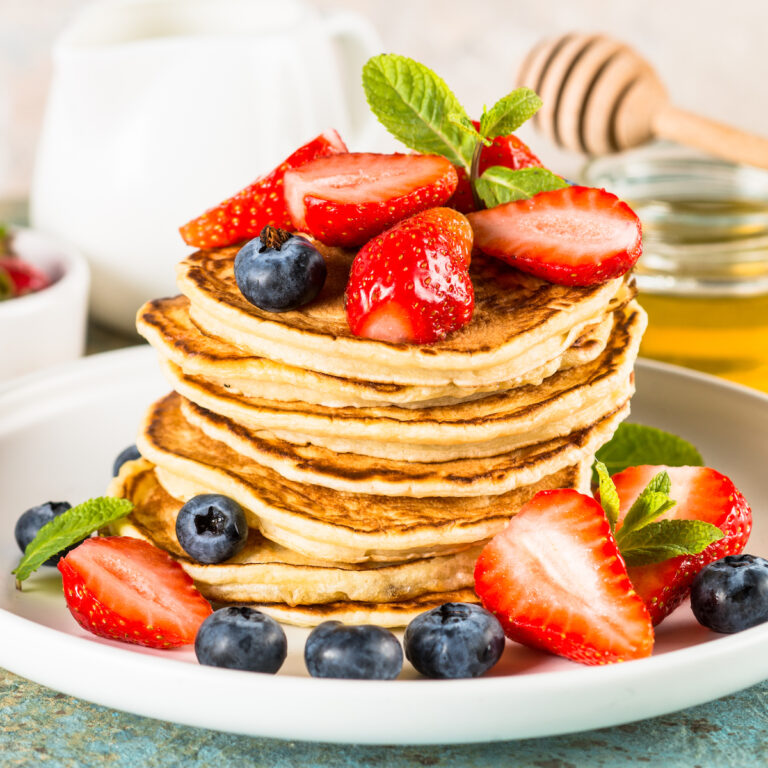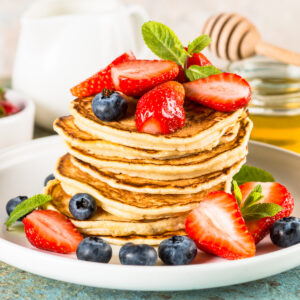 Bisquick Pancakes Without Eggs
Looking to make delicious Bisquick pancakes without eggs? Luckily it is easy to do!
Ingredients
2

Cups

Bisquick

1 1/2

Cups

Milk – dairy or plant based

2

Tbsp

Oil (Canola or Vegetable or Coconut all work welll)
Instructions
 Combine the ingredients in a large mixing bowl

In a pan on the stove over medium heat, pour the batter into the pan making pancakes the size that you prefer

Once the bubbles start to pop, flip over and cook on the other side on the hot pan

Serve and enjoy your golden brown pancakes with your favorite toppings