Gluten Free Chicken Stock is pretty much a staple in our house. Not only do we eat a lot of roasted chicken, but I make Gluten Free Chicken Stock to use as a base for soups, add to rice, and just plain drink.
As an Amazon Associate I earn from qualifying purchases.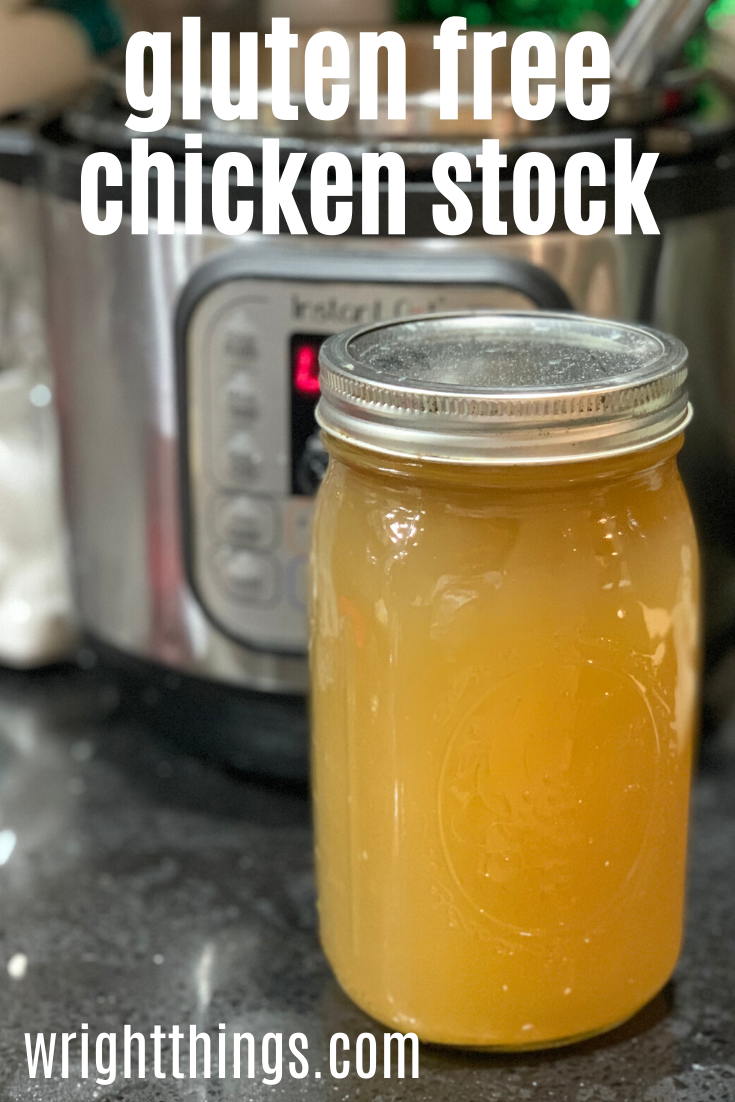 I've been making chicken stock for so long, that I didn't really make much of it until a couple of days ago. I first got my InstantPot four years ago, and gluten free broth was one of the first things I made. Some recipes out there make it seem complicated, or take a long time, but through some trial and error I have come up with the best gluten free chicken stock recipe ever.
What Makes This the Best Gluten Free Chicken Stock?
Besides the fact that this chicken stock is delicious, the color is amazing. Sometimes when I am making a quick broth in my Instant Pot, I don't really pay attention to things like color since I'm just trying to make the stock as quickly as possible to use it for something else!
I made the best gluten free chicken stock by accident. I always use a roasted chicken carcass as the baste, but I had a few extra roasted carrots left over so I threw them in.
I roasted these carrots under my chicken, without any liquid in the bottom. They keep the chicken from sticking to the bottom of the roasting pan.
They also get nice and brown and cartelized on the bottom, and are absolutely delicious.
Adding these roasted carrots to the chicken stock after browning the chicken in the Instant Pot help give this stock its wonderful color.
This gluten free chicken stock is super simple with a leftover chicken, roasted carrots, celery, parsley, and apple cider vinegar! That's it, nothing else.
Is chicken stock gluten free?
In many cases, chicken stock and chicken broth are gluten free. If you are buying chicken stock in the store, be sure to always read the label. Some brands do add wheat or wheat protein to chicken stock. If you have a question, be sure to contact the manufacturer.
What chicken broth is gluten free?
If you are looking for gluten free chicken broth, here are a few great options.
Gluten Free Chicken Stock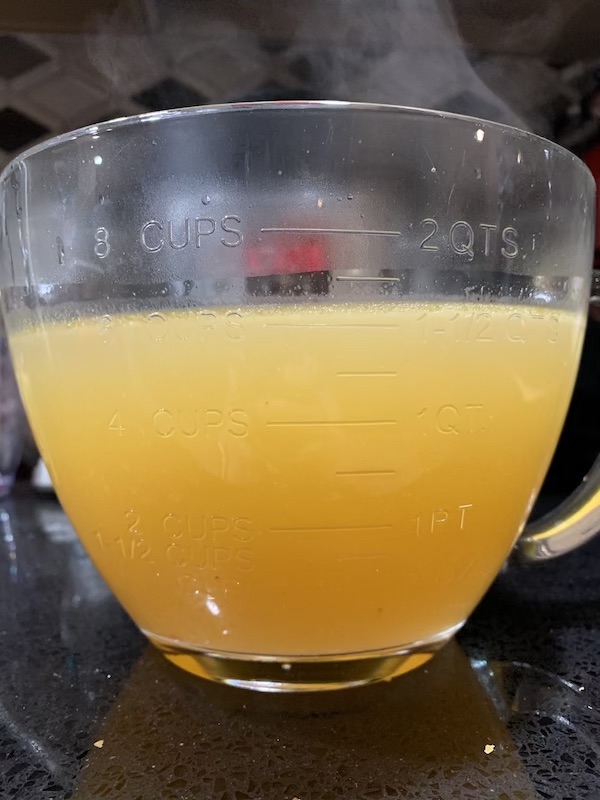 This gluten free chicke stock is a staple in our house, especially during winter months. I recently made this recipe even better by pure chance! This recipe couldn't be easier. Browning your chicken carcass right in the pot and adding roasted carrots give the stock a nice deep color.
Cook Time
1 hour
30 minutes
Total Time
1 hour
40 minutes
Ingredients
1 Chicken Carcass
2 Roasted Carrots
3 Celery Stalks
3 Parsley Sprigs
2 Teaspoons Apple Cider Vinegar
Instructions
Set your Instant Pot or electric pressure cooker to saute, and put in the chicken carcass, browning on all sides.
While chicken is browning, roughly chop roasted carrots and celery.
Add roasted carrots, celery, parsley, and apple cider vinegar.
Fill with water to the maximum capacity of the Instnt Pot or pressure cooker.
Close Instant Pot.
Pressure cook on high for 90 minutes.
Allow pressure to release naturally.

Notes
I always make sure to throw a couple of extra carrots into my pan when roasting a chicken to make sure I have them for this stock. This recipe can also be made with a rotisserie chicken carcass.