This vegan Frappuccino recipe is an alternative to the typical dairy-based Frappuccinos you may be used to from Starbucks and other coffee shops. The vegan frappucino is vegan, healthy, and delicious! There are many variations on this dairy free Frappuccino that will have your friends asking for more!
As an Amazon Associate I earn from qualifying purchases.
Why I won't drink anything at Starbucks
First things first, I haven't been to a Starbucks in years. As someone with multiple life threatening food allergies, Starbucks became a no go when they introduce almond milk due to cross contamination.
Previous to this, even with a dairy allergy, I would order espresso or americanos. Now I feel like it is just too much risk for me to even do that since I am so severely allergic to almonds. I haven't had a Frappuccino in well over a decade, until now that is.
One of the great benefits of being dairy free and having a ton of allergies is that I've learned a lot about vegan baking – and now, vegan fun drinks!
I figured out everything we need to create the best vegan Frappuccino recipes around. Of course, they are also dairy free!
How do you make a vegan Frappuccino
People always wonder, can you make a Frappuccino vegan? There are a couple of things to consider when coming up with a vegan Frappuccino recipe. Luckily, coffee and espresso are both dairy free to start.
Here's what we need to consider:
Dairy milk alternatives (I prefer coconut milk, but your favorite vegan milk will work great)
Whipped cream alternatives (there are plenty out there today luckily!)
Add in alternatives. I started with this vegan caramel Frappuccino recipe because, well, I've always loved caramel!
This is almost embarrassing calling this a recipe, because all you need to do is throw this stuff in a blender, and you're good to go.
How do you make an oat milk Frappuccino?
Just sub in oat milk in the place of milk. It is as simple as that.
What about an Almond milk Frappuccino recipe?
Yup you bet, just use almond milk in this simple Frappuccino recipe.
Easy, Healthy Frappuccino Recipe
The best part about making your own Frappuccino is that you can make it to your specifications, and much healthier than what you would get in Starbucks.
Sometimes, my favorite is just the classic Frappuccino, with nothing else added to it. Espresso, coconut milk, and ice. That's got no sugar compared to what I would buy at Starbucks which is loaded with sugar.
Sometimes, we all want something a little sweet, and we can easily control the flavor when we make a Frappuccino at home.
It's also much cheaper! Apparently there are even shortages of stuff at Starbucks these days.
Should I use coffee or espresso for homemade Frappuccino?
At Starbucks, espresso is used for Frappuccinos. If you don't have an espresso machine, you can use instant espresso powder with no issue. You can also use regular cold coffee, as long as it is cold.
Strong coffee is the best for a Frappuccino since it is blended with ice and milk, but feel free to use whatever you have (or like the best)
Personally? I'm an espresso addict, so that's how I go.
The Base Vegan Frapp Recipe
This vegan frapp recipe that will make the equivalent of 2 venti frapps. It really is super basi.
The base Vegan Frapp Recipe consists of the following, if you are using coffee:
2 Cups of Cold Coffee
2 Cups of Vegan Milk (Coconut milk, oat milk, almond milk, your favorite vegan milk)
4 Cups of Ice
Vegan whipped cream
If you are using espresso, the Vegan frapp is made with:
4 Shots Espresso
3.5 Cups of Vegan Milk (Coconut milk, oat milk, almond milk, your favorite vegan milk)
4 Cups of Ice
Vegan whipped cream
You can of course tweak these to make your favorite type of frapp. Sometimes I load up on espresso and reduce the amount of coconut milk for a ton of coffee flavor.
Vegan Caramel Frappuncio
My favorite is the Vegan Caramel frapp – add 1/3 cup of Vegan caramel
Dairy Free Mocha Frapp
Mocha frapps are also another classic. You can add 1/3 cup of your favorite vegan chcolate syrup.
You can also add cocoa powder and sugar (and a little vanilla extract) to even more closely mimic the Starbucks verison.
Some people like to even add chocolate chips to blend up!
Those are my favorite Frapp variants, but hey, just about anything goes!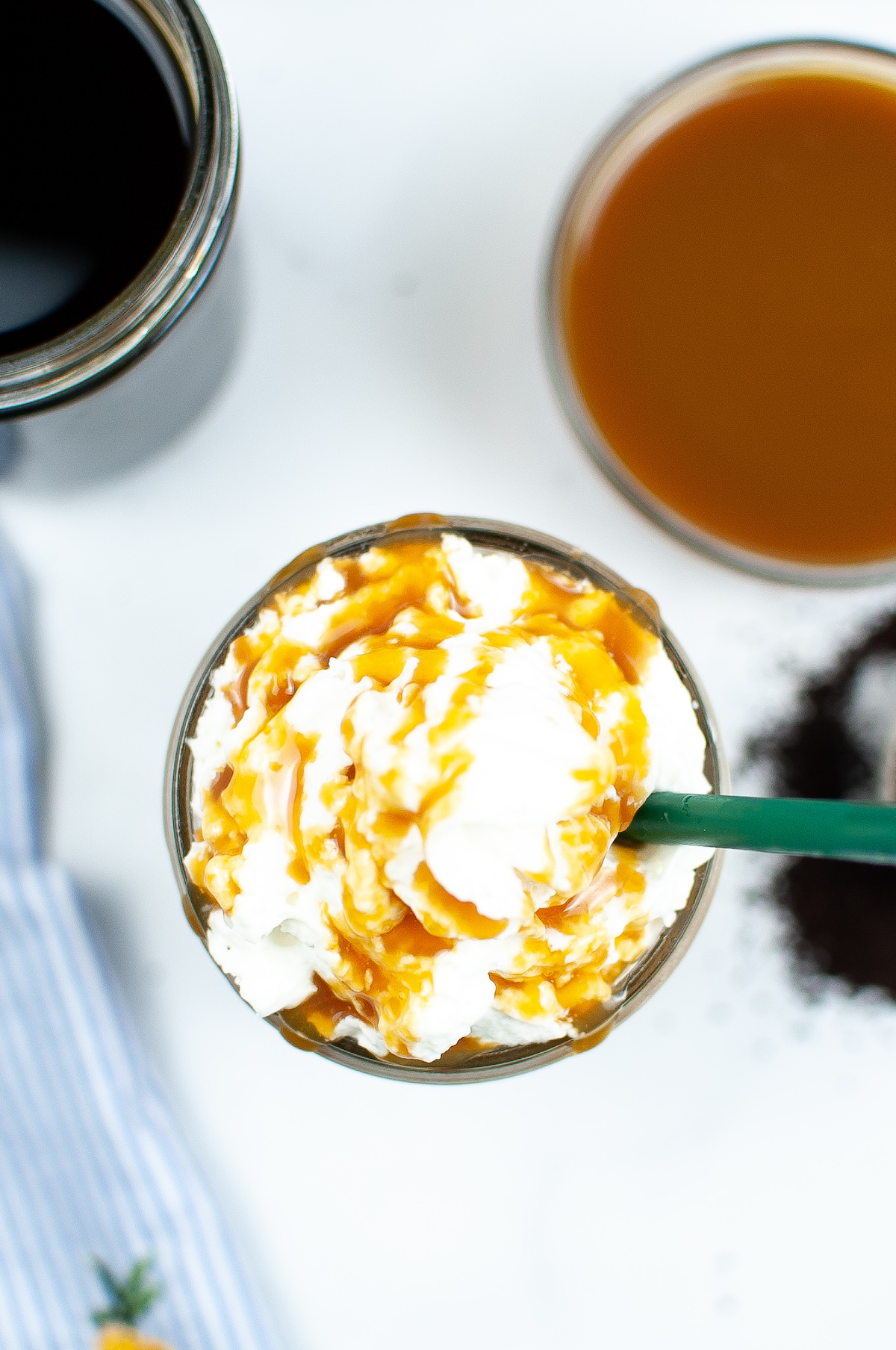 Did I mention I've gotten really into vegan baking too? Here are some of my favorites that go great with vegan coffee drinks!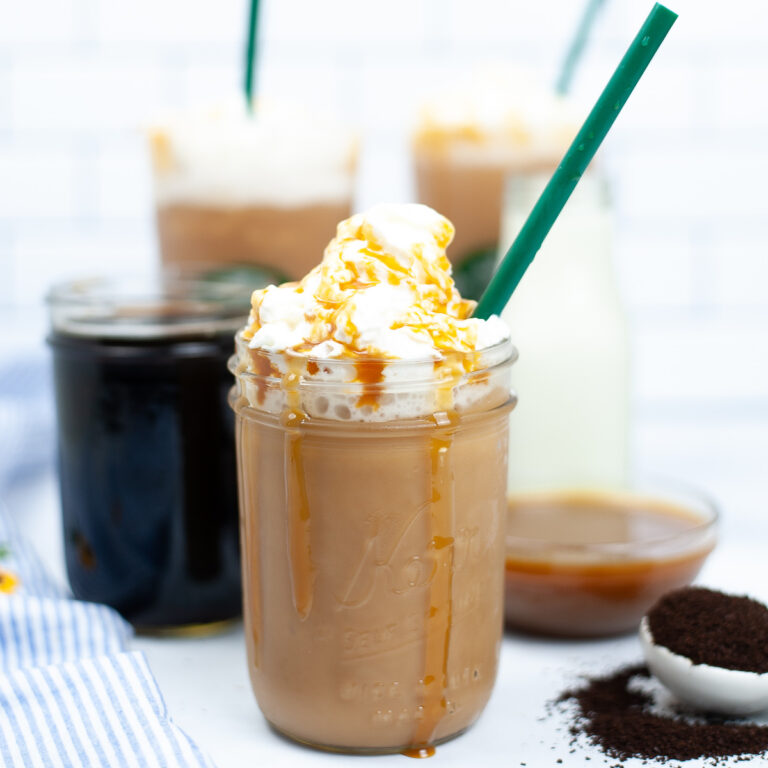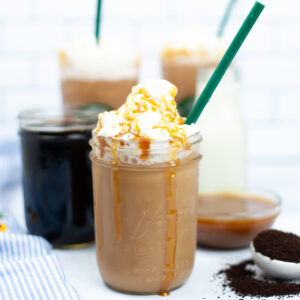 Vegan Frappuccino Recipe
Looking for a great, healthy treat? Vegan Frappuccinos are simple to make, and much cheaper than buying!
Ingredients
2

cups

of cold strong coffee

2

cups

of your favorite vegan milk

4

cups

of ice

Vegan Whipped cream (optional)
Instructions
Comibine all ingredients in blender and blend on high until ice is crushed.

Pour and enjoy with vegan whipped cream and toppings if desire.
Notes
If you want to use espresso shots instead of cold coffee, use 4 shots of espresso and increase the milk to 3 and a half cups.
Want to make a fun flavored vegan frap?
Vegan Caramel Frappuccino:
Add 1/3 cup of vegan caramel to your coffee mixture and blend.
Vegan Mocha Frappuccino:
Add 1/3 cup of vegan chocolate syrup or 1/4 cup cocoa powder or 1/2 cup chocolate chips or 1/3 cup "Starbucks style" mocha syrup.
Drizzle some of your toppings over your drink when it is finished, and feel free to add your favorite vegan whipped cream.
This makes two "Venti" sized drinks, or about 48 ounces in total.