Are you looking for a quick and easy holiday dessert? These healthy vegan baked apples check all the boxes, and are also gluten free. Best of all? They come together quickly with things you probably already have in your pantry.
As an Amazon Associate I earn from qualifying purchases.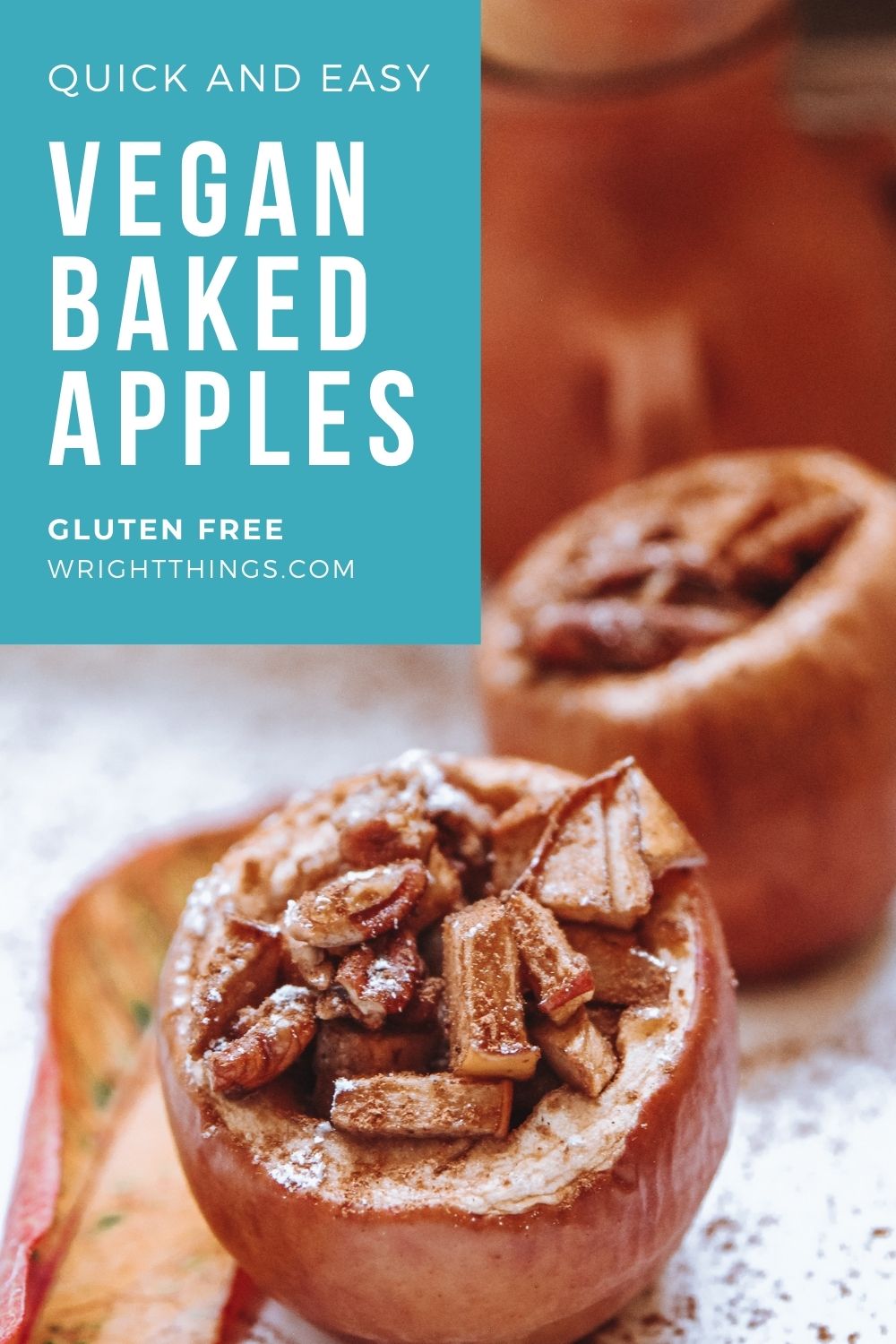 Healthy Easy Vegan Baked Apples
Apples are the classic fall treat, but let's face it, even the easiest apple pie takes a bit of work. If you're looking for a quick and easy dessert that gives you the same feel and flavors with a fraction of the work, this recipe is for you.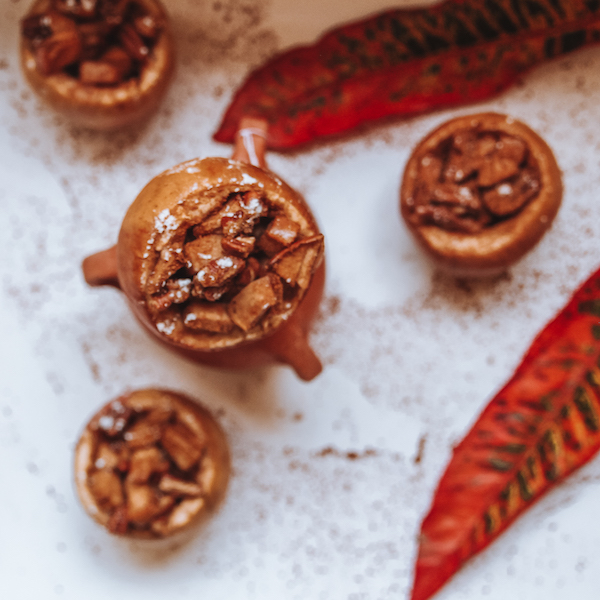 Best of all, besides the apples you have on hand, all you need is brown sugar, cinnamon, and vanilla. If you don't have a nut allergy, you can also throw in a handful of pecans.
These easy baked apples also have a great presentation, simply plate them and serve them with a sprinkling of powdered sugar or even your favorite vegan ice cream.
All About the Baked Apple
Baked apples are one of those things that can be tricky to get right. Don't worry, I have a few simple tips to help you along the way.
First and foremost, you have to prepare your apples to bake them. With this method, you'll have the perfect dessert with a lovely presentation.
The key is to cut the top off of your apples, and scoop out the insides. This does take some practice, but by the time you get to your second or third apple you will be a pro.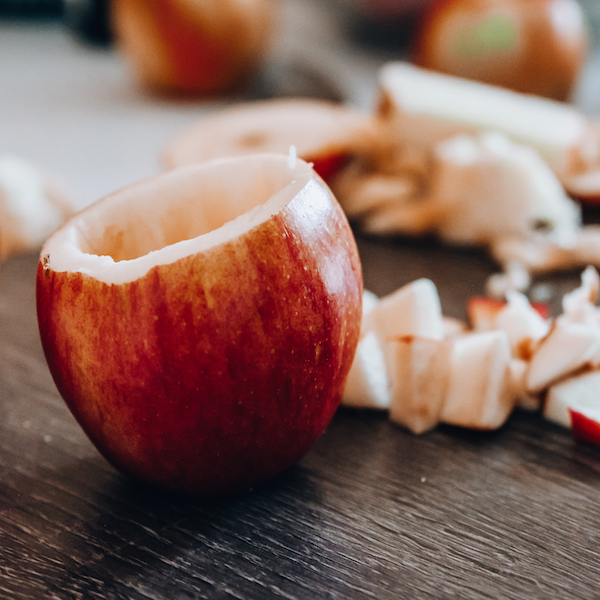 Don't get rid of those insides, except for the seeds and the core. We're going to chop them up and use them as filling, along with a whole additional apple.
The secret to the prefect baked apple is also how you bake it.
Place them in a muffin pan, to ensure they stay upright during the cooking process and are easy to move in and out of the oven without worrying about them rolling around!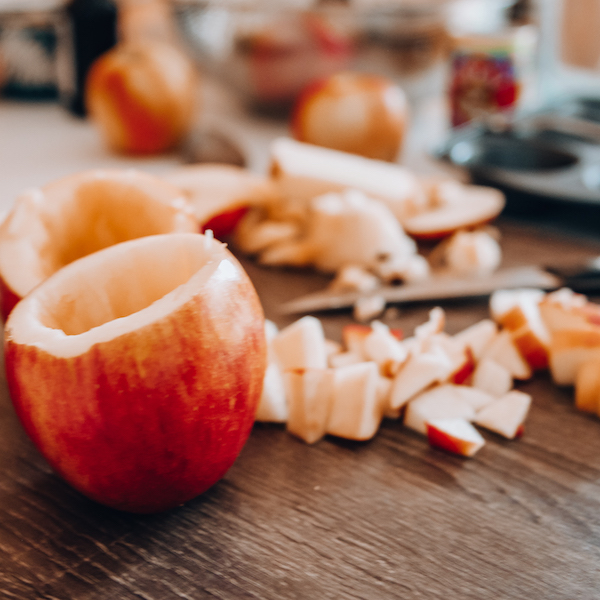 We leave the skin on the apples because it helps them stay whole during the baking process. If you are against apple skin, hey, I can't blame you.
To get the most edible apple in this case, you can follow the recipe and just chop all of the apples. Bake them in a baking dish or ramekin, and you're good to go, no peels necessary!
How to Bake Apples with Cinnamon
For some reason, apples and cinnamon just go together. The secret ingredient they absolutely need with them is brown sugar.
We just use a quarter of a cup of brown sugar for this recipe, that's all you need.
The brown sugar helps the flavors meld, and creates a wonderful sauce when it is baked along with the apples and cinnamon.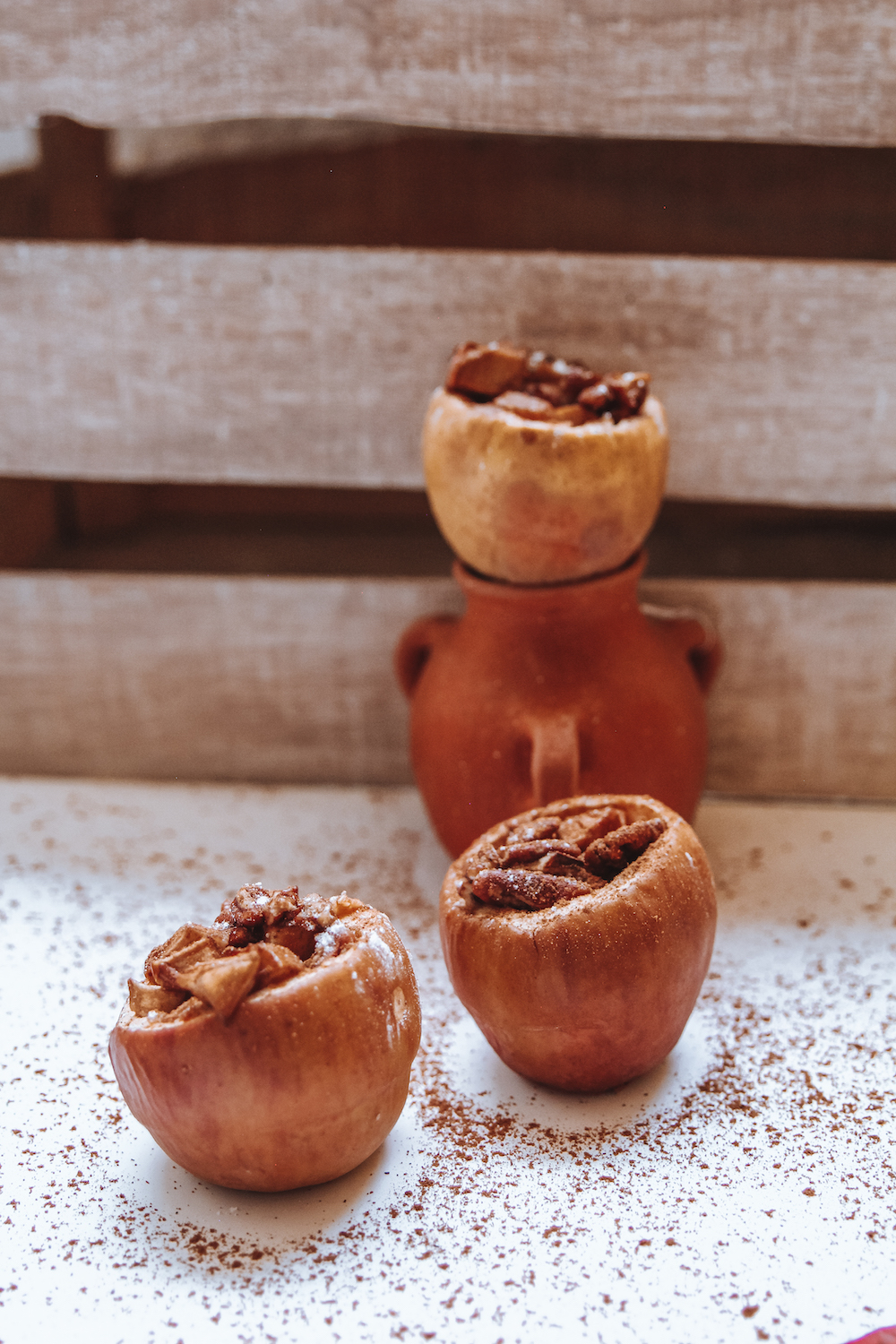 The apple will wilt a little it during cooking, and become soft and delicious, just like the inside of an apple pie, but without all of the hard work.
It is a win win for everyone. Did I mention it looks great?
How Long Do You Bake Apples?
The question most people wonder is how long do you bake apples? These baked apples take just 30 minutes at 350F.
For some reason, there's a misnomer out there that you have to bake apples, well, basically forever.
This isn't the case. The brown sugar helps the apple break down and release its juices, which helps it cook faster.
That's why it is so important to let the mixture sit for at least five minutes before you stuff your apples.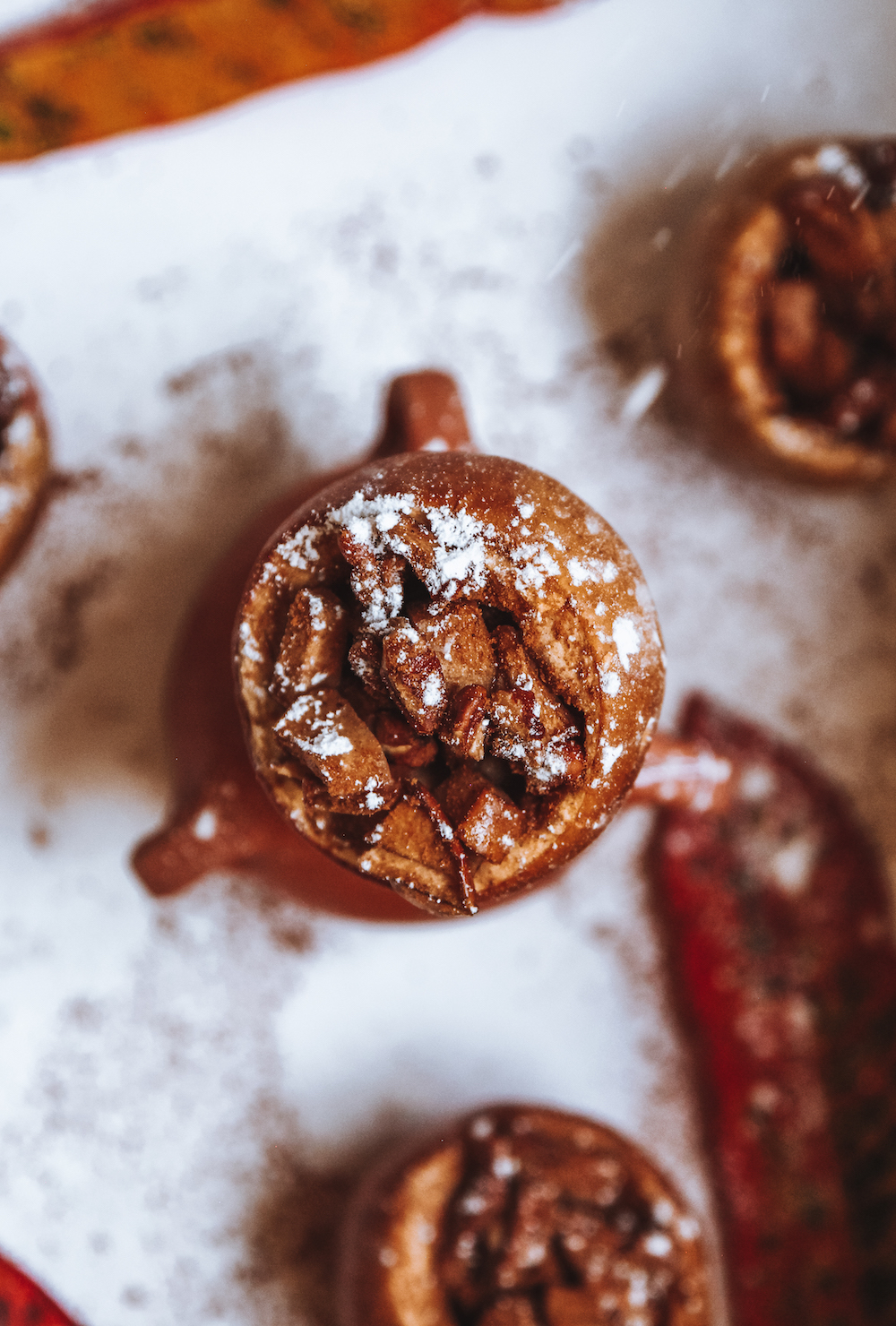 Brown sugar and a brief wait makes all the difference, I promise!
Other Healthy, Easy, Vegan Desserts
Are you looking for some more healthy, easy, vegan and gluten free desserts?
Don't miss some of our other favorites:
Yield: 4
Easy Healthy Vegan Baked Apples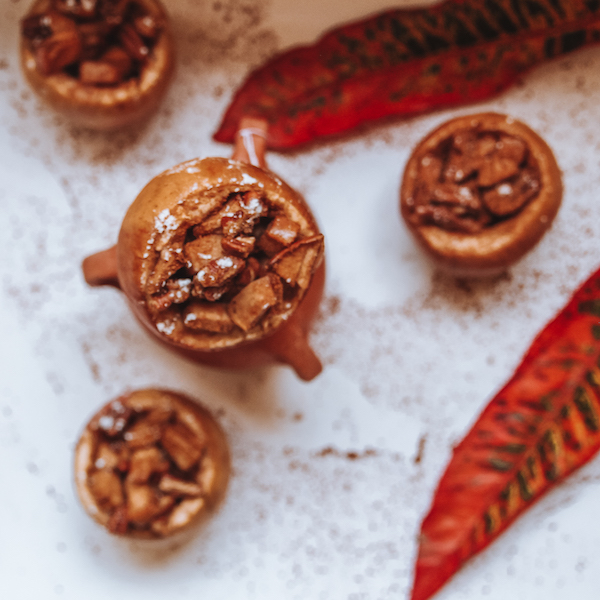 This is a quick and easy desssert that is perfect for the holidays.
There are just a few ingreients in these easy healthy vegan baked apples.
Of course, they are also gluten free!
With just apples and three simple ingredients, this is a crowd pleaser that you can whip up at any time.
The secre to the perfect texture here is allowing your apple cinnamon mixture to sit for at least five minutes before stuffing your baked apples.
Perfect for when you forget to make dessert!
Ingredients
5 Honeycrisp Apples (or other apples!)
2 tsp Vanilla
1/4 cup brown sugar
1 Tablespoon cinnamon
(optional) 1/4 cup chopped pecans
Powdered sugar for dusting
Instructions
Preheat oven to 350F
Cut off the top of four apples and remove the hearts. This does take some practice, so don't worry if your apples aren't perfect the first time around.
Chop the extra apple, and the insides of the apple (minus the core, of course).
Mix the chopped apple with brown sugar, cinnamon, and vanilla.
Allow apple mixture to sit for 5 minutes.
Fill four of the apples with the mixture.
Place apples in muffin pan. This will keep them upright!
Bake at 350F for 30 minutes.
Dust with powdered sugar and serve warm!

Notes
We love honeycrisp apples, but feel free to use your favorite apple, or whatever you have on hand.
Coring the apple takes some practice, but you'll get the hang of it. Neatly chopping the extra apple gives this dish a great look, even if you were a bit messy coring them.
If you don't have a nut allergy, chopped pecans are a great addition for this holiday treat.
If you're allergic don't worry about it, you won't miss them at all!
These are great dusted with powdered sugar and eaten alone, or served with your favorite vegan ice cream.