When it comes to making chicken wings, I always make a big batch. Why? Because everyone loves them, and they are great leftover!
As an Amazon Associate I earn from qualifying purchases.
No joke, the last time I made chicken wings using The Absolute Best Chicken Rub for Smoking, I made six pounds of wings. Six pounds!
We ate a surprising amount, but there were enough leftover for lunch the next day.
There are two types of people, people who like chicken wings cold when they are leftover, and those who want to reheat chicken wings.
I'm someone who can go either way, but if I am going to reheat wings, I want to do it the best way. This led to much trial and error around my house and we settled on a couple different methods.
The best way to reheat chicken wings is super simple, and doesn't take much time at all.
How to Reheat Chicken Wings
The best way to reheat chicken wings is simply in your oven.

Preheat your oven to 400 F.

Line a baking sheet with parchment.

Place your wings on the baking sheet and bake for 10 minutes, or until your desired level of reheating is met.
For us, this is the best way to reheat wings, and they are the perfect level of crispness and nice and warm.
By placing them on parchment, some additional grease also renders out, and who can say no to that.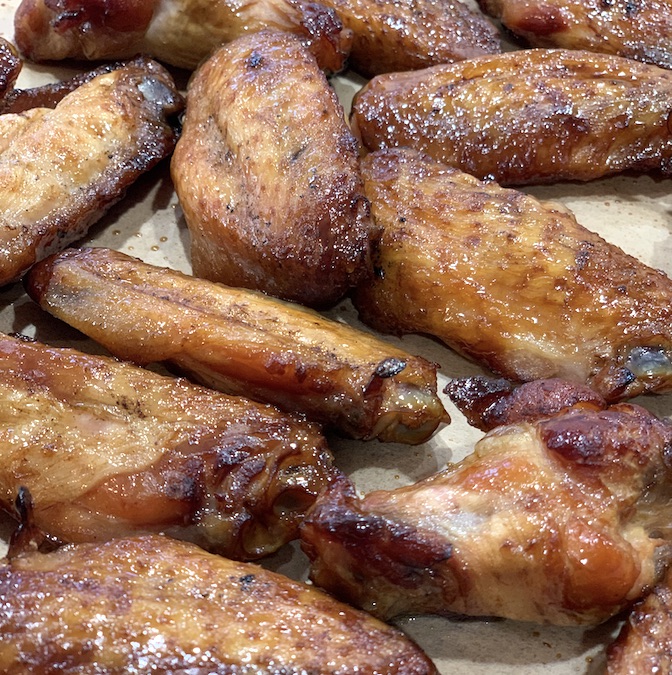 You can't even tell that they have been reheated, they taste like they just came off the grill.
Another Way to Reheat Wings is Your Air Fryer
If you have an air fryer, it is another great way to reheat wings.
Put your leftover wings in a cold air fryer.

Turn your air fryer to 400 F or 390 F depending on the model.

Reheat for 4 minutes.
The air fryer is a little quicker because the heat is much more intense, even more intense than if you are using a convection oven, since it has such a powerful fan.
The wings will be crispy, and like the regular oven, some additional grease will render out.
The Worst Way to Reheat Wings
The absolute worst way to reheat wings is your microwave.
Seriously. The texture of the skin and the wing will not be good at all. They won't be crispy. If you are going to reheat wings in the microwave, don't bother. Just eat them cold and you'll have a much better experience.
Just say no to microwave wings!