When you go vegan, you may fear that you'll never have a tasty bowl of hearty and filling fettuccine alfredo again. But, with this easy recipe, you'll be making a delicious vegan fettuccine alfredo in no time. It can seem crazy to make an alfredo sauce with no cashews, but trust me guys, this vegan alfredo sauce is so good, you won't even know it's dairy free or vegan, or nut free!
As an Amazon Associate I earn from qualifying purchases.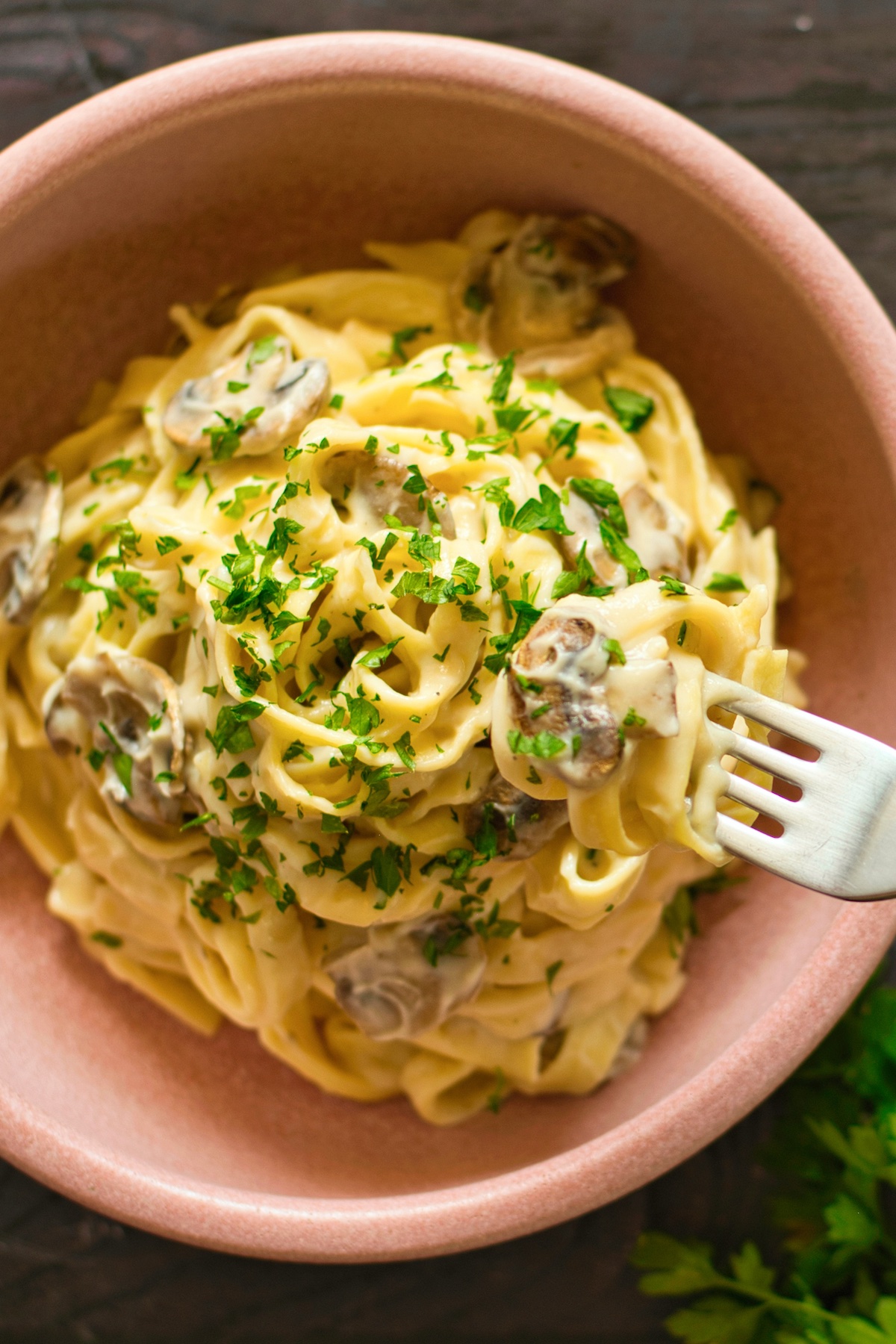 You'll be ready to lick the bowl of creamy goodness. Simply, it's the best vegan alfredo sauce we have ever made.
While some vegan alfredo recipes use raw cashews or cashew milk, this recipe ditches those ideas and focuses on using nutritional yeast and soy milk of that creaminess and cheesy flavor you want for your fettuccini alfredo.
If you and the family are in the mood for another pasta dish with rich flavors, but want something other than alfredo pasta, you must try this Zoodles with Arugula Pesto. It's another satisfying dinner the whole family will love.
Why you'll love this Vegan Alfredo Sauce
Super easy to make and you don't have to soak cashews to make a creamy sauce
Vegan sauce, which means dairy free too! Perfect for those with a nut allergy or dairy allergy
Full of so much flavor
Satisfying- just want you want to enjoy when you're craving a pasta and white sauce
Ingredients needed
Get more info on the healthy alfredo sauce ingredients, like the quantities, in the recipe card below.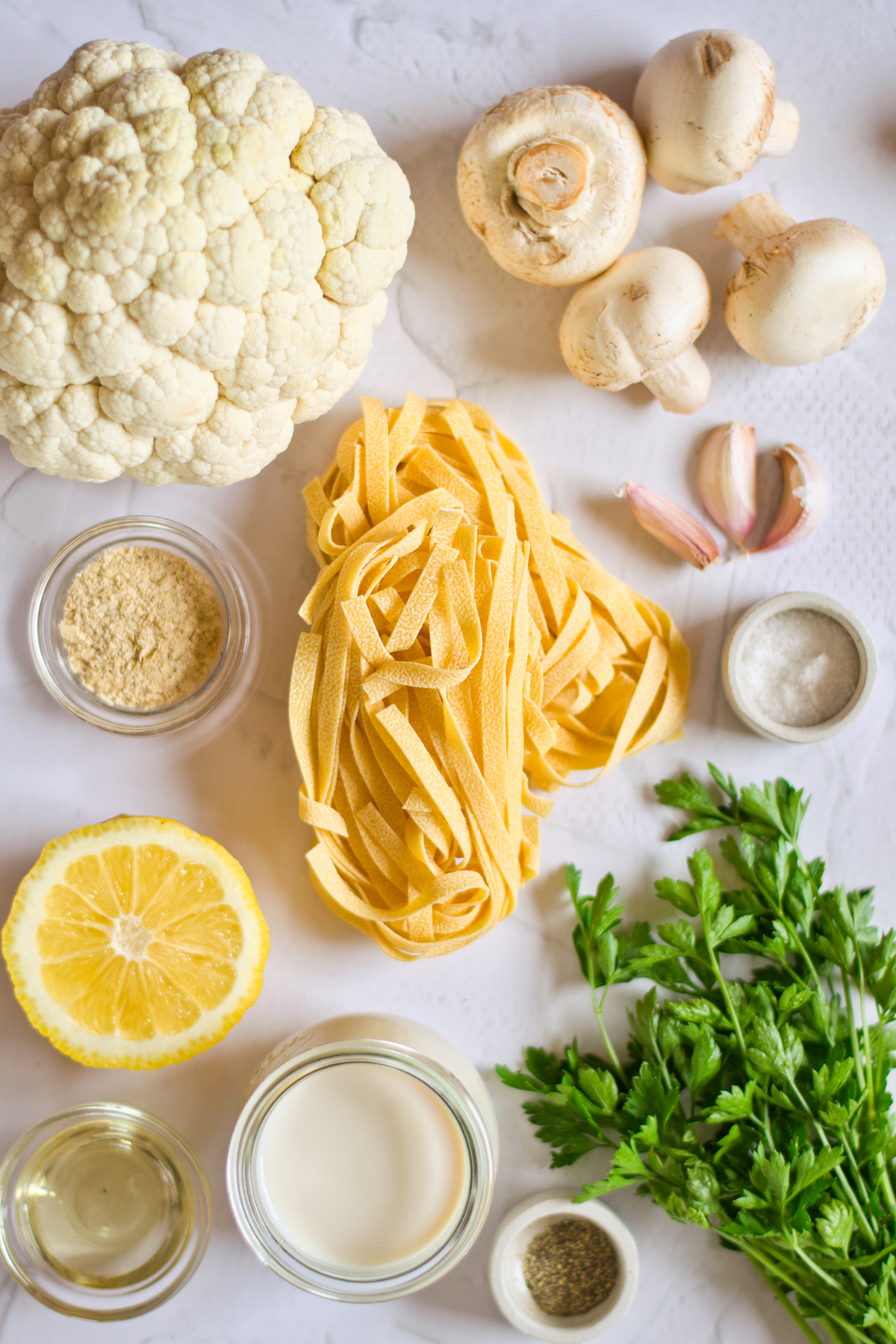 Vegan Fettuccine – You can use any pasta shape you'd like though, and we always use gluten free fettuccine!
Cauliflower
Mushroom
Garlic 
Soy milk
Nutritional yeast
Olive oil
Salt
Black pepper 
Parsley
How to Make Vegan Alfredo Sauce with No Cashews
Fill your large pot with water and place it on the stovetop. Over high heat, bring the water to a rapid boil.
While you're waiting for the water to boil, cut the cauliflower into small pieces.
Once the water is boiling, add the cauliflower and boil for at least 10 minutes, or until they're soft enough to use to make a puree with.
Over high heat, place a frying pan on it to heat it up.
While the pan is preheating, slice the mushrooms and cook until they're golden brown.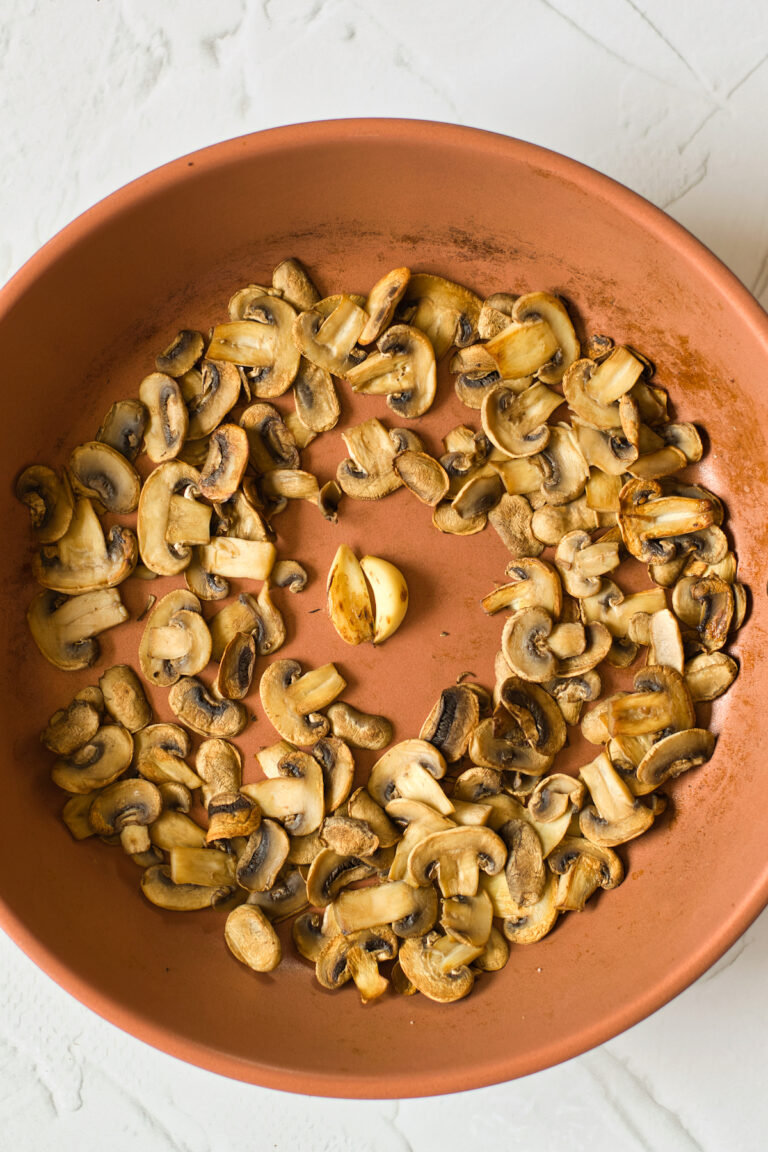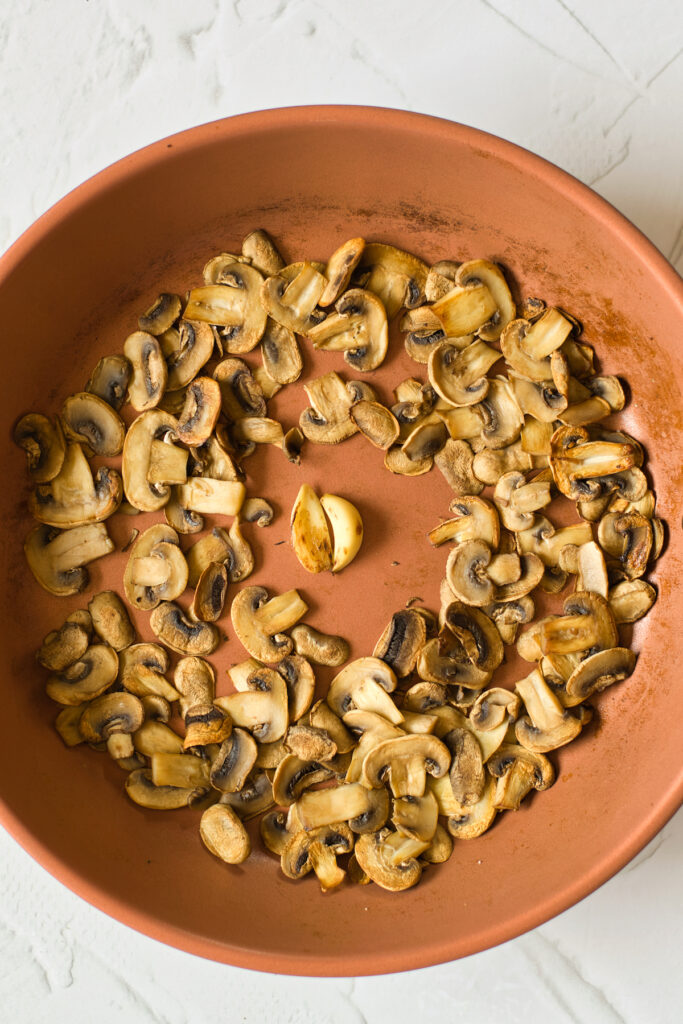 Add the garlic and cook until fragrant and brown.
In a saucepan, add water and salt. Bring the water to a boil and add pasta. Cook according to your package instructions, or until pasta is fork tender.
While the pasta cooks, make the sauce.
Add boiled cauliflower, salt, pepper, soy milk, nutritional yeast, and olive oil to the bowl of your food processor.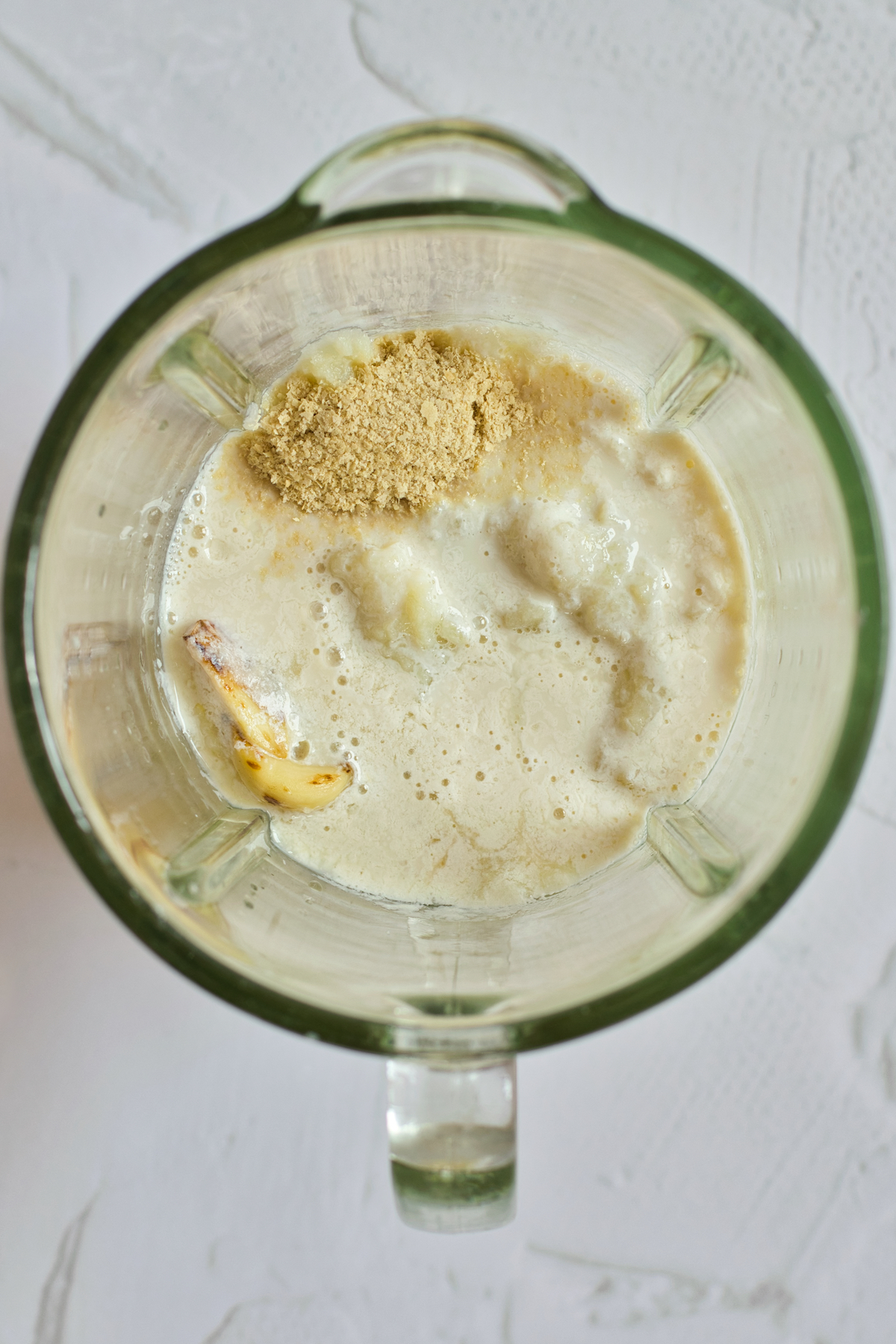 Mix until it turns into a creamy sauce.
Over low heat, pour this freshly made sauce into a saucepan or wok. Heat the sauce for a few minutes before adding the mushrooms and cooked pasta.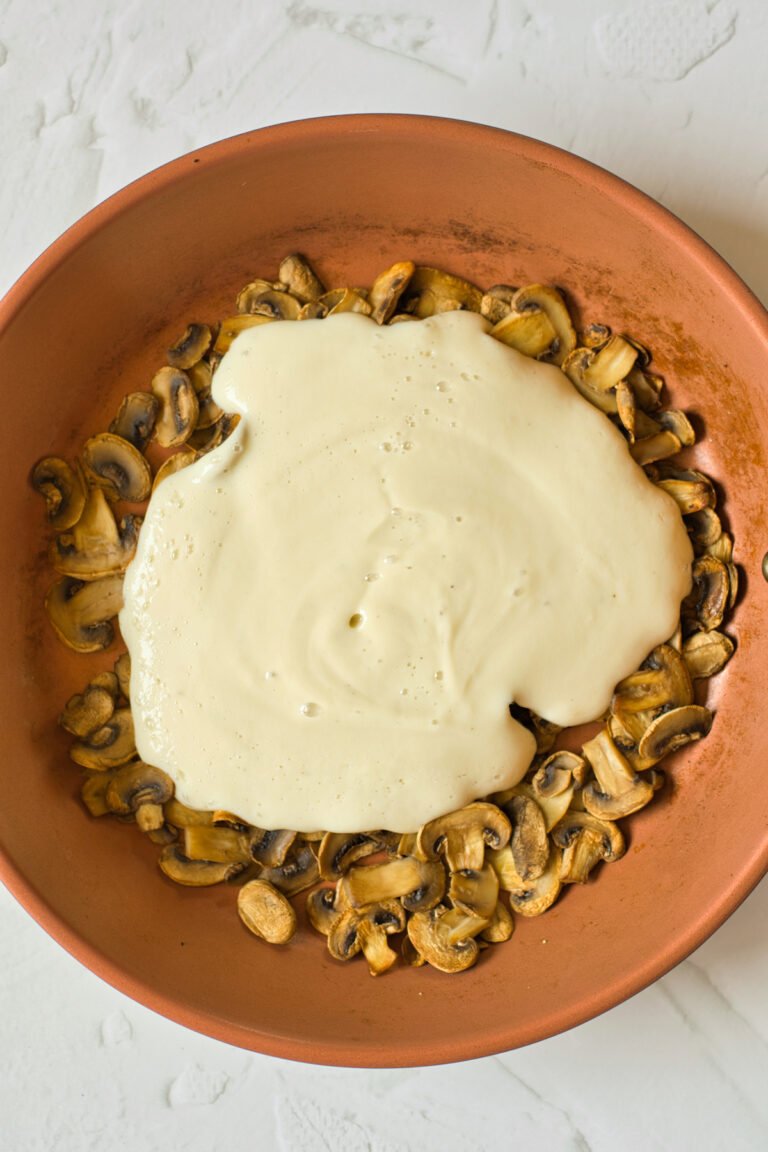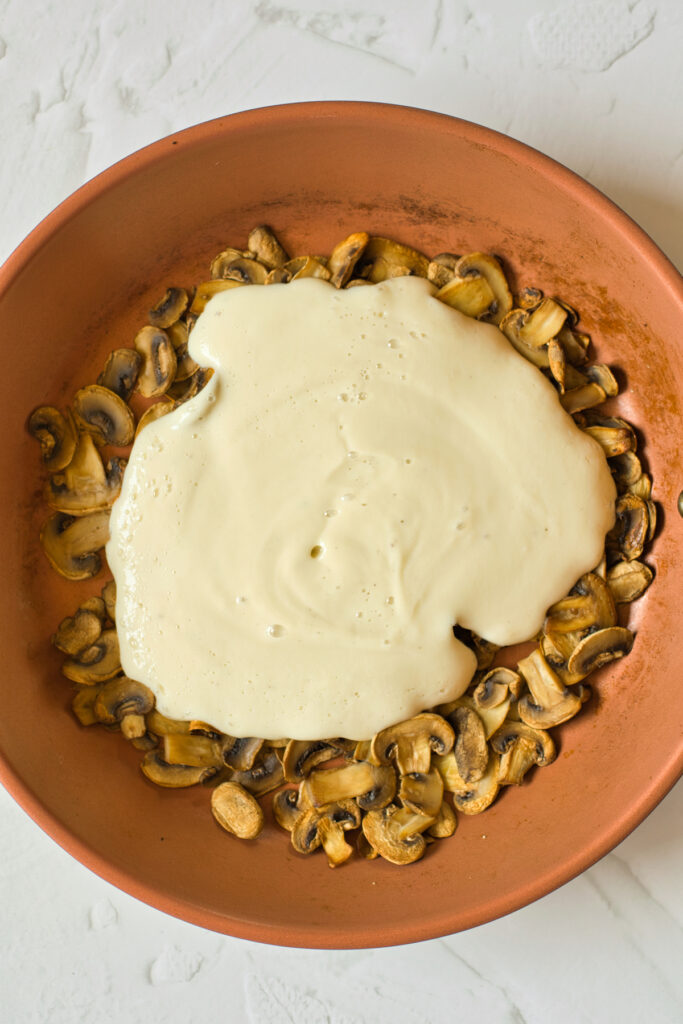 Toss everything together until well combined.
Serve, add chopped parsley for garnish, if desired. Enjoy.
Storage
For best results, when you store your pasta and alfredo, try to keep the leftover sauce separately from the cooked pasta if possible. If you store the sauce with the pasta, the sauce can harden on the pasta and make reheating it quite difficult.
When you go to reheat your vegan alfredo, I suggest putting it in a saucepan like you heated it on the stove once you made it, over medium heat, and then adding in the pasta to toss it in or making fresh pasta to coat with the sauce. Make sure to stir well and you can add any extra soy milk if needed if it's too thick so it becomes your desired consistency.
I don't recommend trying to freeze any of this for later. The creamy vegan alfredo sauce won't thaw properly and oftentimes gluten free pasta doesn't hold up well after freezing and thawing. There are a few brands that do hold up well when freezing and thawing, but many brands do not withstand the freezing and thawing process.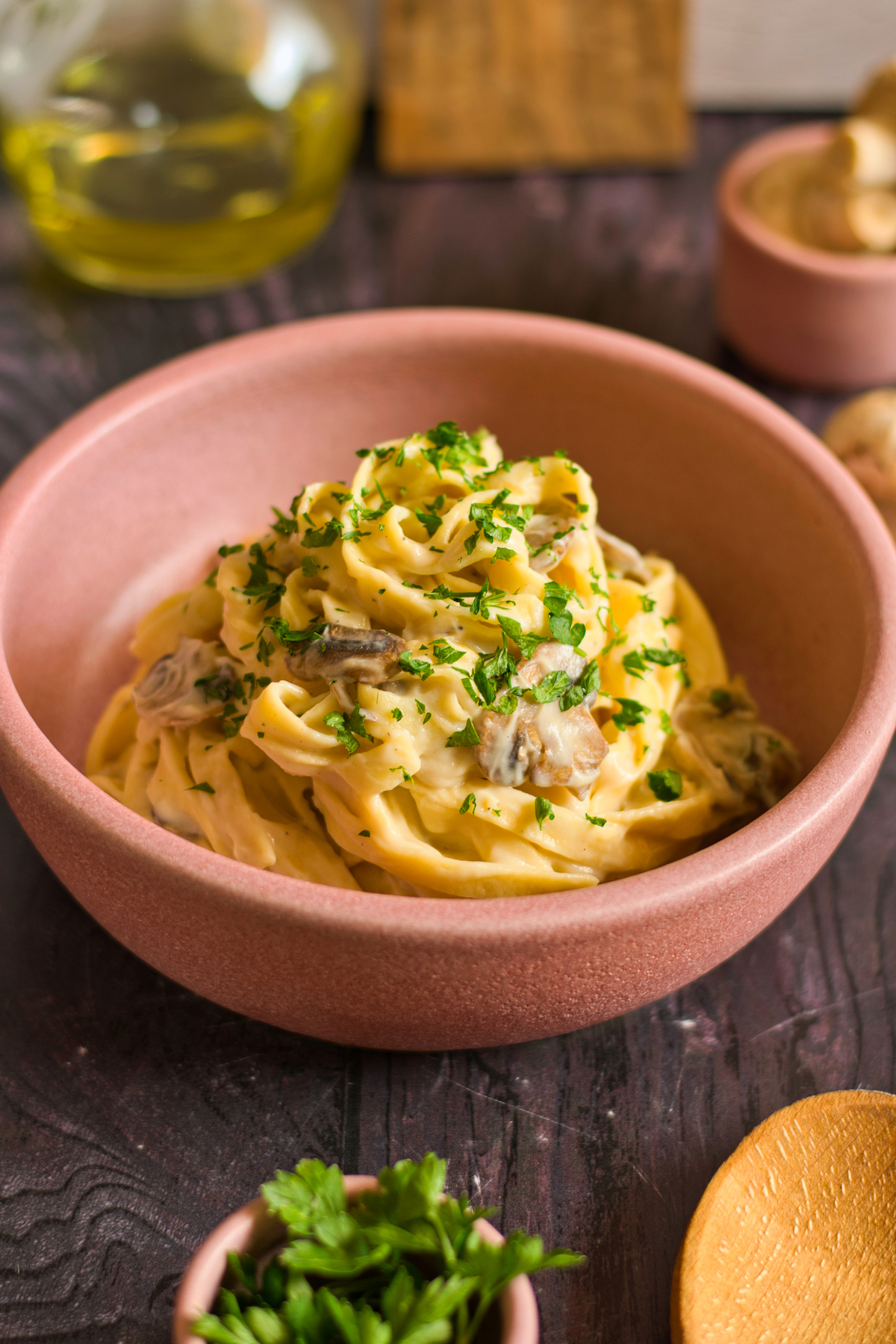 Helpful Tips
Be very careful when cooking the mushrooms. You don't want to overcook them or they'll dry out.
If you can't fit everything into your food processor, you can place everything in your high-speed blender and carefully process it all together there.
You can easily double, or even triple the creamy dairy-free alfredo sauce to make more sauce and pasta to serve a crowd.
Enjoy this pasta dish with your favorite big, green, healthy salad recipe for a nice complete meal.
Recipe Variations
Use fresh parsley for garnish whenever possible. You can also add vegan parmesan cheese as a garnish if desired.
If you don't want to use fettuccine noodles, you can swap it out for your favorite pasta. This creamy alfredo sauce will go on any pasta of your choice, that you have on hand.
The first time you make this, stick to the recipe. The second time, or from then on out, feel free to alter it as you see fit.
Keep in mind that whatever non-dairy milk you choose to use will have a different fat and water content, so your sauce may need to simmer for more time or for less time than the directions describe. This can vary from brand to brand, so please keep an eye on the sauce as you make it.
If you need to lighten up the thick sauce, you can add a squirt of two of lemon juice.
To make garlic alfredo, add some fresh minced garlic or some garlic powder to bring in some more flavor to this easy vegan alfredo sauce.
What is in traditional alfredo sauce?
Regular alfredo sauce is a creamy pasta sauce that's typically white and made from butter, parmesan cheese, and heavy cream. None of that is vegan, or dairy free. So, we had to use alternatives for these ingredients to create the perfect vegan alfredo sauce recipe.
In our cauliflower alfredo sauce, we use soy milk to get the creamy texture and factor into the recipe. Fettuccine Alfredo is the epitome of comfort food and for a lot of people, the alfredo and pasta can feel very heavy on your stomach and make you feel sick if you eat too much just from the rich ingredients. But, with these vegan simple ingredients for the dairy-free alfredo sauce recipe, that overfull, overindulged feeling doesn't happen as easily or as often.
Is there a non dairy substitute for heavy cream?
Why yes, there are actually a couple of different options to use instead of heavy cream that are dairy free. The most important thing to consider is the fat content of your milk alternative. Heavy cream is high in fat content and whatever option you choose to use in its place will need to be as well.
Coconut milk is a good plant milk alternative that has a high fat content but it is not usually recommended for alfredo sauce because of the strong taste it usually brings with it. Instead, find the almond milk, or oat milk with the highest fat content you can find and go for that.
Do I have to use soy milk?
I have only tested this vegan alfredo sauce using soy milk. I can imagine that you would be able. touse another plant based, dairy free milk. But there are some things to consider. Depending on your choice, the color of your sauce may change, but more importantly, you don't want to choose a dairy free milk alternative that has a strong flavor, like coconut milk as that will definitely change the taste of your cashew free alfredo sauce.
If you like our pasta dishes like our vegan, gluten free, and nut free macaroni and cheese or the Sage Pumpkin pasta, we know you'll love this vegan cashew alfredo sauce.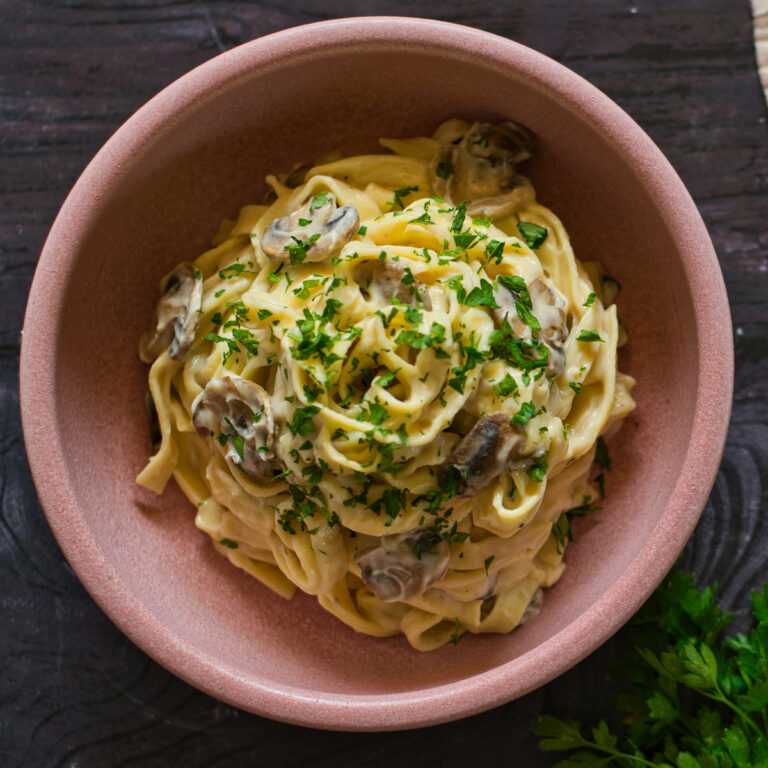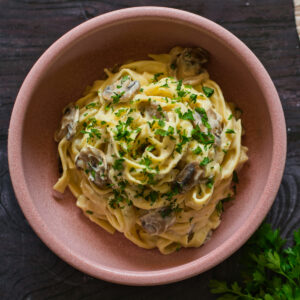 Vegan Alfredo Sauce (No Cashews)
Check out this delicious vegan Alfredo sauce that is allergy friendly without cashews and goes great with your favorite pasta.
Equipment
Pot

Food processor or high speed blander

Frying Pan
Ingredients
8

Ounces

Vegan Gluten-free Fettuccine or your favorite pasta

3

Cups

Cauliflower

1 1/2

cup

Mushrooms

2

Cloves

Garlic

1

Cup

Soy milk

1/2

Cup

Nutritional yeast

2

tsp

Olive oil

1

teaspoon

Salt

1/2

teaspoon

Black pepper

Parsley to Garnish
Instructions
To prepare this delicious and healthy version of the "fettuccine Alfredo", we will start by gathering a measuring all the ingredients.

First, you need a big pot filled with water and bring it to a boil.

Cut the cauliflower into smaller pieces and boil them for at least 10 minutes or until they soften enough to make a puree.

Next, place a frying pan on high heat, and add sliced mushrooms and cook them until they turn golden brown, then add the garlic.

Now, take a saucepan filled with salted water for your pasta and bring it to a boil.

In the meantime, make the sauce. In a food processor or blender, place the boiled cauliflower, salt & pepper to taste, soy milk, nutritional yeast, and olive oil.

Blend until the sauce is creamy.

Pour the sauce into a frying pan, and place it on low heat. Once you heat the sauce, take the fried mushrooms and the pasta and toss all the ingredients until they are combined.

Serve hot and top up with freshly chopped parsley.