Are you newly transitioning to the keto diet and feeling bored of eating eggs for breakfast every single day on your keto journey? Or maybe you don't eat eggs at all and have been struggling to find satisfying breakfast recipes that fit your lifestyle. Whatever the case, we have got you covered with 12 absolutely delicious keto-friendly breakfast ideas – none of which involve a single egg!
As an Amazon Associate I earn from qualifying purchases.
Prepare yourself for a world of flavorful savory dishes and sweet indulgences that are sure to give your mornings the perfect start. Keep reading if you're ready to discover easy and mouthwatering recipes perfect for any day that the whole family will love!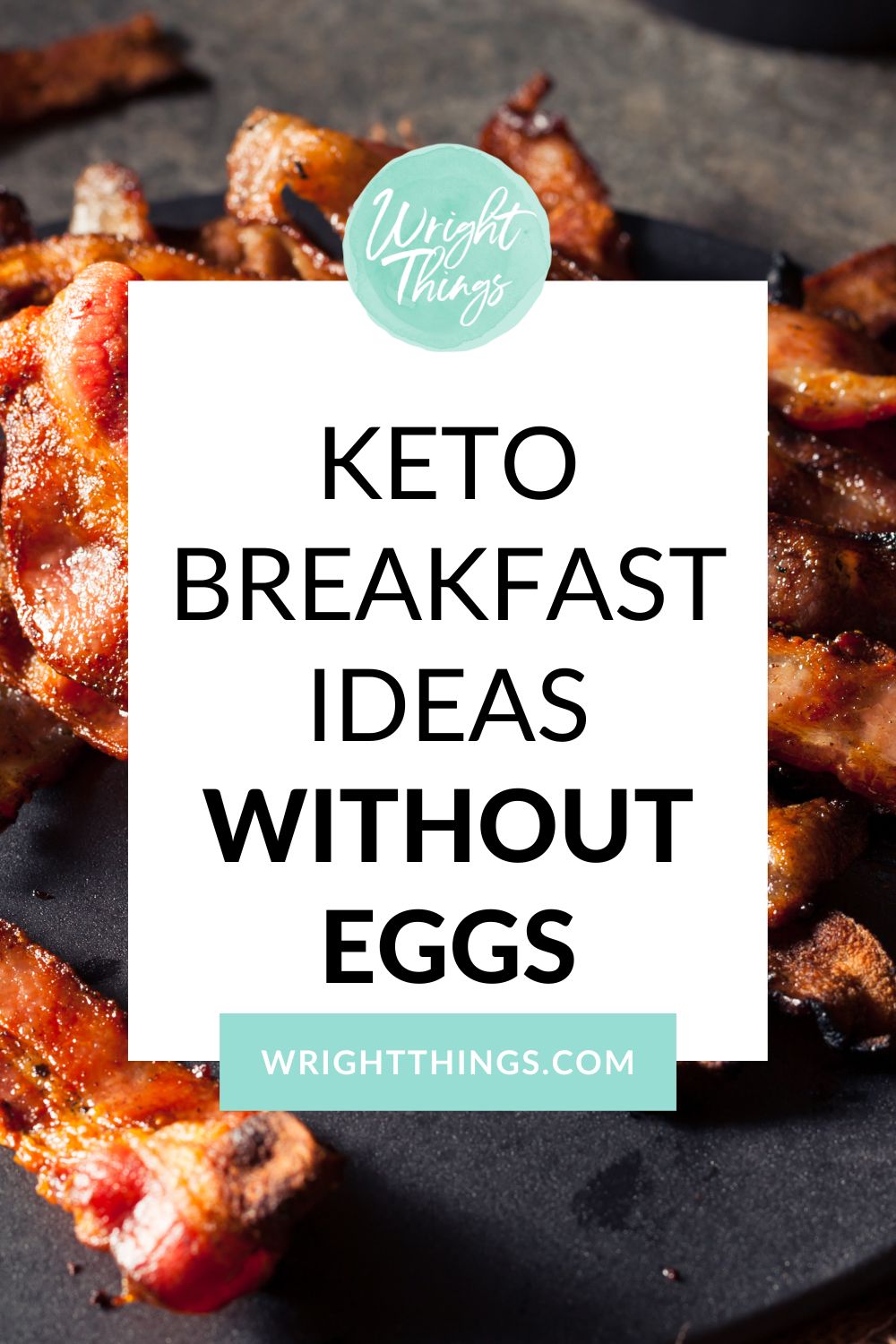 While some people will tell you that eating eggs is a keto breakfast staple, eating a keto breakfast without eggs is absolutely possible and can be just as tasty and filling. Just pick one of these perfect keto breakfast ideas listed below to fill your belly with.
Need to learn more about living a keto diet with food allergies? We have you covered with all of our knowledge about food allergies and following a keto lifestyle!
It doesn't matter if you're following a strict low-carb diet, or a keto lifestyle, these easy keto breakfast recipes will be perfect for you to enjoy while you're sipping on keto coffee in the morning (always a great option)!
We have a wide variety of low-carb recipes that are a great way to fill your belly with a healthy morning meal without having to eat any eggs! You know just how important breakfast is in the morning, it really is the most important meal of the day.
What is keto?
If you're new to keto, here's an extremely quick and brief breakdown of what living a keto lifestyle entails. When choosing your food choices each day, you will choose options that are high in fat, moderate in protein, and low in carbohydrates.
Following this kind of meal plan and lifestyle will help your body learn how to burn body fat instead of sugars created in your body throughout the day. If you follow the traditional unhealthy American diet, you likely consumed high amounts of carbohydrates, high amounts of fats, and minimum protein.
Doing this causes your body to turn the carbohydrates into glucose (sugar) and in turn, your body burns the sugar for energy. However, since you consume excess amounts of sugar, your metabolism can't use all the sugar, so it gets stored as body fat.
With keto, instead of having excess carbs that turn into sugar for your body to burn, your body skips the carb step and goes straight for the body fat to burn. In turn, this can help lower blood sugar levels since you aren't eating so many carbs that turn to sugar and elevate your blood sugar. You are also burning body fat more efficiently so you may find weight loss comes easier and some people have even reported having improved cognitive function.
What are the keto breakfast guidelines?
Just like your other meals, when you are following keto guidelines while eating, you want your first meal of the day to satisfy just the right amount of macros. Each meal should work out to be 70% fat, 25% protein, and % or less of carbohydrates.
But don't worry, your favorite breakfast foods don't have to be out of the picture any more, with so many ways to make everyday recipes ketogenic now, you'll be whipping up your new favorite healthy recipe in no time!
The best part is since many of the common breakfast ingredients (like cream cheese, eggs, and bacon are common keto approved ingredients), breakfast is usually one of the easiest meals to compose and make a healthy meal from. Keep checking out all the recipes below to find a new great idea for breakfast!
There are a ton of eggless keto breakfast ideas like keto pancakes, keto smoothies, and other quality easy keto breakfast ideas, but these are our favorites!
Keto Breakfast Without Eggs
Looking for a delicous keto breakfast without egg? There are so many options!

All of these low-carb breakfast recipes are egg-free but still packed with flavor and nutrients that will help keep you running throughout the day! What are your new found easy breakfast recipes that you want to try from the list? Feel free to share your favorite ones in the comments below.
Add any of these low-carb breakfast ideas to your weekly meal plan and have the ingredients on hand when you meal prep to make sure you can easily stick to your preferred diet habits throughout the week!