There are many reasons to want to cook with an egg substitute in meatballs. Whether you have run out of eggs, or have an egg allergy, there are many ways you can substitute eggs in meatballs.
As an Amazon Associate I earn from qualifying purchases.
There are endless possibilities when it comes to recipes for meatballs. You can use any type of ground meat you like, or even a combination of meats. You can also add in different herbs and spices to give them a unique flavor. They have got to be one of my favorite meals that I make, in many different forms.
If you like the idea of swapping out eggs for another ingredient to help hold your meatballs together, you will love being able to swap out the eggs in meatloaf too!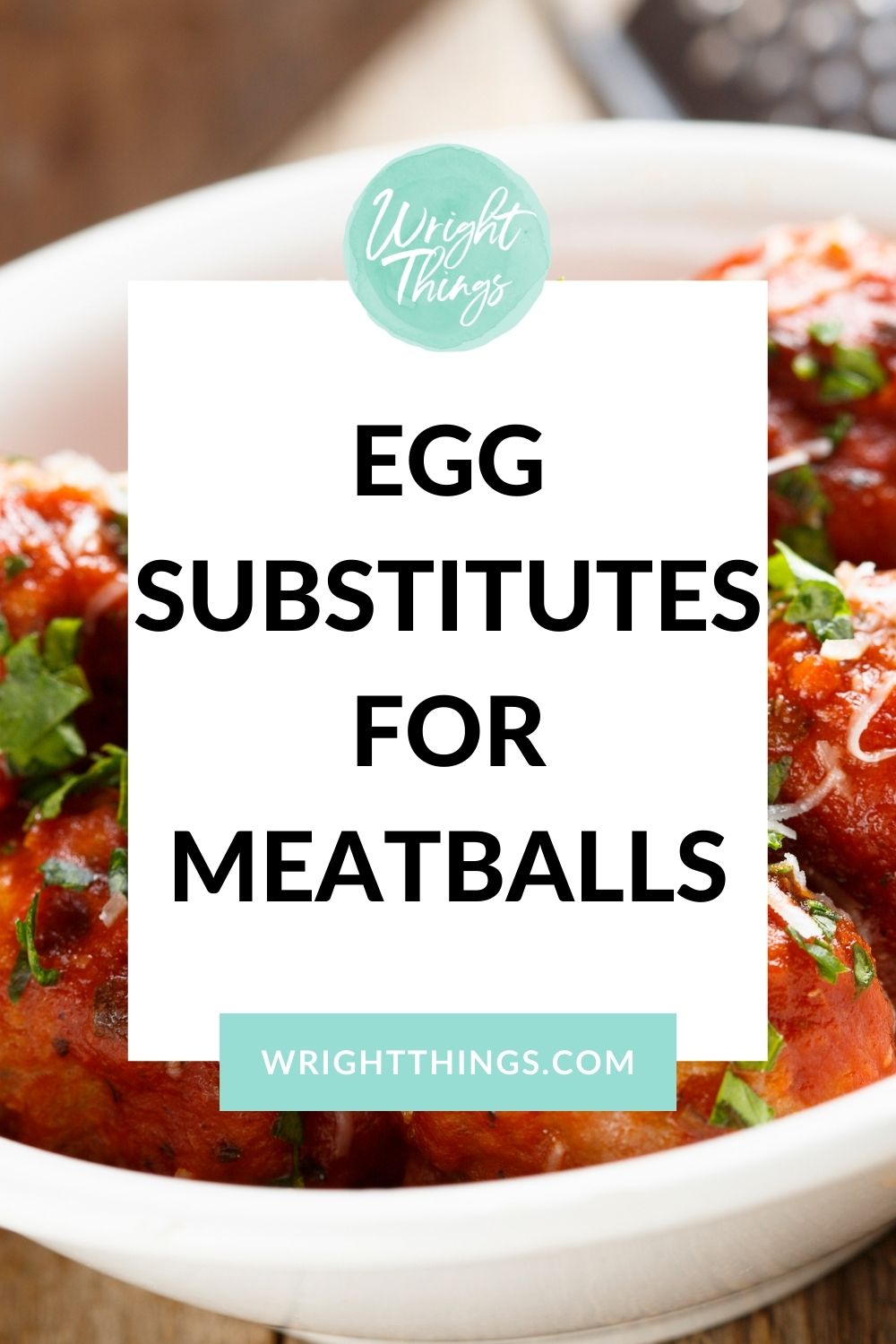 Let's take a closer look at meatballs in general, and why people use egg in meatballs in the first place.
What are Meatballs usually made of?
Typically meatballs are made from ground meat (usually ground beef, ground chicken, ground pork, or a combination of any of them), breadcrumbs (panko, Italian, homemade, etc), diced and shredded vegetables, herbs, and spices, and some kind of binding agents like an egg, or some kind of substitute that we discussed here.
Why Use Eggs in Meatballs?
There are many reasons to use eggs in meatballs. Eggs help to bind the meatballs together, and they also add flavor and moisture to the mixture. They also add extra protein and extra volume to the meatball mixture.
They're a common ingredient in meatballs and are most likely in your meatball recipe too. While they're great for many reasons, some people can't have eggs, or may be out of eggs when they want to make some meatballs. So, whichever case you may be, I wanted to make sure you had all the best substitutes to try that you may already have on hand without having to run out to the grocery stores.
Do I need egg in meatballs?
Absolutely not! Eggs are not needed in meatballs, in fact, I haven't put eggs (or breadcrumbs) in my meatballs in years and years and they are still delicious.
It can be a challenge to change how you're used to making a recipe, but believe me, it can be done, and you can simply enjoy meatballs without eggs in them.
Will meatballs stay together without egg?
Yes, meatballs will stay together without egg without a problem. One tip I have if you find your eggless meatballs are falling apart is to cook them in the oven or air fryer instead of frying them. This way you really don't need to move them around that much, although I do flip them when I make them in the oven towards the end of cooking.
Making meatballs stay together is a bit of a technique that you'll have to just get used to. Be sure you are adding some extra liquid to your meatball mixture and mixing it really well.
Kitchen scoops can also be helpful for forming meatballs, be sure to press the meat into the scoop hard to make sure it forms a very solid meatball.
If you find your meatballs are still falling apart, try using a binding agent like extra bread crumbs or oatmeal to help them hold together.
You can also add in wet ingredients like mashed banana, apple sauce, or yogurt to help bind the mixture. If you are looking for a flavor addition, try using different herbs and spices in your meatballs.
What can I use instead of egg to bind meatballs?
There are many different options for an egg substitute in meatballs. Some popular choices include flaxseed meal and chia seeds. Both of these options will help to thicken the meatball mixture. You can also use a binding agent like bread crumbs or oatmeal. If you are looking for a flavor addition, try using mashed banana, apple sauce, or yogurt.
If these aren't enough options, or you are looking for a few more to choose from, keep reading for some simple substitutions.
Substitutes for Egg in Meatballs
Looking to substitute egg in your tender meatballs? Here are some of our favorites we like to use for an egg replacement in our traditional meatballs.
Ground flax or chia seeds mixed with water (here's how to make a flax egg)
Egg substitute such as JUST egg
Extra water, milk (dairy or non dairy), or stock
Olive oil (this can make your mixture runny if you add too much. Add it in small increments and mix everything together before adding more)
Unsweetened Applesauce (a great option when making vegan meatballs with meat alternatives)
Mashed potato (mashed sweet potato works well with ground chicken or ground turkey meatballs and they won't change the overall flavor of your meatballs)
Buttermilk and panko breadcrumbs or regular breadcrumbs (an excellent binder that adds a rich flavor to your meatballs and keeps them nice and moist)
Tomato paste (the perfect substitute, especially if you're serving your meatballs with marinara or some other red sauce)
Plain yogurt (this is a great substitute for your delicious meatballs. However, it will give your homemade meatballs a slightly tangy flavor but it does lock in moisture and pairs nicely when you make the meatballs with a red tomato sauce)
Ricotta cheese (this is a great egg replacer in that it is a similar texture and consistency of beaten eggs. It's also adds a nice creaminess to your tasty meatballs. It's a great option and you will need a quarter cup of ricotta cheese in place of one egg in your meatball recipe)
Saltine crackers (instead of an egg, you can use these easily in place of eggs)
Mayonnaise (like ricotta cheese, yogurt, buttermilk, and more, using mayo helps keep your meatballs nice and moist and it adds a nice tangy flavor. However, if you have egg allergies, this is a substitution you're going to want to skip as most mayos are made with eggs.)
Aquafaba (this is another great way to make vegan meatballs if that's your plan. If you aren't familiar with aquafaba, it's the liquid you will find in a box or can of chickpeas. It's similar in texture to eggs once you whisk them and is a great binder in your meatball recipe. For each single egg that your recipe calls for, you'll need 3 tablespoons of aquafaba.)
Parmesan cheese (using shredded cheese is a great way to add some flavor to your meatball mixture and also adds some moisture to your meatballs)
Ripe mashed bananas (this is a super simple recipe swap that you probably already have on hand. It's also a great substitution, especially if you are making vegan meatballs. To replace one egg in your meatball recipe, you'll need to use 1 medium sized banana)
Oatmeal (this is an easy binding agent. It's great for binding it all together and brings a fun consistency to your meatball mixture)
What are the top vegan egg replacements for meatless meatballs?
If you're looking to make vegan meatballs and want to make some without eggs, here are our favorite vegan ideas to use instead of regular eggs:
unsweetened applesauce
aquafaba
vegan mayo
saltine crackers
tomato paste
Just egg or another egg substitute
chia seeds mixed with water
water
vegetable stock
dairy free milk
dairy free shredded or grated cheese
ripe mashed bananas
How to make meatballs without eggs?
Follow the recipe as you normally would, but be sure to either leave out the egg completely or swap it out for one of our favorite substitutes. If you do simply leave the egg out, be sure to add some extra liquid such as water, stock, or milk (dairy or non dairy) to make the mixture more moist and so it will hold together better.
The key when making meatballs is making sure you mix the meat really, really well. I usually put my large bowl of meat mixture next to my kitchen sink and turn the faucet on with warm water. I mix the meat mixture with my hands, and rinse them with warm water when they get too cold, then I get back to mixing!
Once the mixture is well combined, form the meatballs. You can use a kitchen scoop to help you out here!
What to Serve with Eggless Meatballs
The eggless meatballs that you are making should go with just about anything, and they'd even be delicious all by themselves. You can serve your meatballs with:
pasta
spaghetti squash
covered in marinara sauce and parmesan cheese
on top of a salad
ravioli
crusty bread
Things to consider when making meatballs
Choose your meat appropriately (you need to use ground meat with a good fat percentage. You do NOT want a lean fat meat option, if your ground meat is too lean, it won't be moist enough to stick together. Your mixture will also need more spices and herbs to bring in more flavor. But, the worst part is, your meatballs have a higher chance of crumbling if you don't use the right kind of meat)
Use a combo of ground meat for the most flavor.
Pick your egg substitute wisely, think of what flavor additions the sub may or may not bring and if it needs anything else with it to help properly bind everything to gether and keep the meatball meat mixture nice and moist.
I like to mix the meatball mixture with my hands. While it may seem gross at first, it's the best way to get the mixture combined properly and ensure all the flavors will meld together nicely.
When picking your egg substation choice, it's important to think of how the swap will impact the texture of your meatballs. Will you need ot add something else with your swap to make it the right texture, or will it me too thick, too rich, etc.
I hope by now you have found a few new ingredients you can try when making your eggless meatballs. With so many options to choose from, you'll never have any worry if you want to make a batch of meatballs again. You are bound to have one of these egg replacements in the kitchen cabinets or refrigerator. Enjoy your meatball recipe with these handy egg substitutions.