Homemade ketchup is not only simpler to make than you might think, it's also a lot healthier, especially if you're trying to avoid ingredients that may commonly be found in ketchup (onion and garlic anyone?). If you're looking for a delicious and allergy friendly recipe for homemade ketchup from fresh tomatoes, we have you covered.
As an Amazon Associate I earn from qualifying purchases.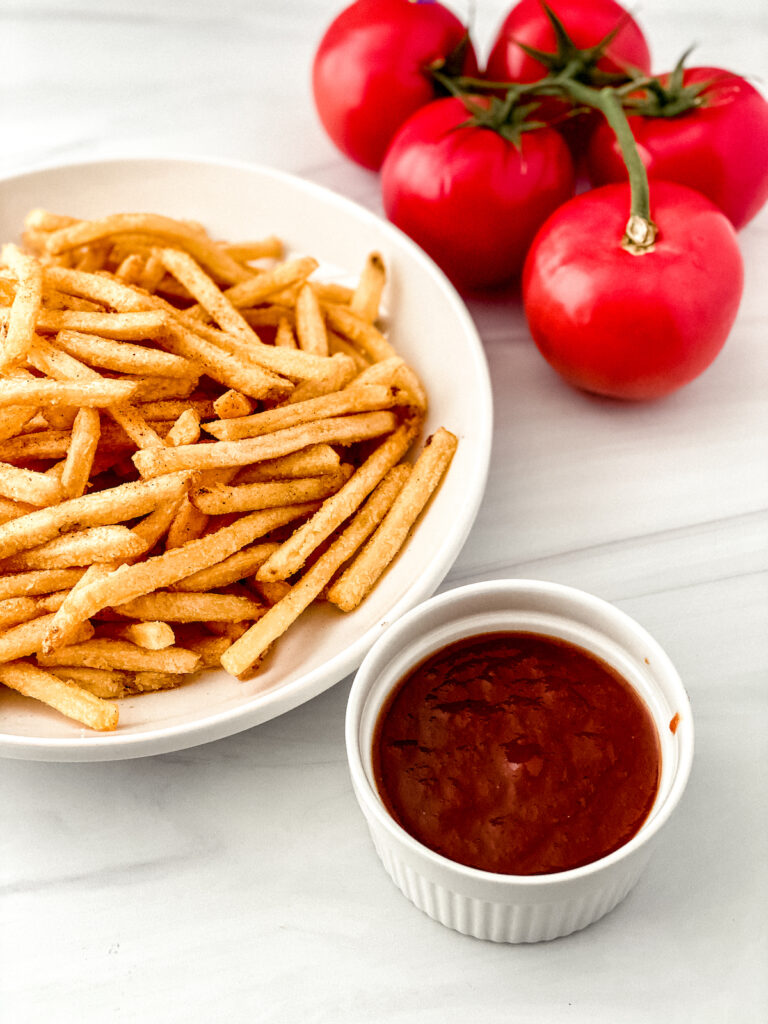 How do you make ketchup from scratch?]
It's as simple as boiling fresh tomatoes, then adding in all the ingredients that are usually found in ketchup: vinegar, sugar (or honey), salt and a bit of the spices you like and work for you. See something in this recipe that you're sensitive or allergic to? Leave it out!
You can also get really creative and add some wonderful things to this homemade ketchup base, but more on that later. This whole process takes a little over an hour.
If you want, you can speed it up a little bit by using an Instant Pot for the first step. However, a big part of this is reducing the liquid in your ketchup to get it to the right consistency, and that just takes some time!
Homemade ketchup for toddlers
Ketchup is one of those condiments that seem to be in every fridge, but it's also a processed food. If you're looking for an easy way to use make homemade ketchup with kids try this version! They'll love it! My toddler loves helping make this homemade ketchup and can't get enough of it.
This is some healthy homemade ketchup!
One of the things that makes this homemade ketchup so healthy is the simple ingredients.
Here's what I put in my easy to make ketchup:
fresh tomatoes
apple cider vinegar
brown sugar
salt & pepper
ginger, nutmeg, and allspice
you can also add onion and garlic if you would like!
The perfect ketchup made from scratch!
Once you try this easy homemade ketchup recipe, you'll be hooked, but I have some more ideas for you!
I remember years and years ago there was a flavored ketchup craze that I was all in on.
Here are some ideas to add some additional flavor to your homemade ketchup.
Homemade ketchup with balsamic vinegar
Simply add some balsamic vinegar as you reduce your ketchup. Its delicious!
Spicy homemade ketchup
If you like it spicy, there are so many things you can add to this ketchup! Think fresh hot peppers, cayenne pepper powder, chili powder, and just about anything else you like to get a kick in your food with.
How long does homemade ketchup last?
This homemade ketchup makes the perfect addition to just about everything. It can be stored in a jar or container in the refrigerator for up to two weeks but it's always best when fresh! I swear, you haven't lived until you've doused french fries in ketchup you made yourself while it is still warm!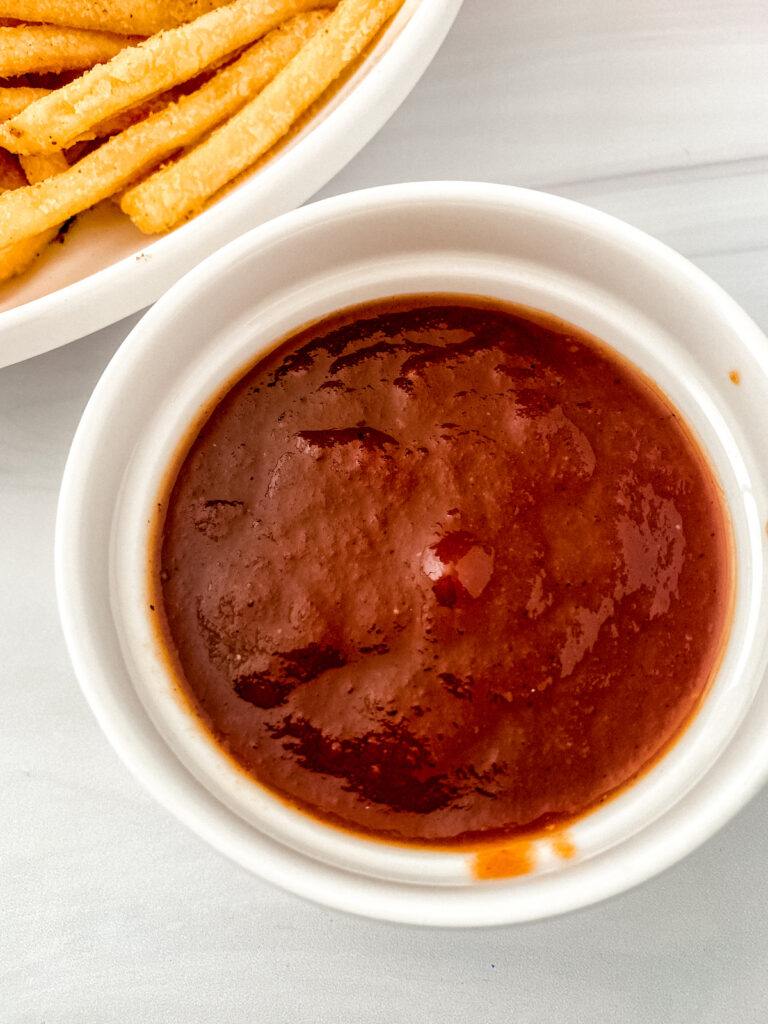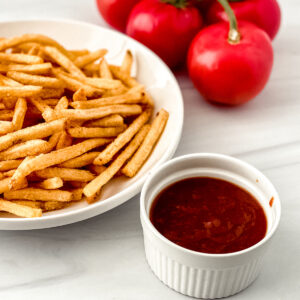 Homemade Ketchup from Fresh Tomatoes
This is a simple to make homemade ketchup that is a great alterantive to what you can find in the store. The best part is you can customize this receipe to make your perfect ketchup.
Equipment
Stock Pots

Mesh Strainer

Jar
Ingredients
2.5

pounds

tomatoes

1/4

cup

cup apple cider vinegar

1/4

tsp

ginger

1/4

tsp

allspice

1/4

tsp

nutmeg

1

tsp

black pepper

1

tablespoon

kosher salt

3

tablespoons

brown sugar
Instructions
Cook tomatoes on medium heat uncovered in a large stock pot 10-15 mins, mashing them to help them cook down.

Strain through a mesh strainer into a smaller pot or bowl, to remove the skin and the seeds from the tomatoes.

Once it is strained, add the remaining ingredients and bring to a boil.

Reduce the heat to a simmer and cook until thick, stirring occasionally, for about an hour.

Puree the mixture in a food processor or blender, or use an immersion blender to get the prefect consistency.

Transfer to jars to cool.
Notes
This homemade ketchup will keep for up to 2 weeks in the fridge.
If you don't have apple cider vinegar, you can use white vinegar, which will result in a tangier ketchup. You can add more sugar to balance it out.
For a spicier ketchup, add your favorite spicy peppers or cayenne pepper powder.
This is a small batch yield. If you have a larger family or just really love ketchup, double this recipe.